L. Reuteri: Can This Bacteria Protect Against Hair Loss?
Every month, new evidence emerges that our microbiome — or the trillions of microbes crawling inside and around us — affects every aspect of our health — from our immunity to our nutrient metabolism and maybe even our predisposition to hair loss.
But which microorganisms inside our microbiome influence which functions? And more importantly, are there any bacterial strains that might help us prevent or even reverse pattern hair loss?
While the research is still in its infancy, we're getting closer to answers… and at least one bacterial strain is showing promise. It's called Lactobacillus reuteri (l. reuteri), and studies now demonstrate that l. reuteri colonization may help prevent hair thinning, promote faster hair growth, encourage hair follicle development, and even increase the number of our hairs in the anagen (growth) stage of the hair cycle.
This article uncovers why. We'll start with what l. reuteri is, and then uncover how l. reuteri is connected to hair loss. Then we'll reveal how l. reuteri's absence in our modern guts may help explain why men's testosterone levels are 22% lower today than they were thirty years ago. Finally, we'll dive into the research associating l. reuteri with decreased systemic inflammation, improved T cell migration, increased serum vitamin D, and even better hair quality.
We'll also uncover why we should exercise caution about reintroducing l. reuteri into our guts — at least through supplementation. While there's compelling evidence that l. reuteri may improve hair quality and decrease inflammation… this is a bacteria with a lot of different strains, and unfortunately, not all strains are created equal…
✕
Stop Googling "How To Regrow Hair" Until 3AM
Instead, just sign up for my 10-day course on natural hair recovery.
You'll get access to my before-after photos, the science behind the DHT paradox, hair loss mistakes to avoid, reader-submitted photos, and more.

Our Microbiome & Our Health
Right now, thousands of different microorganism species – bacteria, fungi, viruses, and parasites — are crawling your skin and your digestive tract. In fact, we harbor at least as many non-human cells as we do human cells. And these non-human cells that live inside and on us are what's known as our microbiome — the collection of billions of microorganisms feeding off our cellular debris, undigested foods, and even our living tissues.
We can break down these organisms into one of two categories:
Pathogenic — microorganisms that harm our bodies. For example — the bacteria streptococcus pyogenes — which causes strep throat.
Commensal — the microorganisms that neither cause infection nor harm our bodies… and might even be helpful.
For long-term readers, this isn't new information. I've written extensively about the microbiome-hair loss connection — and most recently, how a bacteria known as p. acnes – which is both commensal and pathogenic depending on which part of our bodies it colonizes – may be implicated in the development of both acne and hair loss.
But this article's focus isn't on p. acnes, it's on l. reuteri. And here's the good news: unlike p. acnes, research shows that l. reuteri is only commensal (meaning harmless), and that it may benefit our health and our hair in several different ways.
What Is L. Reuteri?
Lactobacillus Reuteri (L. Reuteri) is a bacteria found primarily in the digestive tracts of mammals — including humans. L. reuteri can also colonize certain fermented foods — like sourdough. And in normal circumstances, l. reuteri is passed from mothers to infants during breastfeeding — where it colonizes our intestines while we're young and then remains in our guts throughout adulthood… so long as a disease or antibiotics don't wipe them out.
The research on l. reuteri is overwhelmingly positive. And before we get to the specifics on hair health, here are just a few highlights:
So what about hair health? Can supplementing with lactobacillus reuteri improve our predisposition to pattern hair loss — or improve our speed of hair growth or even hair quality? In 2013, researcher set out to answer these questions.
L. Reuteri's Effects On Hair Growth And Hair Quality
A 2013 research team wanted to test whether supplementing with commensal bacteria — like l. reuteri — might improve someone's physical appearance — ie: the quality of their skin and hair. So they conducted a series of tests on rats.
Test #1: Probiotics & Their Impact On Skin Thickness, Subcutaneous Fat, Hair Follicle Development, And Hair Quality
The first test compared young rats (20-24 weeks old) fed a standard diet to young rats fed a probiotic-rich diet through yogurt supplementation. Note: this test didn't control for lactobacillus reuteri. Rather, the test catered more toward several lactobacillus species' effects on fertility benchmarks — specifically, hair and skin quality.
Even still, the results were impressive.
After 20-24 weeks, the rats fed a probiotic-rich diet saw a 50% increase in skin thickness — with much of that increase coming from subcutaneous fat. And within that subcutaneous fat, the probiotic-fed male rats expressed an average of 12 hair follicles to every control group rat's hair follicle (a 1,200% increase).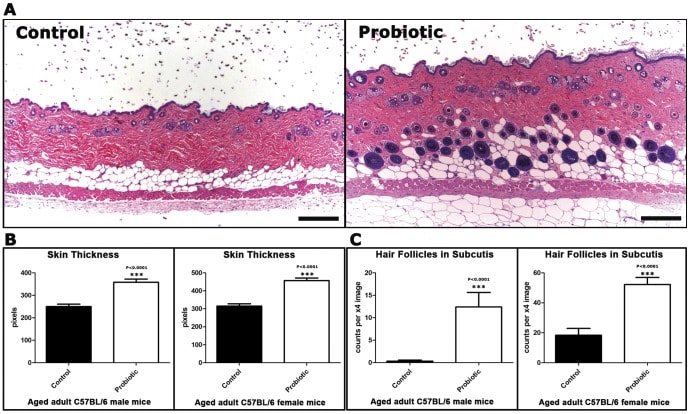 (source)
And interestingly, 74% of the hairs in probiotic-fed rats were found to be in an anagen (growth) phase. And the control group? Quite the opposite. In fact, 64% of rats in the control group were found to have telogen dominance — a condition where at least 50% of the hair follicles on the rats were in a "resting" (read: no growth) stage of the hair cycle.
Unsurprisingly, these micro-level results carried over into hair quality. Rats fed the probiotics had significantly shinier hair — a quality in rats which signals peak health and fertility.
The Problem With The Test: Confounding Variables Inside The Yogurt
The results all sounds promising, but there was a confounding factor inside the test…
The yogurt that was used to feed the probiotic group also contained other vitamins and nutrients — like vitamin D. And just like the pumpkin seed oil-hair loss study, if researchers don't control for other vitamins and nutrients that might also contribute to hair growth, we'll never know if the hair-promoting effects of the probiotic group were due to the actual bacterial species inside the yogurt… or the nutrients inside the yogurt itself.
So came a second test, and the selection of l. reuteri for a new test group.
Test #2: L. Reuteri And Its Effects On Skin Thickness, Hair Growth, Anagen (Growth) Follicle Phases, And Hair Quality
The researchers chose to redo the experiment, but this time, instead of using yogurt (which contained other adjunct nutrients and vitamins), they decided to feed both rat groups the exact same food… but for the test group, they would also add a bacterial species into their drinking water. And the selected bacterial species to represent all lactobacillus? L. reuteri.
Here's the fascinating thing: despite this test version now controlling for the same vitamins and minerals — which undoubtedly affected hair follicle development in the young rats — the test results for the L. reuteri-fed group were nearly identical to the yogurt-fed group.
L. Reuteri Increases Skin Thickness, The Percent Of Anagen Hairs, And Hair Shininess
That's right. Just by introducing this single bacterial species, male l. reuteri-fed rats experienced a 100% increase in dermal (skin) thickness, a 106% increase in anagen hair follicle counts, increased rates of hair regrowth after shaving, and the same increases to hair shine as the probiotic-fed mice from the previous experiment.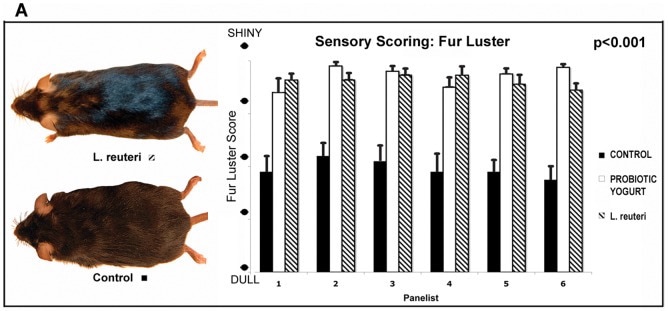 (source)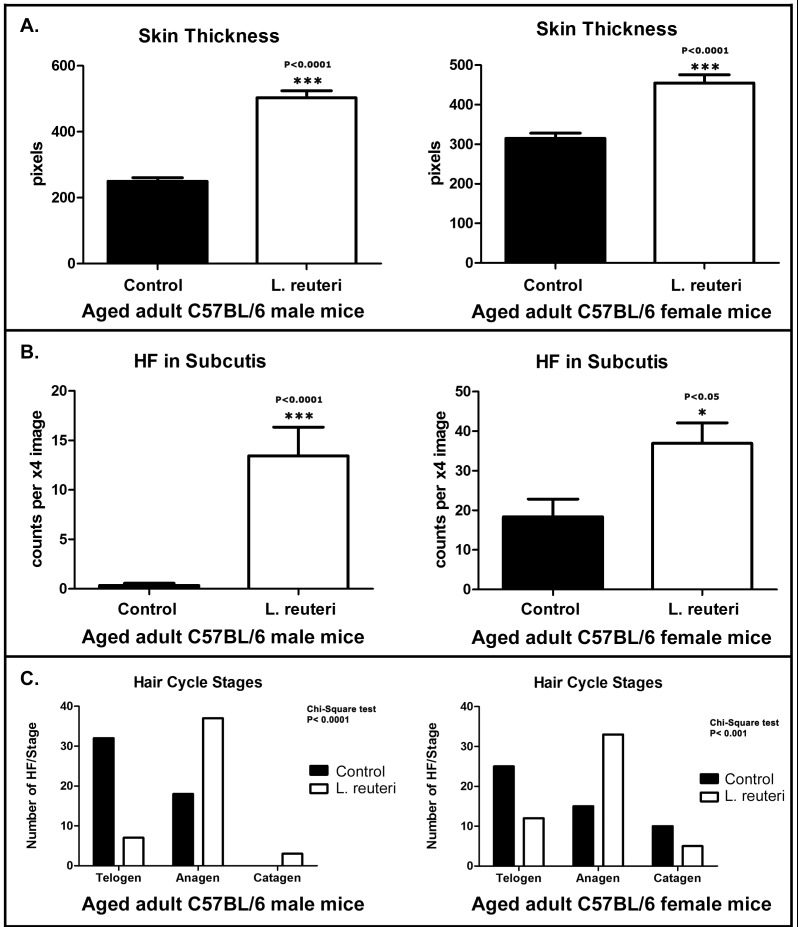 (source)
So how can something as simple as a commensal bacteria — like l. reuteri — increase hair shine and hair follicle count so significantly?
There's no straightforward answer. But these researchers attributed l. reuteri's hair-promoting effects to the bacteria's impacts on certain signaling proteins… Specifically, an anti-inflammatory cytokine called Interleukin-10 (IL-10).
L. Reuteri Improves Hair Quality By Increasing Anti-Inflammatory Cytokines
The Cytokine-Chronic Inflammation-Hair Loss Connection
Cytokines are small signaling proteins released by our immune cells. And once released, these cytokines attach themselves to cell receptors and start to manipulate the behavior of those cells — telling tissues to induce inflammation, stop inflammation, or even begin cell growth.
Cytokines are best-known for their role in the inflammatory process — and we can break most cytokines down into two categories: 1) anti-inflammatory (reducing inflammation), and 2) pro-inflammatory (encouraging inflammation).
Many disease states — and possibly even pattern hair loss — are the result of long-standing, systemic, chronic inflammation. And interestingly, "chronically inflamed" sites of our body tend to have an imbalance of cytokines: too many pro-inflammatory cytokines are active, and too few anti-inflammatory cytokines are active.
Interleukin-10 (IL-10) is one of these anti-inflammatory cytokines that need to be active to help regulate healing processes, improve hair growth, and even prevent chronic systemic inflammation. And unsurprisingly, chronic inflammation of our scalps is a precursor to pattern hair loss.
Long story short: if we want to prevent (or even reverse) pattern hair loss, it's in our best interest to balance our anti-inflammatory and pro-inflammatory cytokines in our skin, and thereby reduce chronic inflammation and slow (or stop) hair thinning.
L. Reuteri Decreases Skin Inflammation By Increasing Anti-Inflammatory Cytokines (IL-10)
Tor reasons not entirely understood, when the bacteria l. reuteri colonizes our guts, it's able to increase the expression of IL-10 in the skin. And as a result, l. reuteri is able to downregulate pro-inflammatory skin cytokines — specifically, IL-17.
And as a result, IL-10 helps regulate sebum production, increase the number of hairs in anagen (growth) phases, and possibly even increase the density and thickness of subcutaneous fat — the same fat that act as a cushion for our hair follicles.
The end-result: shinier, healthier, faster growing hair. In fact, it's the interaction between l. reuteri and IL-10 that researchers attribute to its pro-hair effects — at least in rats.
But What About Humans? Does L. Reuteri Increase Hair Growth In Humans?
We don't yet know. There aren't yet enough studies on humans to determine whether l. reuteri will help us slow, stop, or reverse pattern hair loss. And unfortunately — when it comes to reversing pattern hair loss — rat studies rarely (if ever) translate to humans.
But there's good news! Of all the l. reuteri studies I've reviewed, the results for rats and humans shows the same directional results. In other words, in all cases I've found, l. reuteri supplementation in humans leads to the same directional results as l. reuteri supplementation in mice (for example, the upregulation of IL-10, changes to skin pH levels, and even the bacteria's anti-inflammatory, antimicrobial effects).
So at the very least, introducing l. reuteri should have significant positive effect on human health — and potentially our hair health.
And even better — there's evidence that l. reuteri might improve the conditions that often precede pattern hair loss. In fact, taking all the research into context, l. reuteri supplementation in humans might be critical to promoting longevity, decreasing inflammation, increasing vitamin absorption, balancing our hormones, maintaining our hair health, and even living with less stress and anxiety.
Here's why.
L. Reuteri, Serum Vitamin D, And Hair Loss
When it comes to the causes of pattern hair loss, most people never suspect a vitamin D deficiency. Unfortunately, this assumption — that vitamin D has no impact on hair growth — is wrong. We've even seen this with some readers — like Jared — who only saw significant hairline regrowth after discovering he had a severe vitamin D deficiency, and then beginning to mega-dose vitamin D (alongside the mechanical stimulation exercises, and other things):

I've also written extensively about the importance of vitamin D levels for hair health, and how 40% of Americans have a severe vitamin D deficiency. The bottom line is this: if we want to improve our hormonal health and decrease our risk of calcification, fibrosis, and the other myriad conditions that precede hair loss — we want to maintain optimum vitamin D levels.
Fortunately, the bacteria l. reuteri can help us increase serum vitamin D3.
L. Reuteri Supplementation Increases Serum Vitamin D By 25.5% (With Caveats)
One human study showed that over a nine-week period, l. reuteri supplementation in humans increase serum vitamin D levels by 25.5% – and likely due to the bacteria's ability to improve cholesterol synthesis (which is required for vitamin D absorption). However, it's also important to note that in this study, the probiotic was consumed alongside an array of micronutrients, and in the control group (micronutrients only), subjects saw a 22.4% increase in vitamin D synthesis. So, it's unclear if l. reuteri by itself has much of an effect.
In any case, this potential increase in serum vitamin D and improved cholesterol synthesis might explain another benefit to l. reuteri supplementation: it improves the hormone profiles of both men and women, and may have a powerful effect on testosterone levels.
L. Reuteri, Testosterone, And Hair Loss
While conventional dogma preaches that testosterone and DHT are the main causes of pattern hair loss, when we look more granularly at the studies doctors reference to support these claims, they begin to fall apart.
For instance, only some forms of DHT are associated with hair loss. Other forms of DHT are protective against hair loss. And there's little to no correlation between testosterone levels and pattern hair thinning. In fact, if anything, as testosterone levels decline with age, the incidence of pattern hair loss increases.
And to top it off — in young men, evidence suggests that an imbalance of testosterone:estrogen — specifically, high estrogen levels, are associated with hair thinning rather than high testosterone.
The net: young men who don't suffer from hair loss have high testosterone and low estrogen. Young men who are balding have low testosterone and high estrogen. And if we want to protect ourselves from pattern thinning, it might be in our best interest to optimize our own hormonal profile, and start increasing testosterone naturally.
Fortunately, l. reuteri can do this for us. And beyond the fact that optimal vitamin D levels are associated with higher testosterone in men, l. reuteri likely works through several different mechanisms to improve our testosterone function — and even our testicular weight.
Lactobacillus Reuteri Increases Testosterone And Testicular Weight
In maturing rats, the ingestion of l. reuteri over one year increased testicular weight nearly 40% versus control groups. In fact, older rats fed l. reuteri also expressed as good (and sometimes better) hormonal profiles than much younger rats!
And all this with just the introduction of one bacterial strain. Seriously. Just look at those testicles.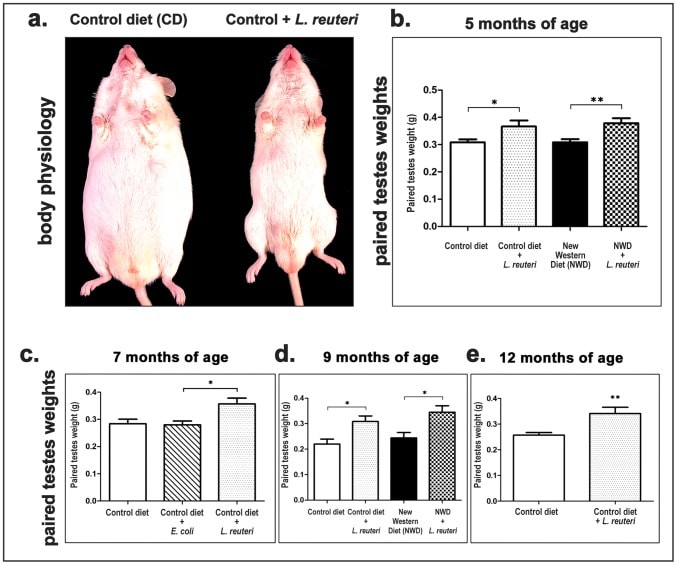 (source)
And what explains how l. reuteri can exert such testosterone-boosting, testicle-boosting effects?
Interestingly, researchers believe — again — that it's because l. reuteri increases the anti-inflammatory cytokine IL-10, and in doing so, decreases the pro-inflammatory cytokine IL-17 — the same cytokine which has been shown to suppress hair growth.
In fact, researchers observed the same testicular-increasing effects of l. reuteri when they administered an IL-17 antibody. And what does that suggest? A strong relationship between l. reuteri's effects on skin, hair, and testicular quality… all as a result of increasing IL-10, and decreasing IL-17.
L. Reuteri Is No Longer Prevalent In Most Humans' Guts… Which May Help Explain Why Men's Testosterone Levels Today Are Plummeting
Lactobacillus reuteri was once a common human gut bacteria. In the 1960's, it was estimated that 30-40% of us had l. reuteri crawling around our microbiome. Today, l. reuteri is found in just 10-20% of humans.
Over that same period, studies have shown that men's serum testosterone levels have declined dramatically. In fact, when controlling for age, men's testosterone levels today are 22% lower than they were thirty years ago.
A lot of this is driven by changes to diet, lifestyle, and stress levels. But it's not implausible that our gut bacteria — and specifically, the absence of l. reuteri — might explain part of this decline.
L. Reuteri Increases Anti-Inflammatory T Cells
What Are T Cells?
T cells (Tregs) are immune cells that help regulate our immune functionality. Our immune system normally attacks foreign bacteria, fungi, and viruses to prevent infection and keep us healthy. But Tregs also make us "tolerant" to resident (commensal) microorganisms. In other words, they help decide what our immune system should fight, and what it should leave alone.
If our T cells (Tregs) aren't functioning properly — or if we don't have enough Tregs — we open up the doors to developing autoimmune diseases — whereby our immune system confuses our own cells as foreign pathogens, and begins to attack them. The end-result: diseases like hypothyroidism or alopecia areata (patchy hair loss of the scalp).
How Are T Cells, L. Reuteri, And Hair Health Connected?
Tregs accumulate in the skin soon after birth, where they then localize to hair follicles. For years, this process was thought to be genetically determined — with the idea that your "genes" are what determine how many T cells localize to hair follicles, and thereby encourage healthy hair growth and hair follicle proliferation.
Then a 2017 breakthrough study revealed that this dogma was wrong. In fact, T cell migration isn't exclusively genetically determined… it's largely determined by our microbiome: our gut and skin bacteria. The study showed that our commensal microbes encourage T cell migration to hair follicle sites — and that these microbes might even be critical to hair follicle development.
In the study, newborns who were microbe-free had reduced skin T cells, whereas newborns who were born with commensal microbes had abundant skin T cells in their hair follicles — which correlate with better hair growth.
And are there any independent studies exploring which bacteria species help increase T cell migration? Yes. And unsurprisingly, l. reuteri is one of them.
L. Reuteri Increases Anti-Inflammatory T Cells
In a study on thyroid health and beneficial bacteria, mice fed lactobacillus reuteri showed a significant increase anti-inflammatory T cells.
And what coincided with that increase in T cells? An increase in thyroid size, an increase in serum T4 levels (a hormone used to measure thyroid activity), decreased fatigue, and according to the researchers, a more youthful physical appearance.
It should be no surprise that hypothyroidism is a leading precursor to hair thinning, and is often a confounding factor in most pattern hair loss sufferers. The fact that thyroid function can be improved with simply the addition of a probiotic is remarkable, and deserves further exploration.
Studies are in the works to see if these thyroid results translate to humans. But if I were to guess — based on all the other directionally equivalent studies on rats and humans for l. reuteri — I'm confident there's a good chance l. reuteri will help.
Should We Supplement With Lactobacillus Reuteri To Improve Hair Loss?
The jury is still out on whether l. reuteri's hair promoting effects will translate to humans. But the bottom line is this: studies show that this bacteria is nothing short of a miracle in terms of improving hormonal function, sex appeal, vitamin D levels, and anti-inflammatory T cells (among several other benefits). Should we supplement with this bacteria? Considering no toxicology in humans has been reported — even at 10 billion IU's per day — I think the resounding answer is, yes.
But that doesn't mean you should grab the first l. reuteri supplement you find. Here's why.
Most Studies On L. Reuteri Are On Propietary Strains Of The Bacteria. Cross-Comparing Results Of One Study To Another Is Useless Until We Have Species-To-Species Comparisons
Lactobacillus Reuteri comes in many different strains. And unfortunately, most studies testing l. reuteri's effects on health are actually testing proprietary strains of L. reuteri — and not the same strain over and over again.
For instance — the studies on l. reuteri increasing serum vitamin D and on l. reuteri improving vitamin B12 deficiencies were done on different strains of l. reuteri. And both of these l. reuteri differed from the strains researched in the l. reuteri – hair health / skin health studies.
The Good News
The studies showing the benefits of l. reuteri on hair health, skin health, thyroid functionality, and t-cell migration were all done on the same bacterial strain. And that bacterial strain is L. reuteri ATCC PTA 6475.
And the better news — this strain of l. reuteri is available as a supplement to humans. And you don't need a lab order or a doctor to get it.
The Bad News
The l. reuteri studies demonstrating significant improvements to thyroid functionality, skin health, and hair health all fed the mice a dosage of 350,000 IU's of l. reuteri daily. In humans, if we control for weight, we'd need a dose of several billion IU's per day to match the same amount that the mice were fed. And unfortunately, most l. reuteri supplements only come in 100 million IU increments. And they're expensive.
L. Reuteri can colonize our guts within days to weeks, but if we stop supplementing, the bacteria gets outcompeted and dies within days. Unfortunately if we're not exposed to this bacteria at a young age — it's very hard to successfully colonize our guts without continued supplementation into adulthood.
The studies demonstrating T cell increases were done in maturing mice and newborns. And while l. reuteri supplementation will certainly help adults with a myriad of health benefits (and potentially hair benefits), it's likely going to be less effective at improving T cell migration since T cell migration takes place soon after birth — and less so late into adulthood.
Even still, the readers who are experimenting with 100 million IU's of l. reuteri daily have reported to me improvements in their depression, less anxiety, a more youthful "glow", and better overall energy levels. In fact, one reader said she's using l. reuteri to help alleviate autism symptoms in her son — and that while it's not a miracle cure, it's helping a lot.
Which L. Reuteri Supplement Should You Use For Hair, Skin, And Thyroid Health?
To reiterate (like I always do): I am not affiliated with any supplements or products outside of this site. And in general, I advise against 99% of supplements as I think they're a waste of money, energy, and time.
With that said, I've done enough research to feel confident in recommending an l. reuteri supplement that checks all of the boxes (the right strain for skin and hair benefits, and the highest number of IU's that I could find available to humans).
The company is called BioGaia — and they sell a 100 million IU chewable probiotic of l. reuteri in the correct strains — l. reuteri ATC PTA 6475. You can check out their site (and their products) here.
Again, I am not affiliated with this company. And if any readers have found a higher dosage l. reuteri probiotic for humans and of the same strain, please post it in the comments section!
Summary: Lactobacillus Reuteri For Hair Health
Lactobacillus Reuteri is a commensal gut bacteria that's been shown to improve testosterone levels, increase serum vitamin D, improve vitamin B12 deficiencies, and increase anti-inflammatory T cells. In addition, research in rats shows that l. reuteri may improve skin and hair health by increasing the anti-inflammatory cytokine IL-10 and downregulating the pro-inflammatory cytokine IL-17.
While there's significantly less research in humans for the benefits of l. reuteri — the good news is that at least so far, studies show the same directional results in humans as they do in rats in mice. As a result, it's suspected that in humans, l. reuteri supplementation may improve skin health, decrease inflammation, improve thyroid size and functionality, improve symptoms of depression and anxiety, and possibly even increase the percent of our hairs in an anagen (growth) phase — thereby giving the appearance of thicker, shinier hair. (Again, we need more human research to confirm the research on thyroid and hair health).
We're not yet sure how these results translate to pattern hair loss. If I were to guess, l. reuteri won't regrow lost hair, but it'll certainly help prevent the conditions that precede hair loss (certain nutrient deficiencies, hypothyroidism, chronic inflammation, and hormonal imbalances). And for that reason, this bacteria is something we should look into (and even test ourselves) for future research.
L. Reuteri is generally safe for supplementation — with dosages of 10 billion UI's daily leading to no reported side effects. In fact, of everything I've read online and in studies, I haven't yet found a single negative side effect of supplementing with l. reuteri — only benefits.
If you're going to try supplementing with l. reuteri, your best bet is the BioGaia product line (I am not affiliated). And if you're going to test, please keep us posted in the comments section! I love hearing from readers, and the community here appreciates reading your anecdotes as well.

Rob English is a researcher, medical editor, and the founder of perfecthairhealth.com. He acts as a peer reviewer for scholarly journals and has published five peer-reviewed papers on androgenic alopecia. He writes regularly about the science behind hair loss (and hair growth). Feel free to browse his long-form articles and publications throughout this site.