Welcome! My name is Rob English. I'm a researcher, medical editor, and the founder of Perfect Hair Health. I started this website seven years ago to showcase evidence-based approaches to slowing, stopping, and reversing hair loss outside of the drug model.
My interest in hair loss began in 2007 – right after I was diagnosed with androgenic alopecia. Since then, I've spent thousands of hours researching hair loss – its causes, treatments, and misconceptions. I've distilled complex hair loss science into dozens of reader-friendly articles. I've also published four peer-reviewed papers on androgenic alopecia: one on its pathology, one on an experimental therapy, one on methodological challenges faced while conducting biopsy research, and one systematic review.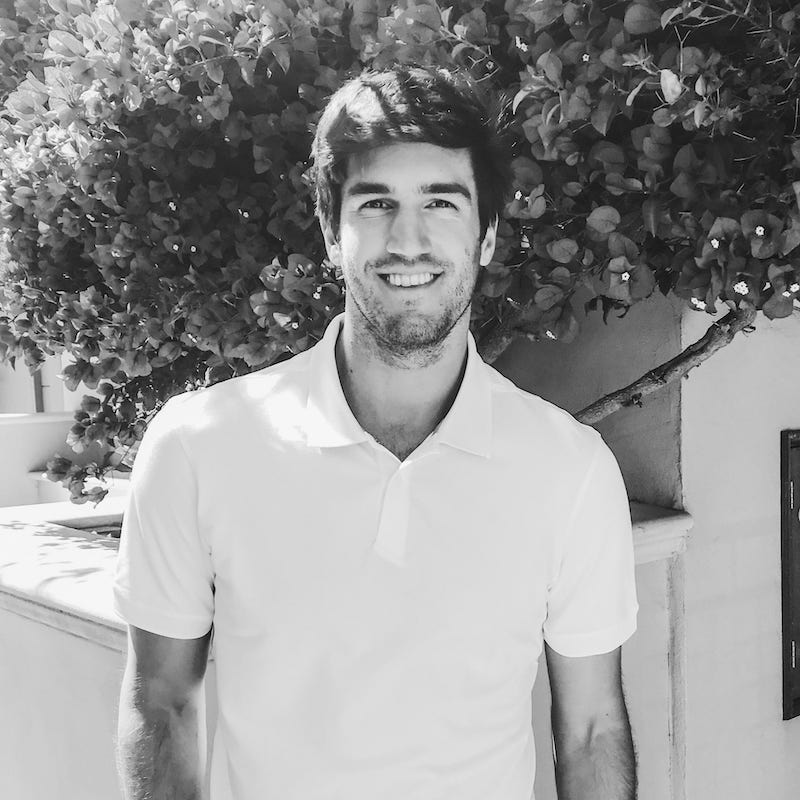 Rob English,
founder of perfecthairhealth.com
My medical diagnosis: androgenic alopecia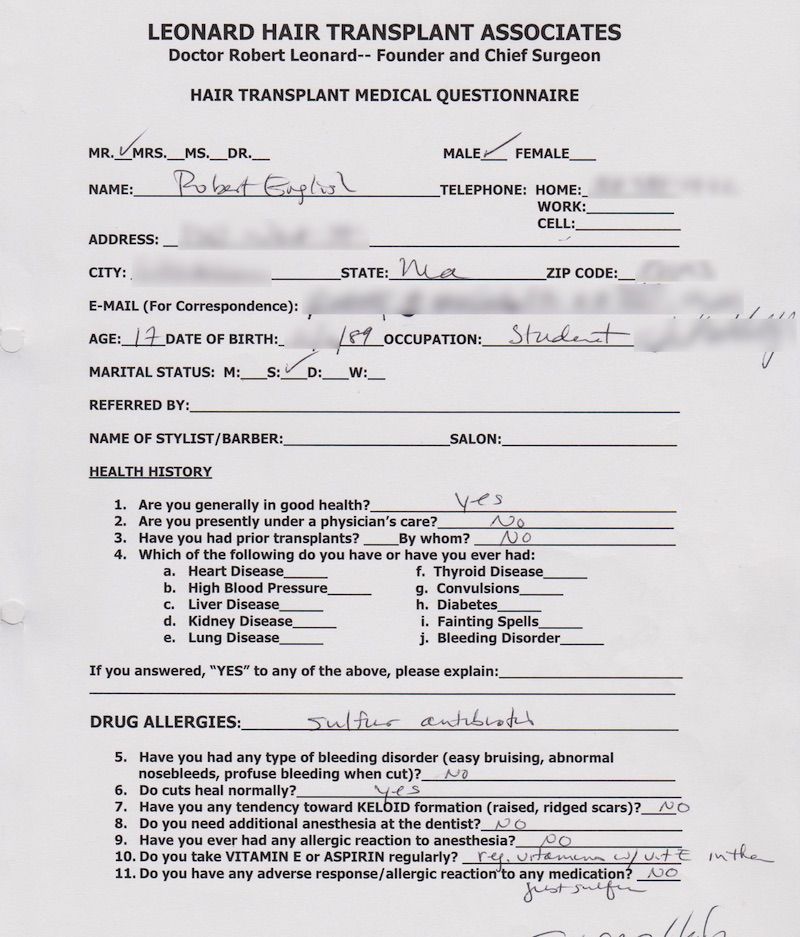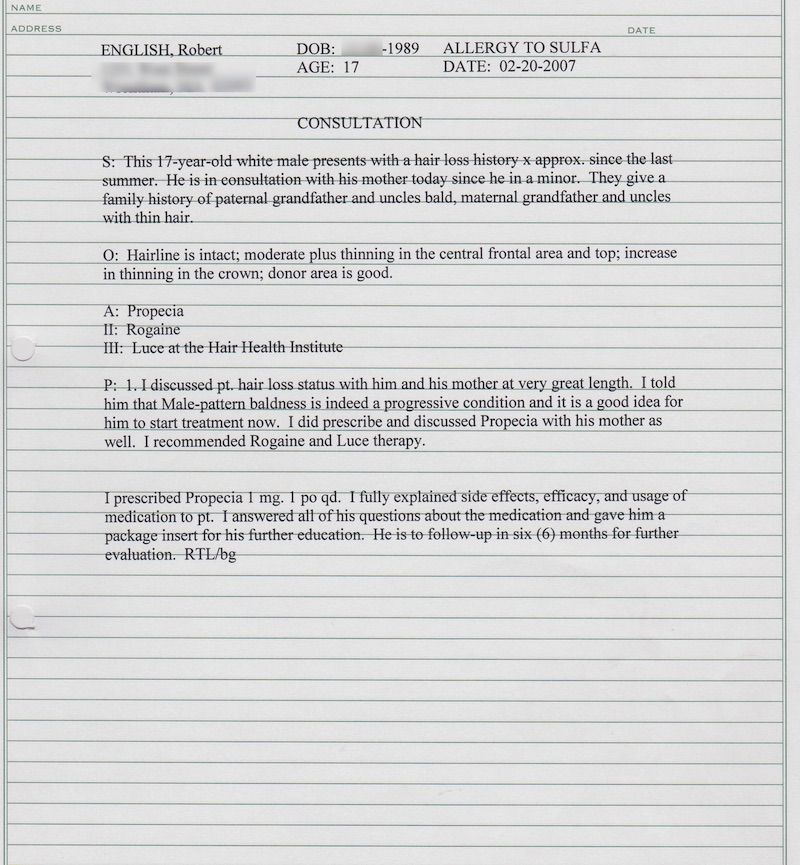 At the time of my diagnosis (2007), my doctor said that hair loss was caused by a male hormone called dihydrotestosterone (DHT). He also said that pattern hair loss is a chronic, progressive condition – and that unless I started minoxidil (Rogaine®), finasteride (Propecia®), low-level laser therapy, or considered a hair transplant, it would only worsen.
These treatments felt expensive. They also felt out-of-scope for a high schooler. And, after reflecting more on Propecia® in relation to my age, stage in life, and its potential side effects, I ended up throwing out my prescription the next day.
However, I wanted to do something. I also knew that if I didn't take any action, my hair loss would continue. So I opted for a low-level laser therapy trial and I started applying Rogaine® twice-daily.
I continued taking Rogaine® for six years. I also experimented with laser combs, diets, supplements, topicals, and nearly every "natural remedy" under the sun.
The entire time, my hair loss continued to worsen.
Turning to research
While in college, I wanted to better understand why these treatments weren't working for me. As a student, I had access to medical and scholarly journals. So I used my free subscriptions to start reading studies and literature reviews on androgenic alopecia.
This soon turned into a full-time obsession.
After a few months, I began to appreciate the complexities of hair loss science. And within a year, I realized that hair loss literature (along with public knowledge on the subject) is filled with paradoxes, misunderstandings, and a lot of unanswered questions.
Paradoxes:




DHT, hair loss, and hair growth
Experts agree that DHT is causally linked to hair loss (AGA). Yet no one can explain why DHT is also linked to hair growth in the chest and face.
Misunderstandings

:


Hair loss and high testosterone
Many men think their hair loss (AGA) is due to high testosterone. It's not. Evidence actually shows that young men with AGA have similar hormonal imbalances to females with polycystic ovarian syndrome.
Unanswered questions:




How, exactly, does DHT cause hair loss?
In vitro studies show that DHT can miniaturize human hair follicles. At the same time, no one is quite sure why (or how) this happens. DHT's mechanisms of action remain elusive.
It soon became clear to me that the DHT-hair loss argument isn't as clear-cut as most doctors make it seem.
Yes, genetics are involved. So are male hormones. And DHT certainly can cause hair follicle miniaturization. But if we expand our scope beyond DHT and look at all of the other symptoms and conditions observed in a balding scalp...
Inflammation

Reactive oxygen species

Increased prostaglandins

Fibrosis

Calcification

Low blood, oxygen, and nutrient supply to the hair follicles
...it's very possible we're missing something.
Abandoning minoxidil and trying a new approach
After six years of Rogaine®, I decided to try a new approach to fighting hair loss.
Specifically, I was interested in emerging research in the fields of epigenetics, wound-healing, and mechanotransduction. After all, these fields were demonstrating success in reversing the morphological changes observed in androgenic alopecia. So I built a regimen around what I was reading. Simultaneously, I dropped minoxidil. It wasn't working for me anyway.
Within a year, I saw significant hair improvements. And encouragingly, these results have sustained (even since significantly tapering my regimen starting in 2016).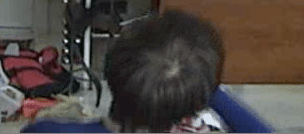 Two years before my diagnosis. I apologize for the photo quality. This is actually a video still (I didn't take regular photos of my crown before noticing hair loss).
2011 (4 YEARS INTO MINOXIDIL)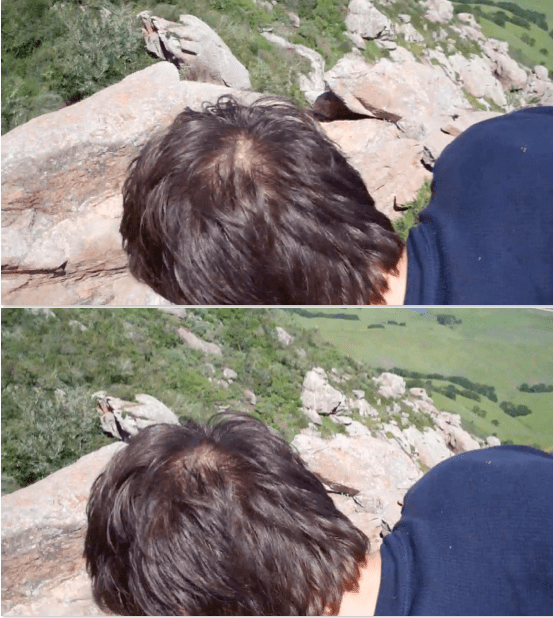 As we can see, minoxidil isn't working.
2012 (hair loss worsening)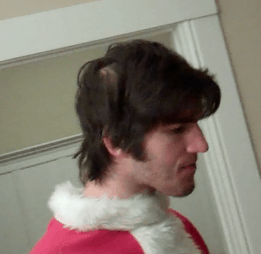 This was at a holiday party. Yes, I am in a Santa costume. Yes, I am still balding. Within weeks of this photo, I quit minoxidil.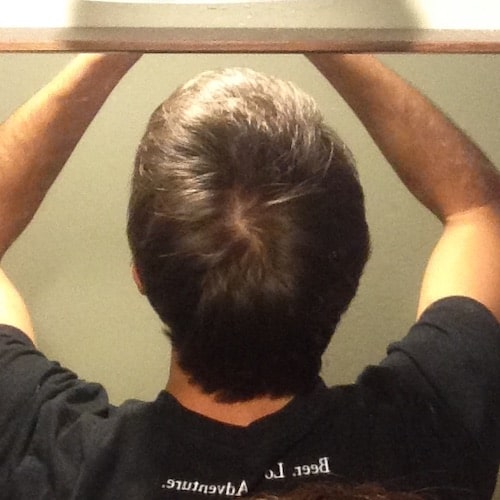 My hair recovery, one year after dropping minoxidil and starting a regimen built on research in epigenetics, wound-healing, and mechanotransduction.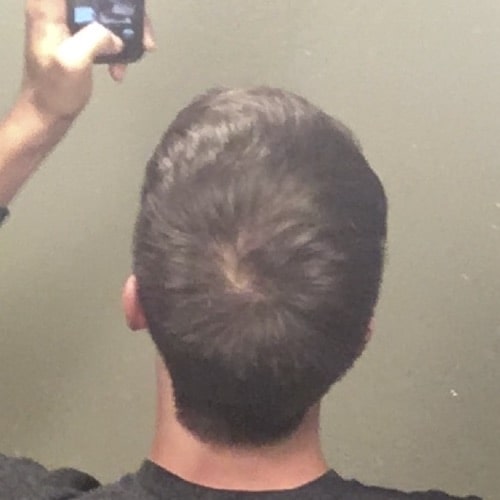 My hair recovery, 3 years after quitting minoxidil. Results seem to be sustaining.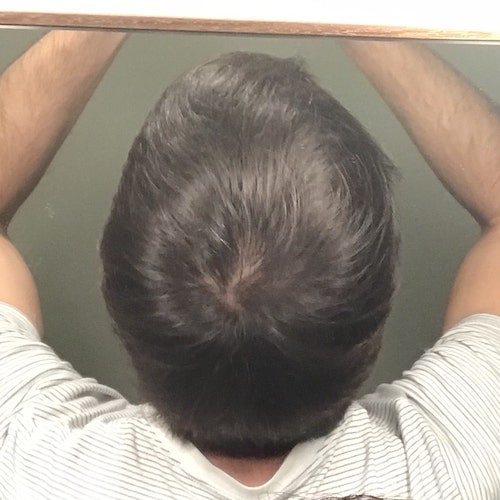 My hair recovery, 5 years after stopping minoxidil and 3 years after significantly tapering back my current regimen. Despite less effort, most of my hair changes seem to be holding.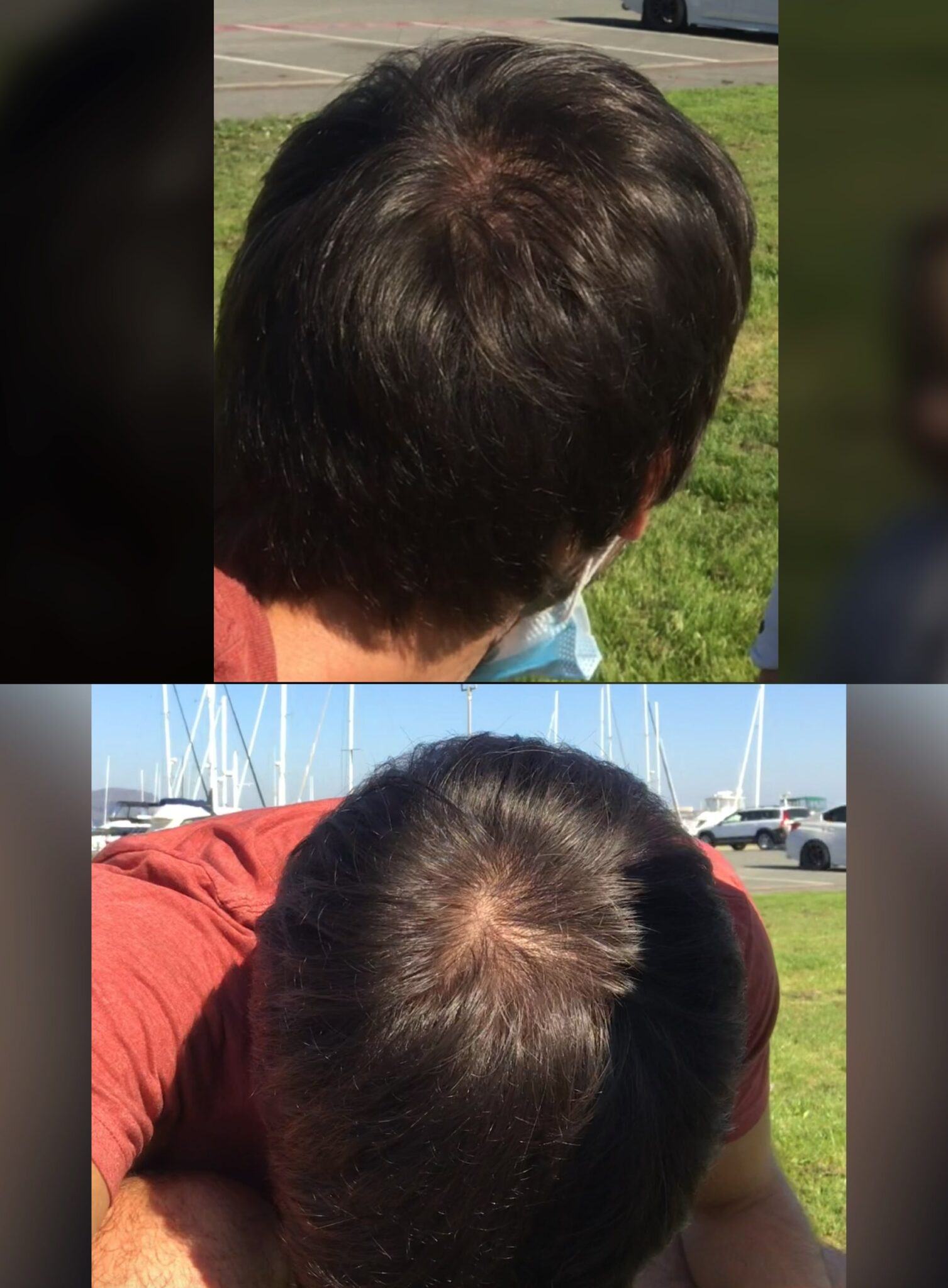 The current status of my hair, in direct sunlight, while continuing to taper. Stills taken from this video.
Why I started perfecthairhealth.com
In 2014, I started this website to share with others my approach to reversing hair loss, the supporting evidence, and my hair recovery. Since then, I've worked with hundreds of readers. I've published three peer-reviewed papers about hair loss (from its causes to its treatments). And all the while, this site's success stories have continued to grow.
Now we've grown into a community of science-loving, results-oriented readers. Here we're focused on uncovering the science behind hair loss (and how to reverse it).
Yes, FDA-approved drugs are great options for many people. But for others, the limitations of these drugs (i.e., their lifelong use, efficacy plateaus, and risks of side effects) make them not worth taking. This site hopes to provide you with the evidence you need to make an informed decision – all to maximize your hair regrowth based on your needs, preferences, and unique hair loss case.
Publishing my findings in scholarly journals
In 2016, a Reddit user told me that if my hair loss theories held any merit, they should stand up to the process of peer review. I agreed. So I decided to write a manuscript detailing my hypotheses on the causes on androgenic alopecia, its rate-limiting recovery factors, and why DHT-reducing drugs are mainly limited to stopping the progression of hair loss (rather than fully reversing it).
A few months later, that paper was accepted into an accredited medical journal. You can read it here.
Next, I wanted to understand just how effective the methods for which I advocated were for readers. So I worked with two statisticians, setup a study, got approval from an Institutional Review Board, and started collecting data. Then I turned our findings into another manuscript, and submitted it to a top-20 dermatology journal.
Two months later, that paper was also accepted. You can read it here.
Since then, I've acted as a peer-reviewer for scholarly journals. I've taken on work as a medical editor. I've interviewed hair loss investigators as part of our private membership site. I've joined the editorial board of a dermatology journal. I've published more papers. Now, I'm managing a small team of researchers dedicated to progressing hair loss science. 
My point is this: the information here isn't only validated by bloggers and past readers. It's also recognized by academics.
A final note about online hair loss "advice"
There are a lot of charlatans in the hair loss space. There are a lot of websites that fake their before-after photos. There are a lot of "all-natural" companies that lack integrity, sell useless products, and concoct fake back stories about their founders. I'm not one of them.
On the contrary, I've published peer-reviewed research. The progress photos you see here came from my six years of working with readers (not photoshop). I don't hide behind a fake identity. And I don't endorse or sell products that are scientifically baseless.
I started this website to (1) cut through the clutter of misinformation, (2) guide people to the right hair loss regimens based on their own needs, and (3) share my research with others. In fact, 90% of the information here is entirely free.
How to contact me
You can contact me via email or phone. Phone calls are preferred, since we can interact in real-time and avoid the back-and-forth of emails. I try to take calls Monday-Thursday from 10:00am-4:00pm PST. Out of respect for others, I limit the calls to 10 minutes. If I don't pick up, please leave a voicemail.
Address
180 Steuart Street P.O. 193606
San Francisco, CA 94119
Please note: calls are reserved for quick questions or general enquiries, not consultations. If you're interested in a consultation, those are available within the membership site. Also note that by providing your email address, you'll be added to my email list. But, you can unsubscribe any time.
Lastly, regardless of how we might interact, any information I share is not medical advice. Our exchanges are for educational purposes only and not intended to diagnose, treat, or cure any disease or condition. For more information, please see our disclaimer.
STOP GUESSING WHICH HAIR LOSS TREATMENTS ACTUALLY WORK.
Instead, just read my cheat sheet.

You'll get the facts on nine "natural" and "conventional" hair loss treatments: how they work, how much hair they'll regrow, their limitations, and what their marketers don't want you know.
No spam. Unsubscribe any time.