Read Time: 10 minutes
Will These Topicals Reverse Your Hair Loss?
People often ask me if a new topical mentioned by a doctor, website, or hair loss forum will help regrow their hair. Here's a running list from my emails just last week:
Emu oil
Argan oil
Castor oil
Coconut oil
Onion juice
Shea butter
Egg yolk
Rogaine
In the last decade, if there's anything I've learned about topicals, it's this: topicals are a shot in the dark.
What works for one person does not work for 99% of others. I've experimented with almost all of the above topicals, and for months at a time. None of them helped regrow my hair.
With that said, my story isn't everyone's story. Sometimes people get lucky. Sometimes a person uncovers a topical that gives them significant regrowth.
But why is that? How can one topical regrow hair for one person but not for everyone else?
That's what this article is about.
Why Most Topicals Fail To Regrow Any Hair
Reason #1 – Genes & Gene Expression
It's been well-established that our genes predispose us to hair loss. For instance, if we have this genotype, we're twice as likely to go bald. If we have this genotype, we're seven times more likely to bald. (Note: "predisposed" does not mean "destined".)
Interestingly, our genes and gene expression also influence how well we respond to hair loss drugs.
Studies show that Propecia is more effective for those with certain gene variants (polymorphisms). For reasons not yet understood, people who have these polymorphisms and take Propecia tend to recover more hair than those without them.
We can apply that same logic to any hair loss topical – like Rogaine.
Rogaine's mechanisms are mysterious, but most experts agree that Rogaine helps boost blood flow to hair follicles. However, the amount of blood flow that Rogaine can send to the scalp probably depends on a person's…
All of these markers link back to our genes (and gene expression). Genetics likely explains why some men and women using Rogaine regrow some hair, while others (like myself) see no changes at all.
But this is just one reason. That's not all that's going on.
Reason #2 – Your Topical Might Not Target Why You Personally Are Losing Your Hair
There are a million different reasons why someone starts losing their hair. Calcification, fibrosis, and increased scalp DHT all play a huge role in developing pattern hair loss… But all three of these things have thousands of triggers.
For instance, calcification and fibrosis are the end-result of chronic inflammation. What can trigger chronic inflammation? Certain foods, poor lifestyle choices, bacteria, parasites, pollution, scalp tension… The list goes on. Here's a chart summarizing just the major categories (not specific triggers) about how hair loss can begin: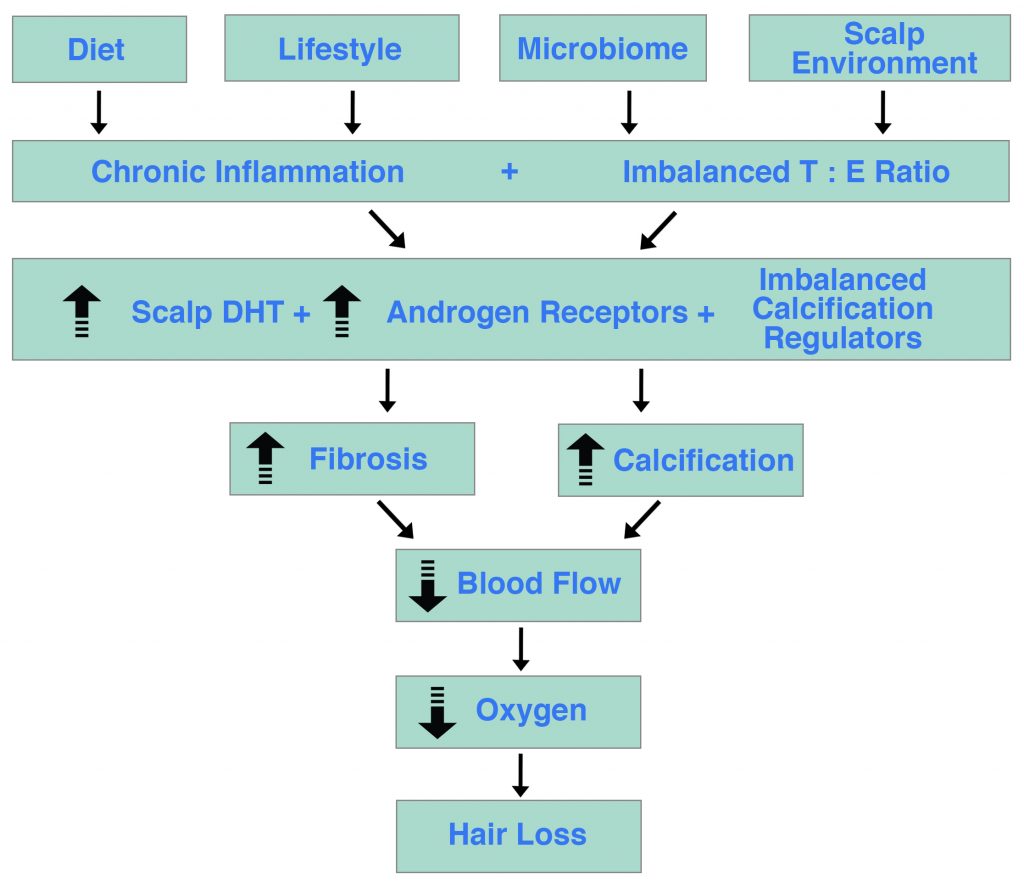 Unfortunately, most hair loss topicals target just one trigger of these thousands of possibilities.
Just look at these hair loss topicals and what each allegedly targets:
Spironolactone – blocks androgen receptors
Topical Finasteride – inhibits 5-alpha reductase
Rogaine – increases blood flow
Onion juice – reduces inflammation
Apple polyphenols – decreases transforming growth factor beta
Nizoral (shampoo) – anti-fungal, decreases DHT
Now let's look at the odds:
There are thousands of triggers for hair loss. But most hair loss topicals target just one (or a few) of these triggers. So how likely is it that we pick a topical that also happens to target the same triggers of our own hair loss?
Not very likely – especially if we're experimenting with a topical that doesn't target the major culprits of hair loss – scalp tissue DHT, calcification, and fibrosis. (Note: for more information, read this.)
This sort of thing happens in hair loss forums all the time. Here are two recent examples.
Topical Study #1: Pig Lard
In September 2013, a researcher published a paper about how he used a pig fat (lard) topical for his own personal hair regrowth. This researcher massaged five grams of fat (lard) into his scalp each night before going to bed. After eight months, he'd regrown a ton of hair:
(source)
This study got posted on hair loss forums, and within days, its popularity exploded. Dozens of forum users decided to commit to the methodology for eight months and try to validate its results.
So what happened?
After a month people's excitement started to sizzle. After two months the thread got buried to the forum's second page. After three months people forgot the study had ever been posted. And after eight months none of the "testers" posted a single before-after picture. Of the testers who finished the experiment (to my knowledge – just two), none claimed any results.
This story isn't unique. This is the typical trend with any treatment on any hair loss forum:
One treatment success story
Initial excitement from the community
A few users who say they're going to try it themselves
No updates from those users
A slow fade into radio silence
For purposes of this article, let's assume that of the testers who tried this topical, they tried it correctly and for the entire eight months, and it still didn't work. Let's forget about the possibility that most testers who faded away probably didn't even commit to the regimen (which is probably the reality).
Why would this lard topical work for the author but not everyone else?
Pig Lard Might Only Be Effective For Certain Types Of Hair Loss
Pattern hair loss is a broad term, so let's break it down.
The two most common types of pattern hair loss in men are…
Typical pattern recession (hair loss starting at the temples and vertex)
Diffuse thinning (general thinning across the entire top of the scalp)
Interestingly, our type of hair loss might tell us more about its triggers.
I often reference calcification, fibrosis, and scalp tissue DHT as primary catalysts to hair loss. Here are a couple more (related) triggers worth mentioning:
#1: A Decrease In Subcutaneous Fat (The Fat Cushion Protecting Our Hair Follicles)
Hair follicles are surrounded by a fatty layer known as subcutaneous fat. Subcutaneous fat helps maintain the health and size of a follicle. If this fatty layer erodes, a follicle no longer has the cushion needed to support its size, and so it begins to shrink.
Some theories suggest that the "erosion of subcutaneous fat" above the scalp is what leads to pattern hair loss. (Interestingly, there's evidence that DHT may erode subcutaneous fat, which is probably why DHT levels are elevated in the scalps of balding men. Read more here.)
A common sign of decreased subcutaneous fat in our scalps is thinner, tighter scalp skin.
#2: Skull Expansion (The Continued Growth Of Our Scalp Bones)
As men age, androgens like testosterone and DHT may encourage the bones in their scalps to thicken or grow larger. This is called skull expansion, and some people theorize that skull expansion actually causes hair loss by reducing blood flow to thinning regions.
The theory is that skull bone growth might decrease blood supply to parts of our scalps, or even indicate advanced states of calcification. For evidence, just look at photos of most balding men. Many have a "bulge" starting at the midline of their foreheads (skull expansion).
Circling back to the types of hair loss, is there anything unique about diffuse versus pattern thinners? Yes. In my experience working with hundreds of readers, I've observed two major differences.
Diffuse thinners tend to have thinner skin everywhere across the scalp
Diffuse thinners tend not to have much skull expansion.
Remember: one sign of eroded subcutaneous fat is tighter, thinner skin. So based on these symptoms, what is one potential "trigger" of hair loss for diffuse thinners?
An eroded subcutaneous fat layer.
Now let's get back to this pig lard study. What can we glean from the author's "before" photo?
Based on the pattern of his hair loss, he also looks like a diffuse thinner.
Interestingly, there's evidence that fat-based hair loss topicals might help increase the density of our scalp's subcutaneous fat through hydration. This includes emu oil, coconut oil, and yes – even pig lard.
This might explain why the author got such great results. The author is a diffuse thinner. Diffuse thinners tend to suffer from subcutaneous fat erosion. Any fat-based topical that helps increase the scalp's subcutaneous fat should also help diffuse thinners.
Now let's go back to the "testers" on that hair loss forum. Chances are they weren't diffuse thinners. Chances are they were typical pattern hair loss sufferers.
Since those with typical pattern recession tend to also show signs of skull expansion, it's likely that their hair loss is more rooted in triggers beyond subcutaneous fat erosion (like calcification).
As a result, those with typical pattern hair loss probably won't experience much benefit from fat-based topicals that target subcutaneous fat. Instead, these people need to target calcification.
Advice For Diffuse Thinners
If you're a diffuse thinner with minimal skull expansion and you want to try a topical, go for fat-based topicals like emu oil, lard, butter, or coconut oil. Use them nightly, leave them in as you sleep, and test for a year before determining whether they're helping.
Topical Study #2: Essential Oils
Many years ago researchers conducted a study on aromatherapy essential oils' effects on hair growth for people with Alopecia Areata.
Alopecia Areata is an autoimmune disease in which the body attacks the hair follicle, often leading to hair fall in patches and everywhere (even on the scalp sides).
The researchers tested a cocktail of thyme, rosemary, lavender, and cedarwood essential oils inside a mixture of jojoba and grapeseed. The instruction: massage these oils into the scalp, daily, for 2+ minutes.
The results were incredible.
44% of users saw hair improvement. Some even saw full recoveries:
(source)
Again, this study made its rounds through hair loss forums. People got excited. Many pattern hair loss sufferers said they would attempt to replicate the study and try it themselves.
Months later those threads went quiet. We never saw any before-after photos from those who said they'd commit to the regimen.
Why did this essential oil topical work for those in the study and not for the forum testers?
Why Essential Oils Don't Regrow Hair For Everyone
This one is kind of obvious. The study was for people with alopecia areata – not male pattern hair loss.
Alopecia areata is an autoimmune disease where the body begins recognizing hair follicles as invaders, and then begins to attack and destroy them.
Those with alopecia areata don't necessarily have any of the scalp conditions associated with male pattern baldness (calcification, fibrosis, higher tissue DHT, etc.).
As such, alopecia areata sufferers and male pattern hair loss sufferers responder better to different types of treatment.
Advice For Alopecia Areata Sufferers
If you're suffering from alopecia areata, this topical might be worth trying. But if you're suffering from regular pattern hair loss, don't expect an essential oil blend to work any miracles.
Final Thoughts On Hair Loss Topicals
I don't have any topical recommendations. I think most are a waste of money, and that most don't target the two most chronic, progressive conditions of hair loss – calcification and fibrosis.
But if you're going to try a topical, do the following:
Test it for at least four or five months before deciding whether it's helpful.
Don't change a dozen other things in your regimen at the same time.
Otherwise, you won't have any idea what's helping.
What's To Come…
In the next few weeks, I'll have a post on which topicals encourage hair regrowth and why. The key to an effective topical: something known as autophagy. More on this later.

Rob English is a researcher, medical editor, and the founder of perfecthairhealth.com. He acts as a peer reviewer for scholarly journals and has published three peer-reviewed papers on androgenic alopecia. He writes regularly about the science behind hair loss (and hair growth). Feel free to browse his long-form articles and publications throughout this site.