Caffeine & Hair Growth: A Scientific Deep-Dive
In recent years, there's been an explosion of interest in caffeine shampoos / topicals and their potential to improve pattern hair loss (androgenic alopecia). The hope: that applying caffeine to our scalps might stimulate growth factors, improve blood flow, and maybe even reverse hair follicle miniaturization.
At first glance, caffeine use might look like a viable, natural intervention. But what does the research actually say?
In other words, does caffeine work? Is it a viable alternative to minoxidil? Is caffeine better if ingested, applied topically, or used as a shampoo? How much hair regrowth can we expect? And are there any longterm side effects?
This article dives in the science (and answers).
We'll dispel a lot of common knowledge about caffeine's efficacy for hair growth. We'll also comb through the evidence, set realistic expectations, and reveal how to best use caffeine to maximize your chances of hair recovery.
Long-story short: caffeine isn't a miracle cure. But it might not be completely useless, either.
Topical caffeine: highlights
Effort. Low – daily topical application, shampoo use, or ingestion are all easy to implement
Expectations. According to studies, hair improvements are typically observed by 6+ months
Response rate: 75%
Regrowth rate: 0-5%
Cost. $10-25 per month
Problems. Low-grade clinical evidence; studies measure outcomes like shedding rates and anagen:telogen ratios, not hair counts; lacking impressive before-after photosets; likely less effective than minoxidil; must be combined with other treatments or ingredients like azaleic acid for maximized benefit.
Key takeaways
Topical caffeine is clinically shown to reduce hair shedding rates and improve anagen:telogen ratios in men with androgenic alopecia. Unfortunately, it's still unclear just how effective caffeine-based topicals and shampoos are for improving pattern hair loss.
Caffeine shampoos/topicals fall under an intervention umbrella of "low risk, low reward". In other words, caffeine's risk of significant side effects is minimal, as is the amount of hair growth it may initiate.
Having said that, not all caffeine is created equally. While topical caffeine products have been shown to improve shedding rates and anagen:telogen ratios, oral caffeine might actually increase hair loss in those who have insulin resistance or are hypothyroid.
Of all clinical studies on topical caffeine for pattern hair loss, the best results seem to occur when topical caffeine is combined with ingredients like azelaic acid or drugs like minoxidil.
In any case, a 0.2% caffeine dilution for topical solutions and a 1% caffeine dilution for shampoo formulations seem to be the best studied (and most promising), so look for brands that meet these criteria.
If you're going to use caffeine as a potential hair loss intervention, please understand that this stimulant is only clinically tested on androgenic alopecia, and that it's likely not effective as a standalone treatment.
More information on the science behind caffeine – its mechanisms, as well as the optimal delivery methods, dilution, and more for hair recovery – can be found below.
What is caffeine?
Caffeine is a stimulant derived from plants – namely, coffee and tea. It's the most popular stimulant on the planet.
Caffeine structure

As a stimulant, caffeine has a variety of effects on the human body – from better focus to improvements in endurance. But interestingly, the magnitude of these effect often vary per person, and as a result of differences in our genetic constitution, food consumption, and even past caffeine exposure.
What popularized caffeine as a potential hair loss treatment?
In general, caffeine has been studied for its effects on:
The cardiovascular system – i.e., increased heart rate and possible vasodilation and/or vasoconstriction
Longevity – i.e., muscular development, cellular metabolism
Hormones – i.e., cortisol and thyroid hormones (these may play a role in caffeine's "energizing" effects)
And interestingly, vasodilation, cellular metabolism, cortisol, and thyroid hormones have all been studied as potential treatments to different hair loss disorders.
For instance, hair loss drugs like minoxidil improve hair growth by increasing vasodilation; thyroid drugs like levothyroxine help to improve hypothyroid-related hair loss by restoring thyroid functionality.
This begs the question: what sort of impact might caffeine have on our hair follicles?
Can caffeine – ingested orally or applied topically – mimic the mechanisms of hair loss interventions? And if so, are the effects of caffeine strong enough to actually improve hair loss outcomes?
These connective points are what prompted scientists to start studying caffeine as a potential hair loss intervention. And taking a deeper look, there is some mechanistic overlap in how this stimulant might improve hair loss outcomes.
Caffeine is one of the most popular stimulants. It's well-studied in terms of its effects on vasodilation, cellular metabolism, and hormonal health. And interestingly, these research avenues have left scientists wondering if caffeine can also be reoriented as a hair loss solution.
How might caffeine help with hair regrowth?
It's hard to say. On the one hand, caffeine does have some hair-promoting effects. On the other hand, caffeine also has some issues that may actually contribute to hair loss. All in all, the way it will effect you will boil down to (1) the dose and (2) the ingestion type (oral or topical), and (3) your genetic constitution.
Here are a few effects that caffeine has – both positive and negative – in regard to hair health.
1. Topical caffeine may improve vasodilation (good)
Caffeine's effects on blood flow vary depending on the mode of ingestion (i.e., topical versus oral) and the actual tissue being measured. Just see this chart demonstrating how oral caffeine impacts blood flow across body tissues.
Caffeine's location-dependent effects on blood flow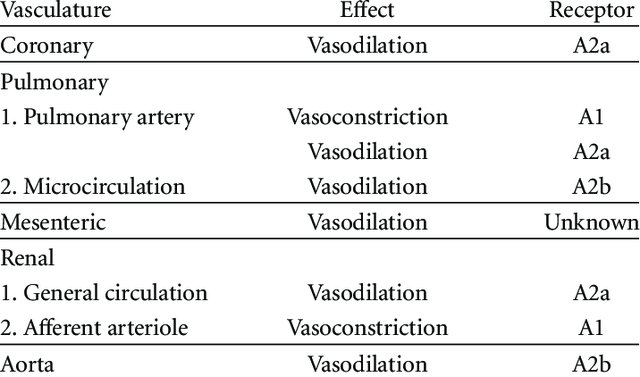 (source)
Interestingly, both topical caffeine and oral caffeine seem to improve blood flow in microcapillary networks – the blood vessel networks that supply our peripheral tissues (i.e., skin) – and the same blood vessel networks that help support the growth of our hair follicles.
This is because in vascular smooth muscle cells, caffeine acts as a phosphodiesterase inhibitor. In other words, caffeine helps to block the enzyme phosphodiesterase.
This enzyme helps inactivate a molecule called cyclic adenosine monophosphate – a biological messenger molecule that regulates vasolidation (i.e., blood flow) in smooth muscle cells. In the absence of phosphodiesterase, more cyclic adenosine monophosphate accumulates, thus expanding vasodilation in smooth muscle tissues.
This is also why phosphodiesterase inhibitors are often prescribed for a variety of blood flow-related health conditions – i.e., erectile dysfunction, hypertension, and even vascular disease. They all help promote blood flow.
Caffeine happens to be one of these phosphodiesterase inhibitors. And while it's a weak inhibitor, it still has an effect on these capillary networks.
But, there's one caveat here. While it's true that a defining characteristic of androgenic alopecia (AGA) is reduced blood flow, it's still debated whether blood flow is a cause or consequence to hair follicle miniaturization. So, we don't yet know if caffeine's vasodilation effects will really have any impact to our hair.
2. Caffeine may increase cellular metabolism (good)
Caffeine doesn't just inhibit phosphodiesterase. It also inhibits adenosine receptors – a type of neural receptor that helps to regulate cellular metabolism and our own sense of "wakefulness".
In the absence of caffeine, a molecule called adenosine normally binds to an adenosine receptor in our brain. When adenosine binds to an adenosine receptor, our brain's neural activity begins to quiet. The end-result: we feel a bit sleepier.
Caffeine is an adenosine receptor antagonist. That means that when it's ingested, caffeine blocks adenosine receptors so that adenosine cannot bind to them. This prevents the "quieting" of neural activity – and thus promotes longer periods of wakefulness.
Interestingly, there's also evidence that caffeine's inhibition of both phosphodiesterase and adenosine receptors may promote cellular metabolism. To put it more bluntly, caffeine ingestion might help to improve (1) energy utilization in the body, and (2) the mobilization of free fatty acids for energy usage.
This may have pro-hair effects, as many genes that are upregulating in balding scalp tissues tend to have an association with impaired cellular metabolism. But again, we just don't know for sure.
3. High-dose oral caffeine may increase insulin resistance (bad)
Unfortunately, not all effects from caffeine are pro-hair. While improving cellular metabolism may help support the growth stage of our hair follicles, there are also consequences to the way in which caffeine improves cellular metabolism that may negatively impact our hair.
For instance, one study found that oral caffeine consumption decreased insulin sensitivity by 15% in healthy adults. That's not good – especially for young men and women who are balding, as insulin resistance is almost always a commonly confounding factor in early-onset AGA.
Moreover, there's also evidence that at high dosages, oral caffeine's "liberation" of free fatty acids also promotes hyperglycemia and insulin resistance in peripheral tissues (i.e., our skin) – possibly as a result of increased stress hormones like cortisol. Which brings us to our second concern…
4. Oral caffeine increases cortisol levels, and may impair thyroid function and skin quality.
Evidence strongly implicates oral caffeine consumption and an increase in cortisol levels. Unfortunately, the hormone cortisol, when chronically elevated, can negatively impact hair-related bodily functions and in two major ways:
Another noteworthy mention is that coffee can also impair the absorption of thyroxine. So, if you are taking this medication for a thyroid disorder, it's likely in your best interest to avoid consuming coffee around the same time. But, it's unclear whether this effect is a result of the caffeine content or other compounds found in coffee.
Again, we don't yet have any data correlating oral caffeine consumption to pattern hair loss. But these concerns are worth noting for anyone who's balding and has had a history of hyperglycemia, insulin resistance, hypothyroidism, or adrenal dysregulation.
What about topical caffeine?
In contrast to high dose oral caffeine, it doesn't seem like topical caffeine elicits the exact same anti-hair effects. Rather, topical caffeine (as a lotion or shampoo) might have some therapeutic benefit to our scalp hair.
For reference, in vitro studies in humans and in vivo studies in mice suggest that caffeine's effects on (1) phosphodiesterase inhibition and (2) adenosine receptor binding probably will improve hair growth, and through a variety of means.
Specifically, topical caffeine might…
Prolong the growth phase of the hair cycle (i.e., the anagen phase)
Stimulate matrix keratinocyte proliferation – or encourage the growth of new hair fibers
Increase IGF-1 – a signaling protein that helps regulate hair growth
Inhibit apoptosis – or the "death" of cells responsible for regulating hair growth
Promote blood flow – which is historically much lower in balding versus non-balding scalps
So, overall, it seems like mechanistic evidence supports at least the use of topical caffeine as a potential hair loss intervention. And this conclusion is why so many researchers have bothered studying caffeine lotions and shampoos for the improvement of AGA.
Caffeine is a (1) phosphodiesterase inhibitor and (2) an adenosine receptor antagonist. While its effects vary on a tissue-by-tissue basis, oral and topical caffeine seem to improve microcapillary networks in periphery tissues (where our hair follicles reside). Moreover, caffeine can help improve cellular metabolism by liberating free fatty acids for energy use. Improvements to both (1) vasodilation and (2) cellular metabolism should theoretically benefit our hair.

At the same time, oral caffeine seems to also increase insulin resistance in peripheral tissues. This is problematic – as reduced insulin sensitivity may interfere with the growth cycles of our hair follicles. Moreover, oral caffeine consumption can increase cortisol levels and decrease thyroid functionality – which may also negatively impact hair growth cycles.

Despite concerns of oral caffeine use for hair, evidence does support the use of topical caffeine for hair growth – at least from a mechanistic standpoint. In vitro research suggests that, in human hair follicles, topical caffeine helps to prolong anagen duration, increase IGF-1, inhibit cell death, and improve blood flow. While this doesn't mean that these effects will translate in vivo, it does give credence to the idea that topical caffeine is worth testing as a hair loss intervention.
This all brings us to our next question: what does the clinical data say about topical caffeine and its use as a hair growth stimulant?
Is topical caffeine effective for hair loss?
This is harder to answer than it may seem.
At face-value, the answer is yes. This is because there are a lot of studies showing that caffeine in a topical or shampoo (or caffeine in conjunction with minoxidil and/or azelaic acid) can improve hair loss outcomes.
For instance, this recent literature review on topical caffeine dives into over a dozen clinical studies, many of which report:
"…Statistically significantly better results" when used in conjunction with minoxidil versus minoxidil alone
Higher patient satisfaction when used with minoxidil compared to minoxidil alone
Decrease in hair loss after washing when using caffeine + minoxidil + azelaic acid, with similar results to a minoxidil solution after 36 weeks
Decrease in hairs lost in a hair pull test after 6 months of using a caffeine shampoo (no placebo) and 4 months of using a caffeine-containing lotion.
Reading these conclusions, it's no wonder why caffeine topical sales have spiked in the last few years.
However, taking a closer look, these studies might not be as encouraging as their conclusions imply. Here's why.
Quality analysis: how do caffeine-hair loss studies stack up?
When it comes to research, not all peer-reviewed papers are created equally.
Some studies are published in predatory journals that circumvent the peer review process; others are published in low-ranking journals; others simply have major methodological concerns that draw the findings of those studies into question.
When it comes to the studies on caffeine and hair regrowth, it's that last issue that's most prevalent. That's not to say that we should dismiss caffeine's effects entirely. But, there are several concerns worth highlighting.
1. Methodological concerns
In the above literature review, most of the feature studies don't measure hair count increases. Rather, they measure endpoints like patient self-satisfaction surveys, changes to anagen:telogen ratios, and a reduction in hair fall during "wash tests" or "tug tests".
These measurements are difficult to standardize and are notoriously unreliable, meaning it can be hard to determine the true effectiveness of caffeine from any study designed this way.
In fact, it's my belief that a lot of industry-funded research purposefully chooses these measurement endpoints because of their unreliability. For reference, these types of endpoints are why so many low-level laser therapy studies will report almost unbelievable hair improvement – i.e., "200% hair diameter increases" or "80% hair density improvements" in their clinical trials – while paradoxically, having no visual improvements to show subjects' photographic assessments.
The bottom line: these measurement endpoints aren't very strong, and some investigators who choose these endpoints may be doing so to deliberately skew caffeine's perception of efficacy. But no matter what, the weaker the hair measurement endpoints, the less reliable the results.
2. Topical caffeine is rarely measured as a standalone treatment
Most of these studies measure topical caffeine alongside enhancer ingredients – like azelaic acid, minoxidil, or both – and not caffeine as a standalone treatment. This makes it hard to evaluate whether caffeine by itself is very effective.
In fact, there's just one study that we could find that measured topical caffeine as a standalone treatment. Unfortunately, it measures topical caffeine versus minoxidil, not a placebo. That study's takeaway? That topical caffeine is similarly effective to 5% minoxidil… at least when we compare weak measurement endpoints (see #1).
3. Conflicts of interest
Of all the clinical research done on caffeine and hair growth, most of it is industry-funded.
At face-value, this isn't necessarily a problem. After all, a significant portion of hair loss studies comes from industry-funded research teams. Where there's financial incentive for a treatment, there will be attempts at peer-reviewed research to prove efficacy.
Having said that, this does become a problem when the studies are typically designed with poor measurement outcomes – such that the odds of achieving "favorable" results increases dramatically. Nearly all of the topical caffeine studies on AGA have this very problem. Compile that with the issue of almost never measuring caffeine alone, and you have even more problems (see #1 and #2).
4. Manufacturers publish research on topical caffeine, but sell you shampoo-based caffeine
One of the most frustrating aspects of hair loss products are that manufacturers will publish a study showing their product demonstrating benefit, but then sell you a product that's different from the one studied.
This happens all the time with LLLT devices, and it seemingly also happens with caffeine products for hair loss.
Case in point: Alpecin's study on a topical caffeine solution. The findings showed that this topical did improve hair loss outcomes. But ironically, Alpecin doesn't sell this topical; it sells a caffeine shampoo. Topicals are leave-in for hours, whereas shampoos may only come into contact with the scalp for 60 seconds. It was this issue in addition to #1-#3 that got Alpecin banned in certain countries from saying their "shampoos" could reduce hair loss.
It was a combination of these issues that led researchers in the above literature review to conclude that while caffeine might help improve aspects of our hair, there isn't yet enough evidence to support most claims being made by manufacturers.
Topical caffeine does have clinical research supporting its use for hair loss. However, in literature reviews of the dozen or so studies on topical caffeine, concerns of endpoint measurements, lacking study as a standalone treatment, conflicts of interest, and discrepancies in what's studied versus sold to consumers raises red flags as to caffeine being a truly viable long-term solution.
Despite all of this, there is evidence that topical caffeine might help our hair
Circling back to that literature review, there is accumulating evidence that caffeine can help reduce hair shedding from androgenic alopecia and even improve anagen:telogen ratios. It's just that if we're going to use it, we shouldn't set our expectations at regrowth; we should set our expectations at a slowing of hair loss.
This leaves us with an interesting dilemma: if we want to leverage caffeine as a hair growth promoter, we need to do so in topical or shampoo form. And that means we need to know:
What's the best caffeine formulation: topical or shampoo?
Is there a difference in regrowth reported between 0.2% and 1% caffeine dilutions?
What's the optimal frequency of application? Once a week, once a day, etc.?
Does the effectiveness of caffeine wane over time – like minoxidil and other hair loss drugs?
Sifting through the literature review, there are studies that answer these questions. But again, they're all subject to significant bias.
Even still, we can use these studies to guide some caffeine best practices – at least for those who want to make the investment and try it out.
Using caffeine for hair growth: best practices
The best caffeine formulation is likely within a shampoo or topical
Oral caffeine likely doesn't accumulate in the scalp at a high enough degree to elicit adverse or beneficial effects. However, it may have peripheral action through increased cortisol levels, and this may indirectly impede hair growth for those with insulin resistance and/or hypothyroidism.
Knowing this, the safest and most effective way to use caffeine for hair growth is through topical means, either through some sort of lotion or shampoo.
Considering one study found that caffeine solutions penetrate the hair follicle after 2 minutes and peak at 2 hours, a leave-on caffeine solution may be optimal over a shampoo formulation.
The best caffeine dilution is 0.2% for topicals and 1% for shampoos (as far as we can tell)
But to be clear: the answer likely depends on whatever other ingredients are also in the topical (i.e., azelaic acid, minoxidil, etc.). Here's why.
This study, the only study measuring the efficacy of caffeine alone, found that a 0.2% caffeine topical (Alpecin) was just as effective as 5% minoxidil at improving anagen hair percentages.

Problems: does not measure total hair count changes, thus improvements to anagen:telogen ratio can also be achieved by simply just shedding more telogen hairs for either treatment group; study only went for 6 months and results (i.e., improvements to anagen:telogen ratio for both caffeine topical and minoxidil) are within range for what we'd expect from seasonality

Pazoki-Toroudi et al. (2013) assessed the combination of caffeine 1%, minoxidil 5%, and azelaic acid 1.5% versus minoxidil 5%. The combination therapy was more effective than minoxidil alone.

Problems: does not measure caffeine alone, so we can't really say.

Bussoletti et al. (2010, 2011) found that a 1% caffeine shampoo alone and caffeine lotion alone both resulted in less hair lost to a pull test after 6 and 4 months, respectively.

Problems: no concentration specified for the lotion; no control group used to assess true efficacy.

Golpur et al. (2013) found that caffeine + 2.5% minoxidil was more effective than 2.5% minoxidil alone.

Problems: no percentage of caffeine was indicated.

Sisto et al. (2013) analyzed the effects of a caffeine-containing shampoo vs a caffeine-free shampoo and found that the active treatment was superior to the placebo.

Problems: no concentration specified.
So, from what we can garner from the limited studies available, a 0.2% solution for topical application seems to be somewhat effective. However, keep in mind that this is only for a leave-on treatment, not a shampoo.
We don't really have much information on optimal shampoo dilution. A 1% dilution was the only concentration reported for caffeine shampoo alone, but this treatment wasn't compared against a placebo and, so, results aren't super applicable. Even still, 1% seems to be comparably effective to minoxidil.
A 1% caffeine, minoxidil 5%, and 1.5% azelaic acid shampoo was considered more effective than minoxidil alone, but we can't extrapolate this 1% dilution to a caffeine-only shampoo.
0.2% for topical solutions and 1% for shampoo formulations is all we can really extract from the current body of evidence, but it should be noted that these recommendations aren't necessarily reliable given the minimal evidence.
What is the optimal frequency of use?
Like concentration, data on the frequency of use is also sparse. In the highest quality study, subjects used a 0.2% caffeine topical twice a day, every day. Another study instructed subjects to apply a caffeine lotion (unspecified concentration) once daily.
Other studies likely using shampoos most likely involved subjects using the treatment product however often they would normally shampoo their hair. So, it can be difficult to quantify just how often is optimal because use wasn't standardized, as far as we can see.
With the knowledge we have, daily use of a topical seems to be optimal. Conversely, using a shampoo daily may be drying to the hair and the scalp, so it's safe to say that using a caffeine-containing shampoo however often you would normally shampoo is probably best.
Does caffeine's efficacy wane over time?
While no studies measure caffeine's effectiveness for long enough to see if regrowth is sustained, we can assume – like nearly all topicals – that its hair-promoting effects will likely lessen over time.
The reasons why will be explained in a future article – one comparing the long-term outcomes of antiandrogenic versus non-antiandrogenic hair loss interventions. But the short answer is that we can liken any sort of topical formulation for hair loss – even minoxidil – as a bandaid that won't necessarily fully address the underlying roots of the problem.
Summary
Topical caffeine may help to elongate the anagen phase of the hair cycle, improve anagen:telogen ratios, decrease hair shedding, and slow the progression of androgenic alopecia (AGA). But it's by no means a miracle cure, and evidence so far suggests that this topical isn't any better than 5% minoxidil.
The limited evidence we do have on topical caffeine is relatively biased, poorly designed, and has only been studied for androgenic alopecia. Until studies with better designs are published, it's hard to say with certainty just how much of an effect topical caffeine will have on our hair.
Nevertheless, topical caffeine leave-on treatments have more quality evidence to support their use (as opposed to shampoos). 0.2% dilutions for topicals and 1% dilutions for shampoos seem to be the most promising. Moreover, the best way to utilize caffeine seems to be in conjunction with minoxidil and, possibly, azelaic acid.
Paradoxically, oral caffeine consumption may have an adverse effect on hair growth through increased cortisol release, increased hyperglycemia in periphery tissues, and potentially decreased thyroid functionality. For these reasons, anyone with a history of insulin resistance or hypothyroidism is probably better off avoiding oral caffeine altogether – particularly for hair health.
If you do decide to implement caffeine into your regrowth regimen, the first thing you'll notice is how difficult it is to field the market. Almost all companies that have any merit in this space don't quantify the caffeine dilution in their products. Considering most caffeine treatments are upwards of $35 USD, you may want to call around and see if their customer service representatives can give you more information.
Let us know if you have personal experience or testament in using (or excluding) caffeine. If you start using caffeine, report your progress here for others to see! Any questions or comments? Please reach out in the comments section.

Rob English is a researcher, medical editor, and the founder of perfecthairhealth.com. He acts as a peer reviewer for scholarly journals and has published five peer-reviewed papers on androgenic alopecia. He writes regularly about the science behind hair loss (and hair growth). Feel free to browse his long-form articles and publications throughout this site.