The Ultimate Guide to Saw Palmetto for Hair Loss
Saw palmetto is (maybe) the world's most popular hair loss supplement. It comes from the Serenoa repens fruit, and studies show that it can lower levels of DHT – the same hormone implicated in pattern hair loss, and the same hormone that finasteride (Propecia®) reduces to improve hair loss.
This is why so many people refer to saw palmetto as nature's finasteride…
But is this extract actually effective? Is it safe long-term? Is topical or supplemental saw palmetto better? Is it a substitute for finasteride? Will mega-dosing improve hair regrowth? What are the best extraction methods? And is it worth its costs in hair recovery?
This ultimate guide gives you the answers.
Spoiler alert: saw palmetto isn't nature's finasteride… but it's not completely useless, either. And before you invest $300+ per year in this supplement, you'll want to uncover how to make the extract as effective as possible.
Saw Palmetto: Highlights
Effort. Low (requires daily supplementation or application)
Expectations. Hair loss improvements observed between 6-24 months
Response rate: 38-60%, depending on dose and delivery (supplement or topical)
Regrowth rate: 0-10%; potentially higher if used alongside other therapies
Cost. $30/month
Problems. Results contingent upon lifelong use; lacking product standardization leads to differences in clinical versus real-world results
Key takeaways
Saw palmetto may improve hair loss, but the evidence is mixed and generally of low quality. Since there are no best practices for saw palmetto manufacturing or extraction, some brands lower DHT substantially more than others.
Saw palmetto is not as effective as finasteride – even if you mega-dose it. However, it probably slows down hair loss for most people, and it may improve crown thinning in 38% of men.
Saw palmetto can enhance the power of other hair loss remedies, and it may be more effective if taken simultaneously as both a supplement and a topical.
Most studies show that saw palmetto is safe long-term. However, there's lacking data on women (especially pregnant or breastfeeding mothers).
Saw palmetto: how it became a hair loss supplement
Saw palmetto is a palm plant native to the Southeastern United States. It grows up to 10 feet tall and can live over 700 years.
Thirty years ago, researchers found that saw palmetto reduces the activity of 5-alpha reductase – the enzyme our bodies use to make the hormone dihydrotestosterone (DHT). DHT is a hormone involved in a condition called prostatic hypertrophy (i.e., an enlarged prostate). To oversimplify a complex condition: the more DHT in our prostate, the larger our prostate grows, the more problems we experience with urination.
Encouragingly, early research showed that supplementing with saw palmetto could lower DHT levels enough to reduce prostate size. Resultantly, scientists began to wonder if saw palmetto might also treat other conditions linked to DHT… like pattern hair loss (i.e., androgenic alopecia).
Pattern hair loss & DHT: the evidence
Pattern hair loss is one of the world's most common hair loss disorders. It's so common that you often can't walk a city block without spotting someone with it. In men, it usually starts as hairline recession or a bald spot. In women, it often begins as general thinning throughout the top part of the scalp.
Male pattern hair loss (AGA)

Just like prostatic hypertrophy, studies also show that DHT is causally linked to pattern hair loss (i.e., androgenic alopecia).
Balding scalps have higher levels of DHT
Men who can't produce DHT don't go bald
Men with pattern hair loss who get castrated (and see a 95% loss in DHT) will stop balding
Moreover, we know that reducing DHT improves hair loss. For instance, the drug finasteride (Propecia®) reduces DHT levels by 50-70%+. Consequently, it stops hair loss in 80% of men and leads to a 10% increase in hair count over a two-year period.
DHT: the hormone involved in pattern hair loss

If finasteride were the perfect hair loss solution, everyone (including me) would take it. Unfortunately, it's not. As with most drugs, finasteride can come with side effects.
For instance, finasteride is a synthetic azosteroid. It reduces DHT by competing with (and binding to) a coenzyme that our bodies use to make type II 5-alpha reductase – the enzyme that converts free testosterone into DHT.
This can have unintended consequences. Depending on which study you cite, between 1% and 25% of finasteride users will report issues ranging from brain fog to depression to sexual dysfunction.
This is why so many men feel like finasteride forces them to choose between their hair or their sex life. Which begs the question…
Would a natural DHT reducer, like saw palmetto, help fight hair loss but with fewer side effects?
It's possible. It all has to do with where (and how) a substance reduces DHT.
DHT is a hormone found nearly everywhere in our bodies: our blood, prostates, scalps, brains, etc. But not all DHT is linked to hair loss. For instance, elevated blood DHT doesn't cause hair loss. In fact, it's really just elevated scalp DHT that's linked to thinning hair.
Long-story short: it's not in our best interest to reduce DHT everywhere. We don't want to lower DHT in places where it's helping to promote health. We only want to lower DHT where it's producing a negative effect (like our prostates or scalps).
Saw palmetto is a selective DHT reducer. It doesn't reduce DHT everywhere.
While finasteride lowers DHT almost everywhere, saw palmetto doesn't.
For instance, saw palmetto doesn't lower blood DHT, but it does lower prostate DHT. It also lowers DHT wherever it's applied topically.
And, while we don't yet have the studies to prove it, clinical trials suggest that saw palmetto also lowers scalp tissue DHT (more on this soon).
The reasons why are a bit complicated and out-of-scope for this article. But the high level overview is that (1) we can reduce DHT in many ways, (2) saw palmetto reduces DHT differently than finasteride, and (3) saw palmetto reduces DHT by…
Competitively and non-competitively inhibiting type II 5-alpha reductase
Reducing DHT binding to androgen receptor sites by up to 50%
Increasing the conversion of DHT to a weaker metabolite called androstanediol
Subsequently, the supplement seems to cause fewer side effects.
In fact, saw palmetto's overall rate of side effects is just 2%. If side effects do occur, they're relegated more so to gastrointestinal distress than to sexual dysfunction. And even better, many studies on saw palmetto show no change in libido; some studies show improvement to sexual health (at least for men with enlarged prostates).
Obviously, this tees up saw palmetto to be a potential hair loss miracle…
But is it actually effective?
Maybe, maybe not. The answer really depends on how we use saw palmetto, what we combine it with, and if we have access to saw palmetto made from high-quality harvesting and extraction methods.
Saw palmetto: clinical studies
While saw palmetto is well-studied in the prostate, there are only a handful of studies measuring its effects on androgenic alopecia (pattern hair loss).
We'll dive into each study and organize them by oral consumption (i.e. a supplement) or topical application (i.e., a lotion). As we'll soon realize, it's hard to separate out saw palmetto's effects from other ingredients. It's even harder to find a general consensus on whether this extract is actually a viable hair loss remedy.
Oral (supplement)
Saw palmetto + beta-sitosterol and other ingredients
A 2002 study tested 200mg daily of saw palmetto on 10 men with androgenic alopecia. After 5 months, researchers reported that 60% of men experienced some degree of hair regrowth – compared to just 11% in the 9-man control group.
That's good! And even better: none of the men reported side effects. But there's a catch (actually, two):
This study combined saw palmetto with several other ingredients: beta-sitosterol (50mg), lecithin (50 mg), inositol (100 mg), phosphatidyl choline (25 mg), niacin (15 mg), and biotin (100 mg). So, we don't know how much of the results to attribute to saw palmetto… and how much to attribute to other ingredients.
This study only included 19 men – 9 of whom took a placebo pill. With just 10 men trying saw palmetto, these results aren't statistically significant.
The researchers knew this. They even stated that statistical significance was not the goal of the study, and rather, that they just wanted to show that saw palmetto could do something before moving onto larger trials.
Fast-forward another decade: we now have these larger trials. But are they any more impressive?
Saw palmetto versus finasteride
In 2012, researchers published what is (probably) the best study so far on saw palmetto for androgenic alopecia: a comparison of that supplement versus finasteride.
The team randomized 100 men with androgenic alopecia into two groups. They gave one group 320mg of saw palmetto and the other group 1mg of finasteride – every day, for two years.
The results? After 24 months, 68% of finasteride users saw hair regrowth… compared to just 38% of men taking saw palmetto.
Moreover, investigators noted that for saw palmetto, regrowth only occurred in the crown… and that the magnitude of regrowth was less impressive versus finasteride.
The takeaway? That saw palmetto achieves half the response rate of finasteride, and that if regrowth does occur, it's relegated to the vertex and isn't as significant versus finasteride.
How come saw palmetto doesn't lead to the same regrowth as finasteride?
Because saw palmetto doesn't lower DHT by as much as finasteride. So, as a trade-off to experiencing fewer side effects, we also see less hair regrowth.
Just see this chart comparing saw palmetto, finasteride, and their ability to lower DHT in the blood, prostate, and scalp.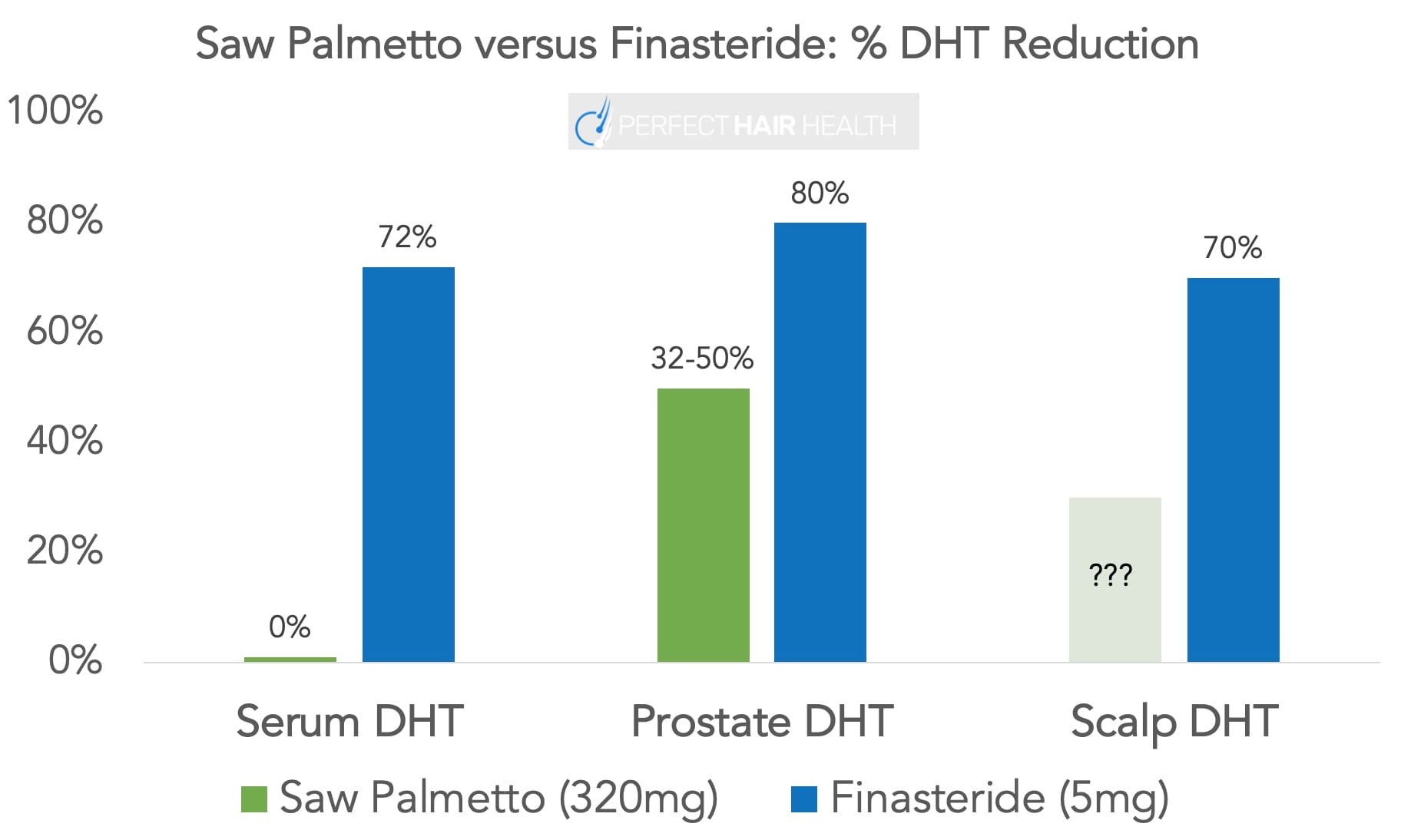 Remember: when it comes to pattern hair loss, scalp DHT is all that matters. Unfortunately, we don't yet have data on saw palmetto's ability to reduce scalp DHT.
Yes, prostate DHT levels are a close surrogate (since prostate tissues also rely on the same enzyme for DHT conversion: type II 5 alpha reductase). So technically, we might be able to apply prostate reduction rates to our scalps.
But the bottom line is that saw palmetto just isn't as powerful as finasteride.
What if we mega-dose on saw palmetto? Will we reduce more DHT and thereby regrow more hair?
Not necessarily. This is because as we ingest more of a medication, we don't always increase its effects.
Take finasteride as a perfect example. It has a logarithmic response curve. As we increase our dose of finasteride, we quickly plateau to reducing DHT by ~70% regardless of whether we take 1mg or 5mg of the drug.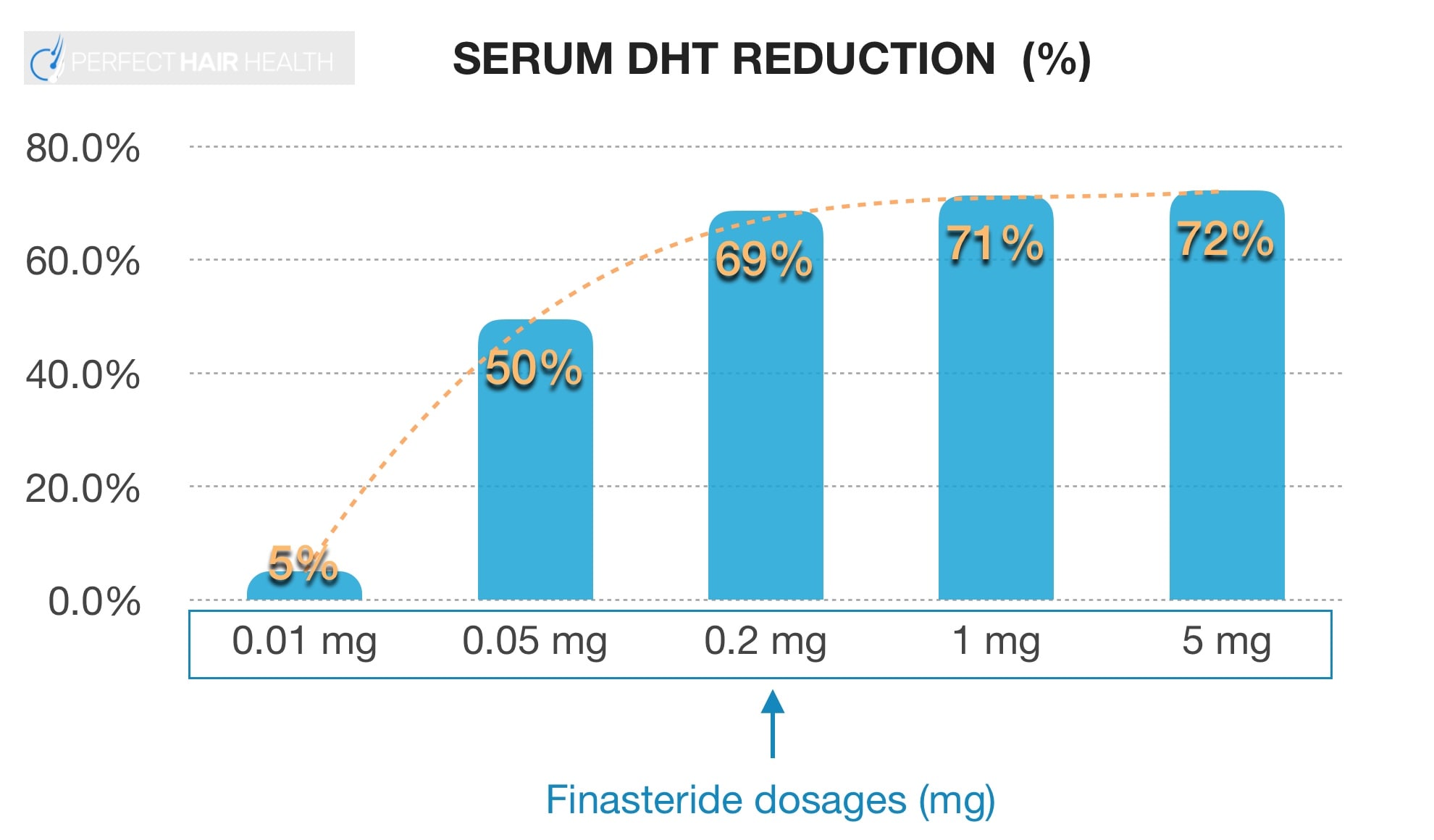 Does saw palmetto have the same effect? We don't yet know (there aren't any studies). However, mega-dosing on saw palmetto probably won't do much more than regular-dosing. Here's why.
Evidence shows that taking two- to three-fold more saw palmetto doesn't improve enlarged prostate symptoms any more than the recommended dose (320mg).
Saw palmetto seems to have a high safety profile – even over five years, and even at two- to three-fold larger dosages. Similar to marginal diminishing returns on efficacy, we see little to no increase in side effects as the dose increases.
There is at least one anecdote of someone mega-dosing saw palmetto after quitting finasteride and reporting zero improvements to their hair.
To me, this suggests saw palmetto's response curve is logarithmic, that a 320mg dose will likely help as much as a 1000mg dose, and that there's no use in mega-dosing to try to lower DHT further.
Does this mean saw palmetto is totally useless?
Not at all. It might be helpful if used correctly.
For starters, let's revisit that study on saw palmetto versus finasteride over a two-year period. According to the investigators, only 38% of saw palmetto users saw improvement. But here's what gets missed in the abstract…
Of those saw palmetto users, 45/50 men saw a stop in hair loss. In fact, that number was the same in the finasteride group (45/50). In other words, saw palmetto stopped the progression of hair loss in 90% of men. And even better, the saw palmetto group also reported zero side effects.
That's a huge win for hair loss sufferers. Just think about it: a natural extract that stops hair loss for 90% of people and without side effects. It's like a hair loss holy grail.
But don't get too excited. We have to caveat these findings.
Whenever we see favorable results like this, we have to think about clinical versus real-world outcomes. Yes, these findings are exciting. But do 90% of men taking saw palmetto report the same findings in real life? And if not, why not?
The anecdotes might surprise you.
Saw palmetto: clinical trial results = amazing; real-world results = not so impressive
If study results were always consistent with real-life experiences, I would recommend things like pumpkin seed oil and saw palmetto to every hair loss sufferer out there.
Unfortunately, we can't always assume that clinical results will match real-world experiences. In particular, we should exercise caution on the 2012 saw palmetto study, and for four reasons:
Despite a sample size of 100 men, there are zero before-after photos. This is unusual, especially as the study used photos to assess subjects' hair changes.
Several people have tried reaching out to the authors for follow-up. To my knowledge, none have received a response. This is unusual, as most authors love discussing their research. For reference, I've only come across this situation under a few circumstances – all of which involved studies that were flawed or poorly designed.
I'm aware of at least one clinical trial on supplemental saw palmetto that was never published ­– probably due to unfavorable results. (Burying unfavorable results is a huge problem in research, but that's for another post.)
Anecdotally, a lot of readers here have reported trying saw palmetto without success, and with side effects. As such, a 90% response rate feels completely unrealistic… as does a 0% incidence of sexual side effects or dysfunction.
But again, we can't dismiss this study's results entirely. Here's why.
There's evidence (here and here) that, in vitro (i.e., in cell cultures), certain saw palmetto extracts reduce DHT levels as well (or better) than finasteride. The different potencies actually depend on saw palmetto's harvesting techniques and extraction methods.
Think of it this way: finasteride is a tightly regulated drug. It has to be pure; it has to look molecularly identical every time it's produced. Saw palmetto is a supplement. It isn't regulated; it comes from different farms; it's sold in powdered forms and liquid extracts; its varying extraction methods produce varying lipid profiles – each with different properties, different effects.
This is why saw palmetto's composition and its ability to reduce DHT varies wildly depending on the brand you buy. You can even experience different magnitudes of DHT reduction from the same brand ordered a month apart (i.e., different batch numbers). That's how inconsistent the product is.
This is the argument that researchers make to explain the mixed results on saw palmetto's ability to improve benign prostate hyperplasia. Some studies say it helps; others say it doesn't. But without any standardization, these studies are just apples-to-oranges comparisons.
Extrapolating to every day hair loss sufferers, this is likely why people taking saw palmetto rarely report zero results. They're likely buying a product is impure, poorly harvested, and/or improperly extracted.
But as a thought exercise, let's take the positive studies at face-value and assume that saw palmetto can stop hair loss in 90% of men (if we're getting the good stuff). Does this mean that if we combine saw palmetto with other hair-promoting ingredients, we can move from a "stop" in hair loss to a "reversal" in hair loss – and for the majority of people?
While the evidence is limited, three studies suggest yes. And they're all on topical saw palmetto.
Topical (lotion)
Saw palmetto improves hair regrowth in a cystine, castor oil, gingko biloba, and azelaic acid topical
This research team added saw palmetto to a topical containing cystine, castor oil, gingko biloba, and azelaic acid. The results after 50 weeks: men and women using the topical with saw palmetto saw twice the hair gains versus the ones without saw palmetto.
In other words, saw palmetto doubled the efficacy of that topical.
Saw palmetto improves hair regrowth in a ginseng, calcium, zinc, niacinamide, glucosamine, and biotin topical
This Turkish team found that over four months, a topical containing saw palmetto and a proprietary blend of ginseng, calcium, zinc, niacinamide, glucosamine and biotin improved hair counts by 11.9% and led to visual hair improvements in 48% of subjects.
Saw palmetto alongside green tea extract, peony root extract, piroctone-olamine, and oligopeptides improves hair loss
This study on 50 men showed that a topical saw palmetto serum / lotion containing the above-mentioned helped regrow hair – with subjects seeing an improvement in hair count at both 12 and 24 weeks.
The bottom-line: topical saw palmetto seems to support (and enhance) hair regrowth alongside other hair-promoting ingredients.
Any other studies on saw palmetto?
Yes, but none that I'm aware of on androgenic alopecia (pattern hair loss).
For example, this 2018 study showed that a supplement containing saw palmetto (and over a dozen other ingredients) increased hair counts by ~10% in six months. But that study was on women with self-perceived hair thinning – not androgenic alopecia.
Given the study's design, we can't parcel out if any regrowth was attributable to saw palmetto. Regardless, the results still support the evidence that saw palmetto may enhance the effectiveness of other hair growth-promoting substances.
What about saw palmetto + PRP, microneedling, or massaging?
While the data is limited, anecdotes suggest that saw palmetto may enhance regrowth from wounding-based therapies – like platelet-rich plasma (PRP), microneedling, or massaging.
Our massage study found that taking topicals or supplements alongside massaging didn't enhance hair regrowth from massaging. At the same time, we didn't control for people just using saw palmetto (since the sample size was too low).
Having said that, some readers here have reported great results using saw palmetto alongside massaging. For reference, here's an email I received from just a few weeks ago:
"I am 29, male, and was NW0 until about 22… Then in December last year I suddenly lost an additional cm on each side in the temples, and the hairline moved back a bit (now NW2,5, vertex still unaffected).

In response to the sudden AGA burst, I began massaging and simultaneously started taking saw palmetto, 320g/d, in January… Exactly at the 5-month mark, most of the hair that I had lost since December was back. Of course, I wanted to find out whether this was due to the massages or the [saw palmetto].

After five months of (rather aggressive) massaging, I quit [saw palmetto] and continued the massages to see what would happen. After about a month, it appeared as if the newly-regrown hair went thinner, and another two weeks later (now), it became obvious that I was rapidly losing all that I had gained…"
For this reader, it seems like saw palmetto + massaging worked wonders, but that massaging alone didn't reap results (at least not within that five-month time window).
Interestingly, that reader's experience is also supported by data on therapies combining wounding with DHT reducers – like microneedling and finasteride. For non-responders to finasteride, adding in microneedling can kickstart hair regrowth. The inverse might also be true for massaging and saw palmetto… especially since those therapies hit the same targets as microneedling and finasteride.
Saw palmetto: best and worst candidates
While saw palmetto is a natural extract, it's not right for every hair loss sufferer. If you're considering using the extract, here are some things worth considering (as always, consult your doctor).
You're a good candidate for saw palmetto if…
You have early-to-mid stage androgenic alopecia (pattern hair loss)
You're otherwise healthy
You don't mind spending an additional $30+ per month on your hair
You're also using other hair loss therapies or treatments
You're a bad candidate for saw palmetto if you have…
Prostatic cancer
Pregnancy
High blood pressure
Gastrointestinal disorders (i.e., diarrhea or constipation)
Bleeding disorders (i.e., hemophilia)
Telogen effluvium (this hair loss disorder is different from androgenic alopecia; saw palmetto doesn't target its causes)
Saw palmetto may also predispose a few people to easier bruising or bleeding. For this reason, it is should not be used by people taking medications that slow the process of blood clotting. These medications include: aspirin (Tylenol®, naproxen (Naprosyn®, Anaprox®), clopidogrel (Plavix®) and ibuprofen (Motrin®, Advil®).
Using saw palmetto: how to maximize its efficacy
If you're going to use saw palmetto, follow these steps so that you can maximize your chances for hair regrowth.
#1. Find a reliable brand (good luck)
Harvesting, manufacturing, and extraction practices vary wildly across saw palmetto sellers. Resultantly, most saw palmetto extracts sold on Amazon and big box stores are therapeutically useless.
If you're going to invest $30+ per month into this product, you'll need to do the legwork to find a good brand. Unfortunately, this is incredibly difficult to do.
For starters, there are four popular extraction methods for saw palmetto's fatty acids:
Ethanolic extraction
Hexane extraction
Supercritical CO2 extraction
Grounded / powdered saw palmetto fruit
Which extraction methods did the saw palmetto-hair loss studies use?
The 2002 study standardized saw palmetto to 85-95% liposterolic content (200mg). Unfortunately, the authors don't state the extraction method.
The 2012 study used 320mg of dry extract (which implies the powdered variety). Having said that, these authors also don't state their extraction method.
This is problematic, because while evidence suggests that powdered extract might be helpful for reducing inflammation, this form of saw palmetto is relatively unstudied for its effects on 5-alpha reductase, DHT, and benign prostate hyperplasia.
This leaves us with a question that I (honestly) cannot answer…
Which brand of saw palmetto is best for pattern hair loss?
As an exercise, let's try to evaluate this from an extraction perspective.
A earlier-cited study found that supercritical CO2 extraction had a superior ability to inhibit 5-alpha reductase (and thereby DHT). Moreover, several studies from 1998-2012 showed that the brand Permixon™ outperformed all other saw palmetto brands in reducing type I and II 5-alpha reductase activity in the prostate.
Permixon™ is made via hexane extraction. And there is that 2012 study showing that a dry saw palmetto fruit extract stopped hair loss in 90% of men. This implies that, at least for hair loss, the most therapeutic saw palmetto extracts will come from…
Supercritical CO2 extraction
Hexane extraction
Powdered fruit
At the same time, that's not the full story… because there's also harvesting, manufacturing, and oxidation to worry to about.
Unfortunately, I haven't yet found a brand that offers enough information for us to make a good purchasing decision. So, we'll just need to do our best with the information we've got.
I'd recommend doing the following:
Make a list of brands selling saw palmetto
Call up their customer service
Ask which extraction methods they're using
If it's hexane extraction, supercritical CO2 extraction, or (maybe) powdered /grounded fruit – that's a good sign. If it's ethanolic extraction, you may want to hang up the phone.
To help get you started, here's a table of brands and extraction methods. For reference, brands that sell saw palmetto from the SabalSelect® manufacturer are likely a step in the right direction. But again, extraction is just one factor. You can have the best extraction method, but if you're extracting sterols from poorly harvested saw palmetto, you're essentially trying to extract gold from a turd.
So, do your best. It might help to ask others who've seen improvements to their hair what brands of saw palmetto they used, for how long, and then look up those manufacturers to see if the anecdotes match the evidence.
Hopefully, a few people will chime in here in the comments.
If you make it past this stage, then you'll want to ensure you follow our best-practices for both oral and topical use.
#2. If taking orally…
You'll want to find a brand that sells the right amount of saw palmetto alongside the right ingredients.
Take 320mg daily. Effective dosages for hair loss range from 200mg – 320mg daily, depending on the extraction method.
Combine with ingredients to enhance absorption. Specifically beta-sitosterol, lecithin, inositol, phosphatidyl choline, niacin, and biotin.
#3. If taking topically…
You'll want to find a brand that offers saw palmetto using the right extraction methods, dilution percentages, and includes saw palmetto alongside the right (i.e., synergistic) ingredients.
Unfortunately, in our three topical studies, there's zero information on saw palmetto extraction methods and dilution percentages. This only leaves us with the ability to shop for saw palmetto topicals with synergistic ingredients.
So, just try to find a topical saw palmetto that includes any (or all) of the following:
Green tea extract
Peony root extract
Piroctone-olamine
Oligopeptides
Cystine
Castor oil
Gingko biloba
Azelaic acid
Ginseng
Calcium
Zinc
Niacinamide
Glucosamine
Biotin
In doing so, you'll likely increase saw palmetto's bioavailability, effectiveness, and hair growth-promoting properties.
#4. Take supplemental and topical saw palmetto simultaneously
This will likely increase your chances for hair gains, because you'll be maximizing your chances of reducing type II 5-alpha reductase activity (i.e., DHT) in scalp tissues.
#5. Combine saw palmetto with stimulation-based therapies
While the evidence is limited, studies show that wounding-based therapies + DHT reducers tend to work synergistically. Anecdotes of people using saw palmetto with microneedling, massaging, and/or PRP tend to support this. So, consider adding these therapies into your routine – so long as they're not time- or cost-prohibitive.
Summary
Saw palmetto is far from a hair loss cure, but it also isn't completely useless. It's not as effective as finasteride, but it is safer and seems to produce fewer side effects.
If you do use saw palmetto, don't expect any miracles. Yes, one study suggests that the supplement can stop hair loss for 90% of men. At the same time, that evidence is preliminary; real-world anecdotes don't seem to align with those clinical findings.
Having said that, the difference in clinical versus real-world results may just boil down to supplement quality. Most saw palmetto available to consumers isn't worth buying. You need to make sure you're getting the right supplement, from the right manufacturer, using the right extraction methods.
If you do use saw palmetto, use it as both a supplement and a topical. Also consider combining it with other hair loss therapies and treatments – preferably previously-studied ingredients (i.e., the ones mentioned earlier in this article). Give yourself at least six months before gauging any changes, and keep in mind that you'll likely only see a stop in hair loss rather than regrowth.
Questions? Comments? Please reach out in the comments section. I'm happy to help!

Rob English is a researcher, medical editor, and the founder of perfecthairhealth.com. He acts as a peer reviewer for scholarly journals and has published five peer-reviewed papers on androgenic alopecia. He writes regularly about the science behind hair loss (and hair growth). Feel free to browse his long-form articles and publications throughout this site.