Never seek dietary advice in a hair loss forum
On page one of any hair loss forum, you'll find a thread that reads something like:
Title: "Will this food regrow my hair? PLEASE READ!"
Person A: "I'm changing my diet so I can stop my hair loss. I read that zinc reduces DHT. So, if I eat oysters and foods rich in zinc, will I regrow my hair?"
Person B: "Diet has nothing to do with hair loss. Stop misleading people with your bro-science. If you want to reduce DHT, take Propecia® and be done with it."
Person A: "Don't be naive. My friend regrew his hair after going vegan. So diet has to affect hair loss. Your an idiot."
Person B: "You mean you're*, you illiterate moron–"
…and the conversation devolves into ad hominem attacks and dietary generalizations absent any reasoning, references, or science.
Unfortunately, the facts will always get lost in the noise of hair loss forums. And the truth may surprise you…
Person A and B are both right and wrong about diet and its connection to hair loss. It just depends on the context of their claims.
Zinc can non-competitively inhibit 5-alpha-reductase and therefore reduce DHT levels. But, zinc alone probably won't reduce DHT levels enough to improve hair loss from androgenic alopecia.
Zinc can help regrow hair loss from hypothyroidism. So sometimes eating oysters can improve hair loss.
A vegan diet can improve some types of hair loss – but only if that diet is (1) nutrient replete, (2) avoidant of a calorie deficit, and (3) avoidant of allergenic foods specific to each individual.
This is why the diet-hair loss connection is so polarizing. Forum users rarely contextualize their statements.
Even worse, the internet has thousands of articles on "The five foods you need to reduce DHT"… or "The three foods to stop hair loss in its tracks"… or "The little-known ingredient that regrows hair". These articles lack the necessary context to provide real, actionable advice to someone looking into how their food choices affect their hair.
A snapshot of (mostly) terrible advice on the best diets for our hair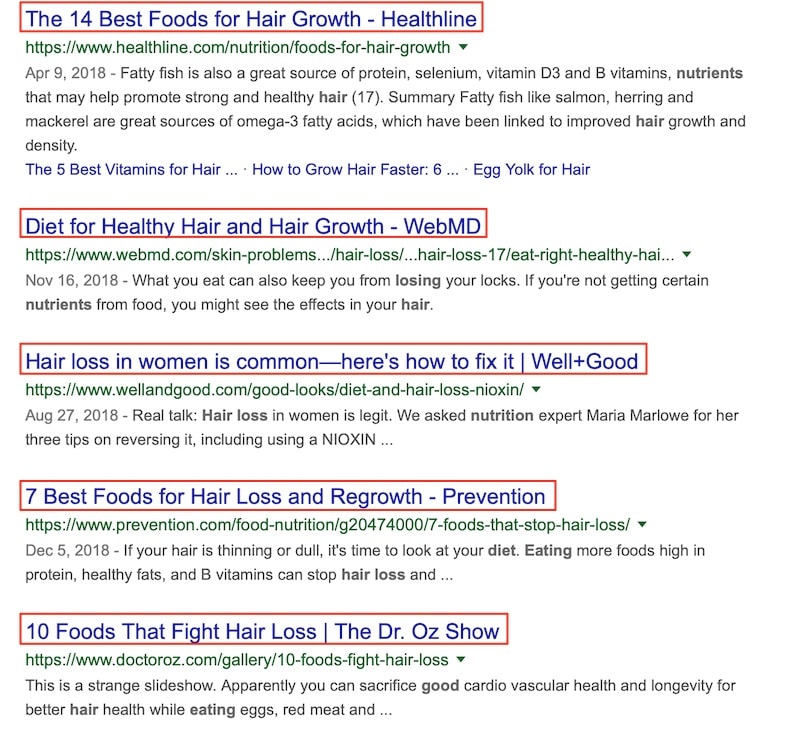 My advice? Stop reading the opinions of misinformed forum members; stop reading useless listicles.
Instead, take the time to learn the nuances of diet, nutrition, and hair growth. Read studies exploring the connection between nutrients and hair disorders. Don't know a term? Look it up. Confused about a study's findings? Contact the authors. Most love discussing their research.
In doing so, you'll begin to learn where the line blurs between diet and hair growth… and how to make healthier food choices to benefit your hair. Yes, it might take a few hundred hours, but you'll get there.
Or you could just read our article: the ultimate guide to the diet-hair loss connection. This is an unbiased, comprehensive, evidence-based approach to uncovering how foods affect hair loss and hair growth.
By the end, you'll learn how to avoid fad dieting, uncover how manufacturers misrepresent nutritional data to sell us scientifically baseless hair care products, and why the best diet for hair regrowth will likely vary for everyone.
It all starts by covering the basics of nutrition, dieting, and our hair.
Fact #1: at the extremes, a bad diet will hurt our hair
At a certain threshold, the diet-hair loss connection is undeniable. Think of it this way…
Food contains energy. Energy fuels our cells. Without energy, our cells can't do their jobs. This includes growing hair. So, in cases of severe nutrient deficiencies or malnourishment, many of us will experience hair loss.
This is constantly observed in the third world. For example, this 2017 literature review dove into hundreds of studies on nutrition and hair loss. The authors found that chronic deficiencies in…
Zinc
Iron
Selenium
Vitamin B complex – i.e., riboflavin (vitamin B2), niacin (B3), biotin (B7), cobalamin (B12), folic acid (B9)
Vitamin C
Vitamin D
Fatty acids
…were all linked to hair loss. So, at the extremes, our diets do affect our hair. That means we should pay attention to the foods we eat.
Fact #2: hair loss from a nutrient deficiency is called telogen effluvium
Telogen effluvium (TE) is a common cause of general hair thinning for women. Specifically, it's a hair shedding disorder: when our hair cycle is disrupted and the hairs we shed throughout the day – and would normally grow back later – stop growing back. The end-result: diffuse hair loss (hair thinning throughout our entire scalps).
TE is caused by a variety of factors – stress, medications, birth control, pregnancy, and even malnourishment and/or nutrient deficiencies. But one of its defining characteristics of telogen effluvium is that it's almost always temporary. For instance, this 2010 literature review found that in nearly all cases, if we correct our nutrient deficiency, we should see hair recovery from telogen effluvium in 3-6 months time.
That's encouraging. It gives more credence to the idea that diet impacts hair loss. After all, food choices influence our nutritional status. If we eat foods low in iron or selenium, we're at risk of becoming deficient. And if we correct those deficiencies, we'll see hair regrowth.
So, this must make the diet-hair loss connection ironclad and irrefutable. Right?
Wrong. There are three caveats that muddy this connection. And, unfortunately, these caveats get misinterpreted all the time by listicles about the "best" foods to stop hair loss.
Caveat #1: for a diet to cause telogen effluvium, your nutrient deficiency must often be severe
Most studies showing a connection between nutrition and hair loss were conducted on children, individuals with genetic mutations, or impoverished populations in the third world – all of whom had severe nutrient deficiencies (often for years) prior to developing thinning hair. For example:
Which brings us to our second caveat…
Caveat #2: in the U.S., diet-driven telogen effluvium is relatively rare
The Standard American diet has plenty of problems. We consume too many refined sugars, we eat diets high in processed foods, and our soil's nutrient levels have been in rapid decline for the past 70 years. Because of this, the C.D.C. estimates that 10% of Americans have some sort of nutrient deficiency.
But there's a catch: in most cases, our nutrient deficiencies aren't generally severe enough to cause diet-driven telogen effluvium (hair shedding). This is because nationwide programs like grain fortification – or the adding of nutrients into white grains – have kept most of us from becoming severely deplete in any one nutrient.
For a perfect example, let's look at the research on biotin – a nutrient in which many Americans feel they're deficient, and which many Americans associate with hair loss.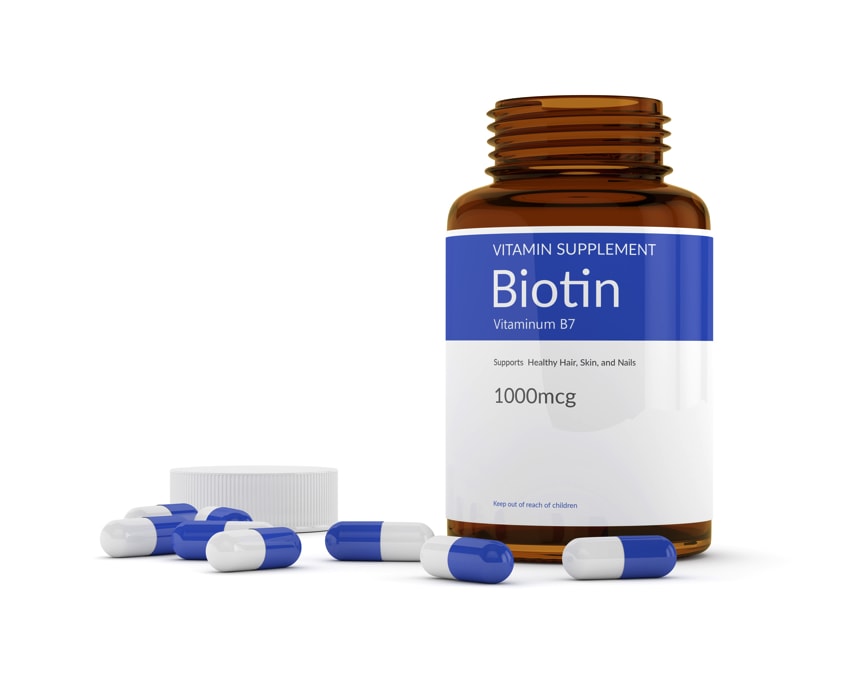 But in the first world, does supplementing with biotin actually improve our hair? Most research suggests no.
For reference, see this study on women who self-perceived hair loss. The authors discovered that 38% of women reporting hair loss also had – according to first-world standards – a severe biotin deficiency. But fascinatingly, supplementation only led to marginal (if any) improvements to their hair.
The implication? That a biotin deficiency was likely associated with their hair loss but it wasn't the main driver of their hair loss. Resultantly, here's what the authors concluded:
"…Treating women complaining of hair loss in an indiscriminate manner with oral biotin supplementation is to be rejected unless biotin deficiency and its significance for the complaint of hair loss in an individual has been demonstrated. …At the same time, potential additional causes of hair loss, for example, androgenetic alopecia, other nutritional deficiencies, and endocrine disorders must systematically be addressed and treated as needed."
These findings have been confirmed by other studies time and time again. The bottom line: if your hair loss is exclusively driven by a nutrient deficiency, that nutrient deficiency has to be incredibly severe (in most cases). In the U.S., severe deficiencies are rare. Therefore, hair loss driven entirely by diet is rare.
Now, there are cases whereby people in the U.S. can present with several mild nutrient deficiencies. And in these individuals, self-perceived hair thinning is often reported – along with higher rates of hair shedding and perhaps some hair thinning. Although when these individuals go to a dermatologist, they're often given a nondescript diagnosis or told their hair loss is, "All in their head".
In these cases, we can see mild-to-moderate cases of nutrient deficiencies linked to something known as subclinical telogen effluvium. That's just a fancy way of saying increased rates of hair cycling that aren't severe enough to cause cosmetic degrees of hair loss.
However, don't let this fool you into thinking that all of your hair loss must be the result of these nutrient deficiencies. The reality is that telogen effluvium occurs on a spectrum, when > 20% of our hairs enter into a "shedding" stage of the hair cycle due to pathological triggers. Minor-to-moderate vitamin D or iron deficiencies can absolutely bump us into that threshold. However, we have to keep in mind that we don't really notice telogen effluvium until shedding rates hit the 40% mark (and beyond). So, usually, if you're presenting with a few minor nutrient deficiencies and cosmetically increased levels of hair shedding, it means that there's probably more going on.
Which brings us to our third caveat.
Caveat #3: in the U.S., some nutrient deficiencies are linked to hair loss. But in many cases, these nutrient deficiencies aren't due to poor diets; they're due to other problems
It's important to note: our diets are just one of the dozens of things that affect our nutritional status. In reality, our nutritional status is determined by a combination of the following
Our body's demand for nutrients
Our body's intake of nutrients
Our body's absorption of nutrients
And there are dozens of factors that affect the above. For instance, even if everyone ate the same diet, we might still see nutritional deficiencies in people who are athletes, pregnant, sick, suffering from hypothyroidism, taking medications, or dealing with an autoimmune disorder or hormonal imbalance.
Why? Because all of the above will affect our demand, intake, and absorption of nutrients… and that's outside the context of diet.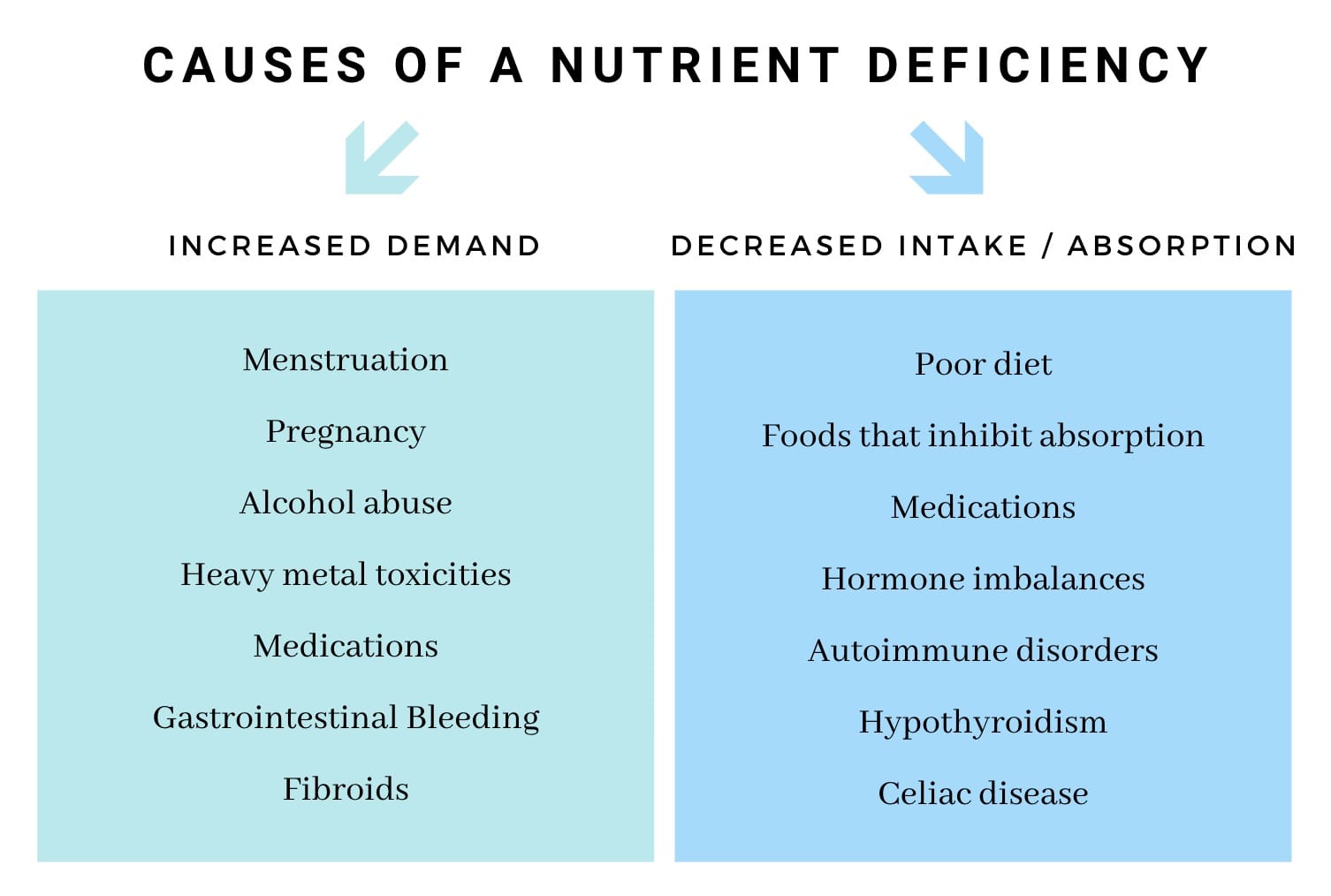 In the U.S., there are trace elements and vitamins – like iron and vitamin D – where moderate nutrient deficiencies are linked to hair loss. But these deficiencies tend to overlap with non-dietary causes.
For instance, the biggest risk of an iron deficiency in young women with thinning hair isn't diet; it's menstruation. And the leading cause of a vitamin D deficiency? Kidney disease, liver disease, or simply not getting enough sun.
The list goes on, but mainly, we see that in the first world, subtle nutrient deficiencies linked to hair loss aren't due to food choices; rather, they're due to other factors and conditions like…
Hypothyroidism (iron deficiency, zinc deficiency)
Hyperparathyroidism (vitamin D deficiency, calcium surplus)
Small Intestinal Bacterial Overgrowth (SIBO) (widespread nutrient deficiencies)
Polycystic Ovarian Syndrome (PCOS) (widespread nutrient deficiencies)
Trace element / heavy metal toxicities (widespread nutrient deficiencies)
…and a variety of other conditions
The bottom line: if you live in the first world, have hair loss, and have also discovered you have a moderate nutrient deficiency, don't automatically assume that deficiency is due to your diet!
Rather, evaluate your overall health. Are you taking medications? Do you have one of the above conditions? Are you sick, stressed, pregnant, or consistently have heavy menstruation?
If so, do more testing. And whatever you do, don't read a listicle online about the foods to fight hair thinning.
Summary (so far)
At the extremes, chronic malnourishment can cause hair loss. We see this in people with genetic disorders and in impoverished populations. So, if you're severely under-eating or if you haven't ingested any selenium or biotin for years, you'll likely develop a temporary form of hair loss called telogen effluvium.
But, in the first world, nutrient deficiencies severe enough to cause telogen effluvium are rare. Even despite the abysmal state of standard American diets, grain fortification protects us from this form of hair loss.
So, if you're losing your hair, stop indiscriminately supplementing with a multivitamin. And if you have hair loss alongside a moderate nutrient deficiency, don't assume it's due to your diet. Rather, evaluate your overall health and then test for other suspected conditions that are likely affecting your nutritional status.
In doing so, you might save thousands of dollars on supplements and improve your odds of regrowing hair.
Fact #3: diet (probably) has little impact on pattern hair loss
So far, we've covered diet and its relationship to telogen effluvium – a common hair loss disorder in women.
But what about male and female pattern hair loss, also known as androgenic alopecia (AGA)? After all, pattern hair loss is arguably more common – affecting up to 50% of women and 80% of men throughout a lifetime.
So, is there a connection between pattern hair loss and the foods we eat? And if so, can we build a diet that will help us slow, stop, or even prevent this form of hair loss?
We can answer this question by examining:
What pattern hair loss (AGA) is
What causes AGA
Where these causes and our diets intersect
What the actual research says on diet and its relationship to AGA.
Let's take these one-by-one.
What is pattern hair loss (AGA)?
Pattern hair loss is arguably the most common hair loss disorder in adults.
In men, it often starts at the temples (i.e., a receding hairline) or the crown (i.e., a bald spot). In women, it often starts as diffuse thinning throughout the entire top part of the scalp.
Androgenic alopecia (AGA) progression in men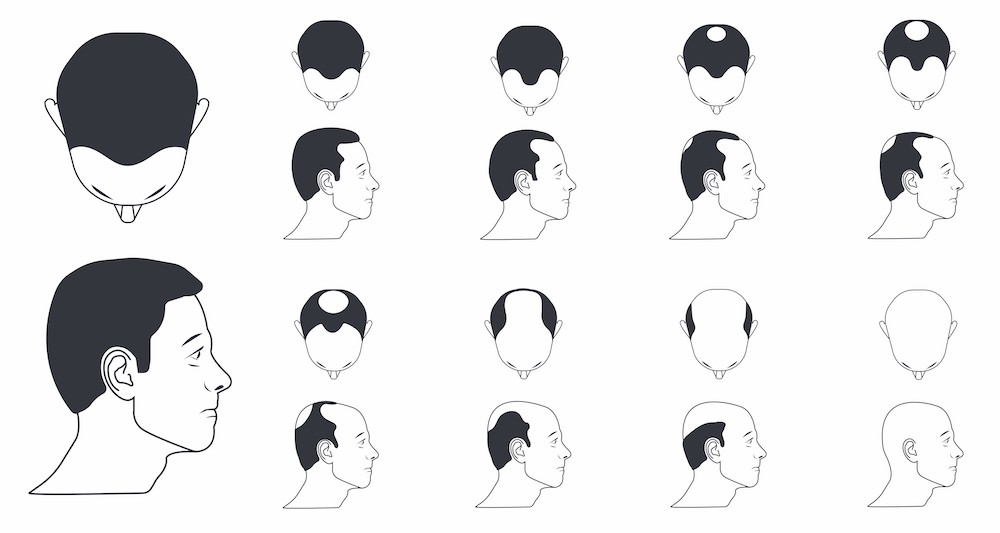 This condition should look familiar to you. It's so common, you often can't walk a city block without spotting someone with it. And, unlike telogen effluvium, pattern hair loss (AGA) is chronic and progressive. Without treatment, it gets worse. And even with (most) conventional treatments, we generally just see a stop its progression (rather than full reversals).
What causes pattern hair loss?
Researchers aren't yet 100% sure, but the overwhelming body of evidence suggests that AGA is due to an interaction between…
Genetics
The hormone dihydrotestosterone (DHT)
Inflammation
There are dozens of other culprits – like reactive oxygen species, pathogenic bacterial colonization, our scalp environments, and even a fatty acid derivative called prostaglandin D2 (PGD2). But if we asked our doctor why we're losing our hair, they'd likely say something like this:
For reasons not fully understood, pattern hair loss (AGA) begins when DHT starts accumulating in our scalps. Our scalp's hair follicles become sensitive to DHT and start shrinking. Over a series of hair cycles, DHT makes our hair thinner and wispier, until our hair becomes so thin that it stops growing. The end result: pattern baldness.
The relationship between DHT, pattern hair loss, and hair follicle miniaturization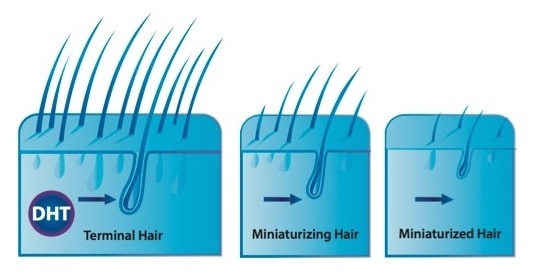 Can our diets influence the causes of pattern hair loss?
Yes.
When it comes to AGA, there are some aspects we cannot control – like our genes. But we do have some control over our degrees of inflammation, DHT, and even prostaglandin activity. And interestingly, one of the levers we have at our disposal is our diets.
Just see this 2018 literature review on hair loss and plant-based remedies. It summarizes the causes of AGA and how food extracts, phytochemicals, and other plant derivatives can be used to target the causes of pattern hair loss. For example:
Epigallocatechin gallate (or EGCG), a polyphenol in green tea, can help reduce DHT levels
Curcumin, a part of turmeric, can reduce reactive oxygen species activity and inflammation
Quercetin, a substance found in kale and red onions, might help reduce prostaglandin activity
And, since these derivatives come from foods, people often make the logical jump that eating more of these foods (or designing a hair loss-fighting diet) might achieve a similar effect.
Four ways to fight pattern hair loss with food
If we take the evidence in that literature review to heart, we can build a diet filled with substances shown to reduce DHT, inflammation, reactive oxygen species, prostaglandin D2 activity… and all the other "causes" of AGA within our control.
In fact, this concept is essentially the basis of every listicle ever written on the best foods to stop hair loss.
I'll save you several hours of reading. We can summarize all of these articles in a few lines of text:
Reduce DHT: ingest more zinc, green tea, cooked tomatoes, and pumpkin seeds
Reduce inflammation: eat more curcumin, avoid processed foods and sugar, and stay nutrient replete
Reduce reactive oxygen species: drink more tea and eat more berries
Reduce prostaglandin activity: minimize polyunsaturated omega fats (specifically, omega 6)
At face value, this is great advice. These foods all contain substances shown to reduce DHT, inflammation, and prostaglandin activity – the very same things implicated in AGA.
So, will following these dietary recommendations help slow, stop, or even reverse pattern hair loss?
I wish it were the case. Unfortunately, most research says no.
The evidence (so far): diet has little influence over pattern hair loss (AGA)
While debates surface over the diet-AGA connection surface every day on hair loss forums, this question has already been thoroughly examined (and answered) in the medical literature.
The conclusions: in most cases, diet has no correlation with AGA.
Just see this 2017 literature review. The authors dove into hundreds of studies on nutrition and hair loss – all conducted over the last few decades. Their findings? While telogen effluvium is linked to certain nutrient deficiencies, there's little-to-no evidence linking our diets to pattern hair loss (AGA).
In this 2018 literature review, the authors found that AGA sufferers with an iron deficiency saw hair loss improvements by taking iron supplements (often alongside vitamin C). Moreover, the authors of this review found that vitamin D supplementation improved hair loss outcomes for female pattern hair loss.
At face-value, this seems to paint a muddier picture. However, in both reviews, the populations with iron and vitamin D deficiencies were at a high risk of also having telogen effluvium. As such, it's likely that these people had both pattern hair loss and telogen effluvium. Therefore, improving their iron or vitamin D status probably just improved their hair loss from telogen effluvium and not their AGA.
How can foods help reduce DHT, inflammation, and prostaglandin activity… but not help fight pattern hair loss?
If food extracts can help reduce DHT, reactive oxygen species, inflammation, and prostaglandin activity (the causes of AGA), then how come a diet filled with foods containing these extracts doesn't improve AGA?
The answer is several-fold.
Reason #1: food extracts are rarely comparable to whole foods
Remember: most people build diets for pattern hair loss based on research on food extracts, not whole foods. Then, they look up foods containing those extracts and tell you to eat more of them.
Unfortunately, food extracts and whole foods are rarely (if ever) comparable.
Food extracts are highly concentrated forms of food substances. For instance, pumpkin seed oil is extracted from pumpkin seeds; saw palmetto is extracted from the fruit of a Serenoa repens plant.
If we eat pumpkin seeds and saw palmetto fruit, we do ingest some of these extracts… but at just a fraction of what we'd get from a concentrated supplement.
Consequently, whole foods generally don't have the same effects as their food extracts. In some cases, these whole foods might even have the opposite effect of their extracts.
Example: resveratrol, red wine, and life expectancy
Resveratrol is an antioxidant. Studies show that resveratrol can enhance lifespan in mice. Resveratrol is found in red grapes; red grapes make red wine; red wine has resveratrol.
Accordingly, dozens of articles posit that drinking red wine will increase our lifespan. Why? Because red wine contains resveratrol, and resveratrol increases lifespan in mice.
But here's the problem.
In that lifespan study, mice were given the human equivalent of ~20 mg of resveratrol daily. A glass of red wine contains 0.5 mg of resveratrol. So, in order to see the same lifespan-increasing effects, how much red wine would a human need to drink daily?
Over 40 glasses of red wine. Every. Single. Day.
It goes without saying that this volume of alcohol would kill most people. Ironically, new research suggests that even drinking just 1-2 glasses of red wine daily might increase our risk of death – the opposite goal we'd hope to achieve from drinking red wine to get more resveratrol.
The bottom line: we can't look at research on a food extract, eat foods containing that extract, and then expect to achieve the same effect as eating just the extract. Why? Because we might not be getting enough of that extract to make any difference.
And even if we do eat enough of a food extract to do something (like reduce DHT), it's possible that this reduction just isn't enough to even slow or stop pattern hair loss.
Problem #2: foods and food extracts can reduce DHT, inflammation, and prostaglandin activity… but not always by enough to have an effect on AGA
For any medication, there's a dose-dependent response curve. This measures the effect of a medication based on how big of a dose we've taken.
The general rule-of-thumb: we want to take enough medication to produce a therapeutic effect, but not too much to increase our risk of side effects.
So, let's think about this in the context of pattern hair loss.
The leading drug prescribed to men with androgenic alopecia is called finasteride (or Propecia®). Finasteride helps to slow, stop, and partially reverse pattern hair loss. Studies show that for 80% of men, the drug will stop hair loss and lead to a 10% increase in hair count over a two-year period. That's encouraging.
The way finasteride does this is by reducing DHT levels in our scalps. Again, the hormone DHT is implicated in the balding process, and finasteride shows that by reducing DHT, we can also improve our AGA.
Unfortunately, finasteride can also lead to sexual side effects – which is why so many men look for natural alternatives to the drug. And one of the most famous natural alternatives to finasteride? A food extract called saw palmetto.
Saw palmetto has also been shown to reduce DHT in men. Resultantly, saw palmetto often makes headlines for its potential ability to help improve pattern hair loss.
So, if we take saw palmetto, will we see an improvement in AGA?
Not necessarily. And why? Because while finasteride and saw palmetto both reduce DHT, finasteride reduces DHT at a threshold high enough to actually improve pattern hair loss. Saw palmetto doesn't.
Just see this chart (from our saw palmetto article).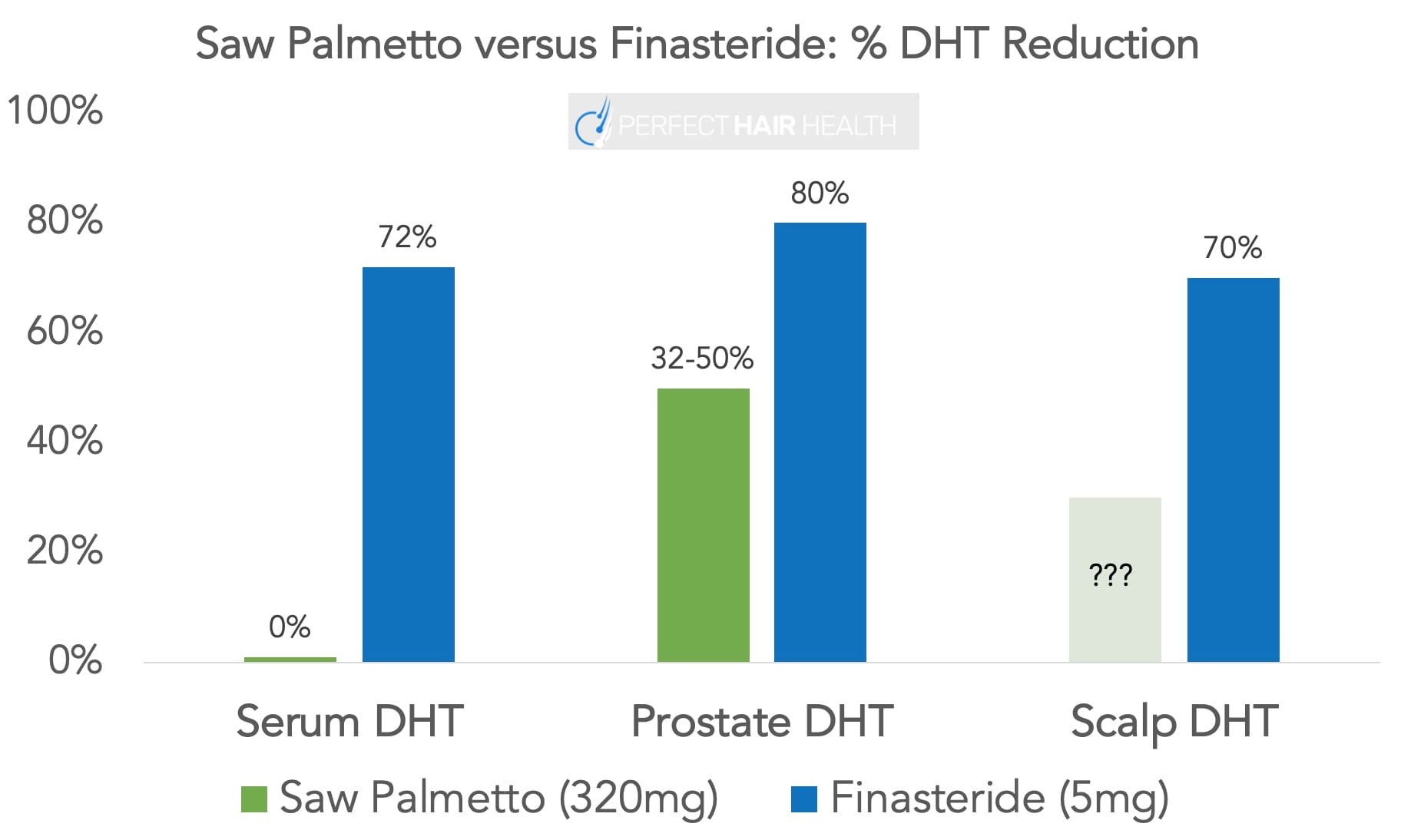 This is why saw palmetto underperforms versus finasteride in long-term clinical studies. It just doesn't reduce DHT enough to have an effect for most hair loss sufferers. And this is also why this food extract needs to be combined with other supplements, drugs, and treatments for it to have a positive impact on our hair.
The same is true for eating saw palmetto fruits. You're only going to get a fraction of the food extract, and thereby you're only going to get a fraction of its DHT-reducing capabilities.
The same goes for trying to eat things like rosemary or foods high in zinc. Will you reduce DHT levels? Probably by a little. But not nearly enough to have an impact on your hair.
Bottom line: food extracts contain substances that help reduce the suspected causes of pattern hair loss. But food extracts behave differently than the whole foods that contain them, and sometimes, even those food extracts won't have a big enough effect to improve your hair.
So, don't try to follow a DHT-reducing diet! You'll just waste money and time. And there are much better ways to fight hair loss using diet. You just need to be made aware of them.
Which brings us to our final point…
Fact #4: you can build a good diet to help fight hair loss
Even if you have telogen effluvium, pattern hair loss (AGA), or both hair loss disorders – you can still customize a diet that helps to improve your hair. All you need to do is stop reading useless "foods for hair loss" articles… and start building a diet tailored to your individual needs.
Will the following dietary recommendations reverse hair loss? It depends.
If you have dietary-driven telogen effluvium, most likely.
If you have pattern hair loss, this diet might help to slow its progression (and enhance wounding-based hair loss treatments).
And the good news? There are probably just three things you need to do to get this right.
Rule #1: become nutrient replete
In other words, make sure to get enough of the vitamins, minerals, trace elements, and micronutrients your body demands on a daily basis.
Studies show that nutrient repletion enhances our recovery from inflammation. After an injury, vitamin C helps synthesize new (healthy) collagen… glucose helps create new blood vessel passageways… and zinc improves bacterial clearance and helps to activate stem cells.
Without enough vitamin C, glucose, and zinc – we're going to be inflamed. The same is true for nearly every single micronutrient in existence.
We're not going to cover the science behind each nutrient and how a deficiency can evoke inflammatory reactions in our body. That would turn this 5,000+ word article into 100,000 words.
Instead, just take our word for it. Design a diet that is nutrient replete. Direction on how to do so will follow the next recommendation.
Rule #2: avoid a prolonged calorie deficit
This is an extension of being nutrient replete, but to be absolutely clear, I'm spelling it out again:
Make sure to get all of the macronutrients your body demands on a daily basis. That means enough fats, carbohydrates, and proteins.
This may seem simple enough, but for people doing intermittent fasting or low-carb diets like Atkins or a ketogenic diet, accidental under-eating is widespread. In fact, this happened to me when I tried a low-carb (ketogenic) paleo diet. It's because protein is incredibly satiating – so much so that on low-carbohydrate diets, you're more likely to enter into a calorie deficit and not even know it.
Ironically, I also probably did this when I went vegan. (Yes, I've tried a lot of diets for hair loss).
Unfortunately, these calorie deficits can exacerbate conditions linked to telogen effluvium – like hypothyroidism. This is because under-eating can reduce our output of thyroid hormone and increase cortisol levels — two biomarkers that, when out of line, often predict future excessive hair shedding (i.e., telogen effluvium).
How do I track my micronutrients and macronutrients?
Enter your daily food ingestion into a calorie tracker like FitDay.com and see how you stack up. It's as simple as that. Chances are that you'll find your diet is low in several nutrients, and you'll need to make adjustments accordingly.
Rule #3: avoid inflammatory or allergenic foods
Trust me when I say that we're all consuming allergenic foods on a consistent basis. But before we get into that, here's why we should avoid them.
Since the 1940's, we've known that allergens (e.g., pollen) prolong our recovery from acute injuries. However, recent studies have finally clarified how: allergen exposure increases inflammation and our propensity for scarring. This is also true for allergenic foods. That means that the ingestion of common allergens (i.e., dairy, gluten, etc.) can increase inflammation, prolong our wound recoveries, and likely put us in a chronically inflamed state.
But… does allergen ingestion actually lead to hair loss?
Not directly. Having said that, allergens like gluten can exacerbate hypothyroidism — a condition that leads to telogen effluvium. And importantly, research shows that a gluten-free diet can help reverse many hypothyroid symptoms.
That means that for sensitive individuals, a food allergen may indirectly contribute to hair thinning — and removing that food allergen may improve the condition causing hair thinning (thus improving their hair).
Food allergy prevalence: high. Food allergy intake: high.
Let's just look at the suspected number of Americans suffering from food allergens… and the number of allergens ingested per person.
For starters, 65% of adults have a dairy / lactose intolerance. Knowing this, how much dairy does the average American consume daily? Three-quarters of a pound.
Likewise, up to 35% of Americans have gluten sensitivity (many of them undiagnosed). So how much wheat does the average American eat yearly? 130+ pounds.
One average American, two common food allergens, hundreds of pounds devoured, every single year. Knowing this, it's no wonder why 50% of U.S. adults have a chronic disease. We're constantly inflaming ourselves with our food choices.
Beyond gluten and dairy, other estimates suggest that almost 11% of U.S. adults have allergies to foods like soy, nuts, and shellfish. This number is probably much higher, but our reactions are so subtle that we're not yet aware of how the inflammation presents: dermatitis, rosacea, acne, bowel discomfort… the list goes on.
How do I identify my own food allergens?
Either avoid foods that are commonly allergenic or do testing to identify your own food allergens. If you're going to take the testing route, I'd recommend Median Release Tests (MRT) over igG tests – as MRT's (while significantly more expensive) tend to have a significantly lower risk of producing false-positive results.
What's the perfect diet to fight hair loss?
It depends on every individual: your hair loss type, food allergies, nutritional demands (i.e., medications, activity levels, underlying conditions), nutrient absorption capacities, and beyond.
That's why there is no perfect diet to fight hair loss. The perfect diet will be intrinsic to your needs. You can't compare your needs to what others need. But, in general, if you're following a diet that is…
Nutrient replete
Avoidant of a calorie deficit
Avoidant of allergenic / inflammatory foods specific to you
…then you're likely doing everything you can to fight hair loss with foods.
A dietary chart: the pros, cons, and constraints of popular diets
If you're reading this, chances are that you have already committed to a diet in an effort to improve your health and your hair. Veganism, vegetarianism, low-carb, paleo, you name it.
There are shortcomings to every one of these diets in terms of lacking nutrient and inflammatory foods. To help you address these, I've made a chart of the pros, cons, and constraints of most diets – inspired by examine.com: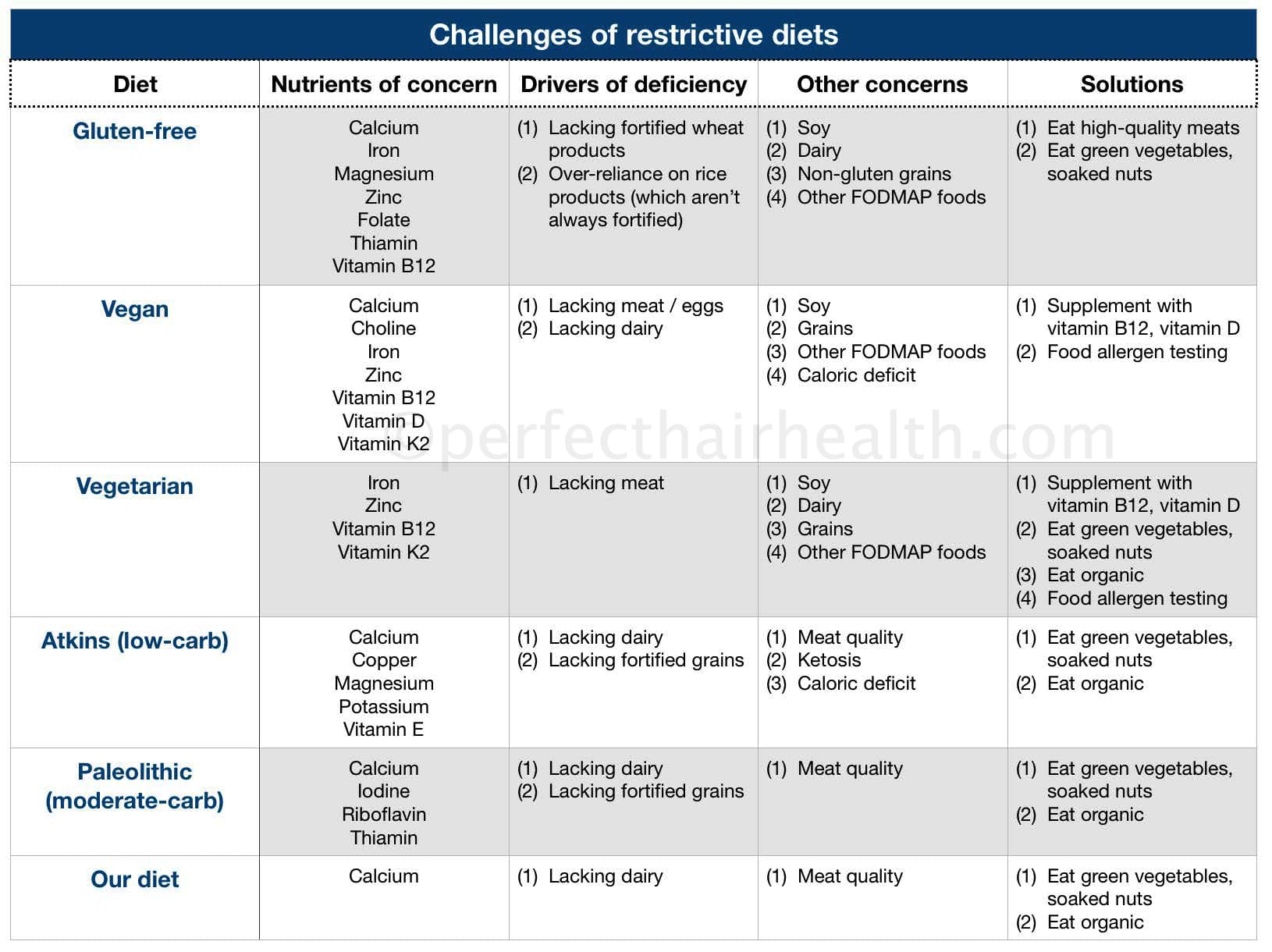 *Note: "Our diet" refers to the diet outlined in our membership site
Now it's your turn to take this advice and turn into action.
Final summary
Hair loss forums do a terrible job explaining the intricacies of the diet-hair loss connection. In reality, diet's connection to both hair loss and hair growth depends on our type of hair loss and our nutritional needs.
At the extremes, chronic malnourishment can cause hair loss. This has been observed in impoverished populations. So, if you chronically under-eat or if you haven't consumed certain nutrients in years, you can develop a form of hair loss called telogen effluvium.
However, in the first world, singular nutrient deficiencies severe enough to cause cosmetic levels of telogen effluvium are rare. Even despite the abysmal state of standard American diets, grain fortification programs help to keep us out of nutrient deficiencies that are that severe. The one caveat here is that low-grade, widespread nutrient deficiencies do appear to be associated with milder bouts of telogen effluvium. So, as always, it pays dividends to make sure your health is in check.
In the first world, hair loss in combination with a nutrient deficiency is usually less related to diet… and more related to medication use, chronic conditions, autoimmune disorders, bleeding disorders, and other health problems. So, if you're in the U.S. and have hair loss alongside a moderate nutrient deficiency, don't assume it's because of your diet. Rather, take note of your overall health and start exploring whether you have other health issues connected to hair thinning.
While the research is still unclear, pattern hair loss (androgenic alopecia) is not strongly linked to food choices or diet. Technically, we can use foods to reduce our levels of DHT, inflammation, and prostaglandin activity. However, in most cases, doing this with food alone won't have enough of a therapeutic to actually improve AGA.
Even still, we can design a diet that will help us fight thinning hair. It won't be a miracle cure, but it'll hopefully reduce our risk of telogen effluvium and maybe slow the progression of pattern hair loss. All we need to do is design a diet that is (1) nutrient replete, (2) avoidant of a calorie deficit, and (3) avoidant of allergenic and inflammatory foods.
This diet will vary for everyone. As such, there are a ton of ways to cross the finish line. Just use FitDay.com to track your food intake, avoid commonly allergenic foods (or do allergen testing), and follow the advice above.
Questions? Comments? Please reach out in the comments section! I'm happy to help.

Rob English is a researcher, medical editor, and the founder of perfecthairhealth.com. He acts as a peer reviewer for scholarly journals and has published five peer-reviewed papers on androgenic alopecia. He writes regularly about the science behind hair loss (and hair growth). Feel free to browse his long-form articles and publications throughout this site.