Note: this is part four of a four-part series on A Master Guide: The Major DHT Reducing Mechanisms… Which Are Effective Against Hair Loss? Missed the earlier articles? Check out parts one, two, and three.
Read time: 10 minutes
Summary So Far: Decreasing DHT With Free Testosterone, 5-Alpha Reductase, Androgen Receptors, And…
In the last three articles, we've uncovered what DHT is, how DHT is connected hair loss, and three angles of attack to reducing DHT levels to help slow or stop hair thinning:
Decrease free testosterone
Inhibit 5-alpha reductase
Decrease androgen receptors
Now we're going to uncover the fourth (and final) major lever to reducing DHT for the purpose of fighting hair loss: increasing DHT metabolism.
Increasing DHT metabolism often goes entirely overlooked, and without good reason. We'll dive into new breakthroughs to increase DHT metabolism using bacteria and even certain foods and supplements. And in doing so, we'll finish the final leg of our Master DHT Reduction Flowchart.
Why is this chart important? Well, using this completed flowchart, we'll be able to…
Recognize (and categorize) the DHT-reducing mechanisms of any drug, food, supplement, or hair loss treatment…
Weigh the costs (and benefits) of each DHT-reducing lever for hair loss, and…
Know which DHT-reducing mechanisms are worth our time and which aren't.
Now let's get started.
Lowering DHT By Increasing DHT Metabolism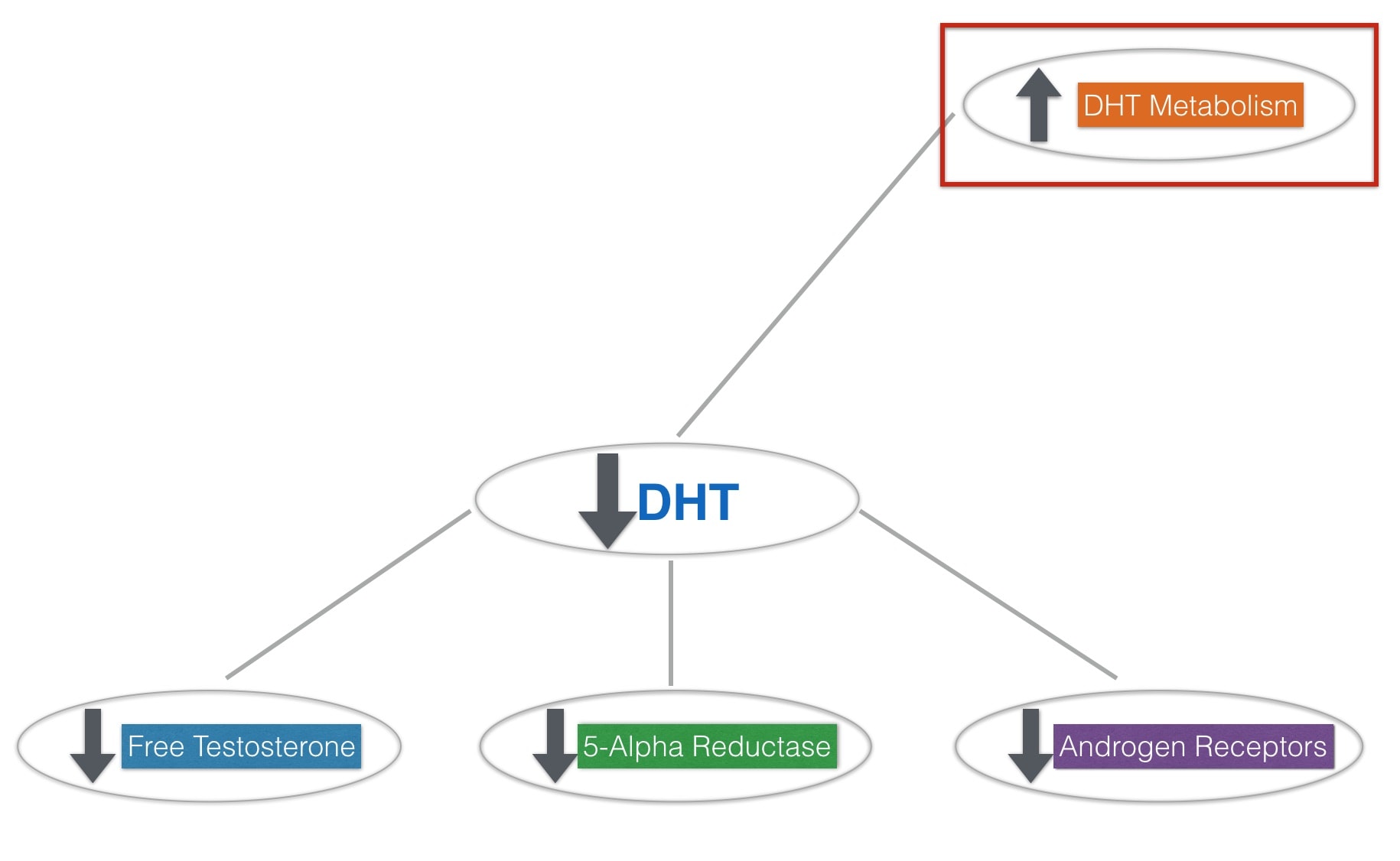 Increasing DHT Metabolism: What Does That Mean?
Dihydrotestosterone (DHT) is made from testosterone. When free testosterone interacts with the enzyme 5-alpha reductase, it gets converted into DHT. Then that DHT binds to a cell's androgen receptor. And that point, DHT can begin influencing that cell's function – from sexual health to hair loss.
We know that DHT levels are higher in balding regions versus non-balding regions of the scalp. And we also know that men who can't produce much (or any) DHT don't suffer from patter hair loss. And this is why most hair loss sufferers focus on lowering DHT in hopes of slowing, stopping, or reversing hair thinning.
But here's the catch: once DHT attaches itself to an androgen receptor, it doesn't stay there forever.
The reality is that this DHT eventually interacts with other enzymes, and then gets converted into other byproducts.
The implication for hair loss sufferers? Maybe we don't need to go about lowering DHT by decreasing free testosterone, inhibiting 5-alpha reductase, or decreasing androgen receptors.
Maybe instead, we can go about increasing the chances that DHT interacts with enzymes that turn it into other testosterone byproducts.
In other words, we increase the speed of DHT metabolism. We decrease the length of time in which DHT stays in our scalp tissue, and in doing so, we decrease its effects on our hair health.
That's what increasing DHT metabolism is all about. So how do we go about doing this?
One way is to increase the expression of the enzymes which metabolize DHT.
There are several enzymes that turn DHT into other byproducts. For example:
Increasing 3-alpha–hydroxysteroid dehydrogenase (3α-HSD)
Increasing 3-beta–hydroxysteroid dehydrogenase (3β-HSD)
And these enzymes are a part of this chart on the DHT metabolizing pathways: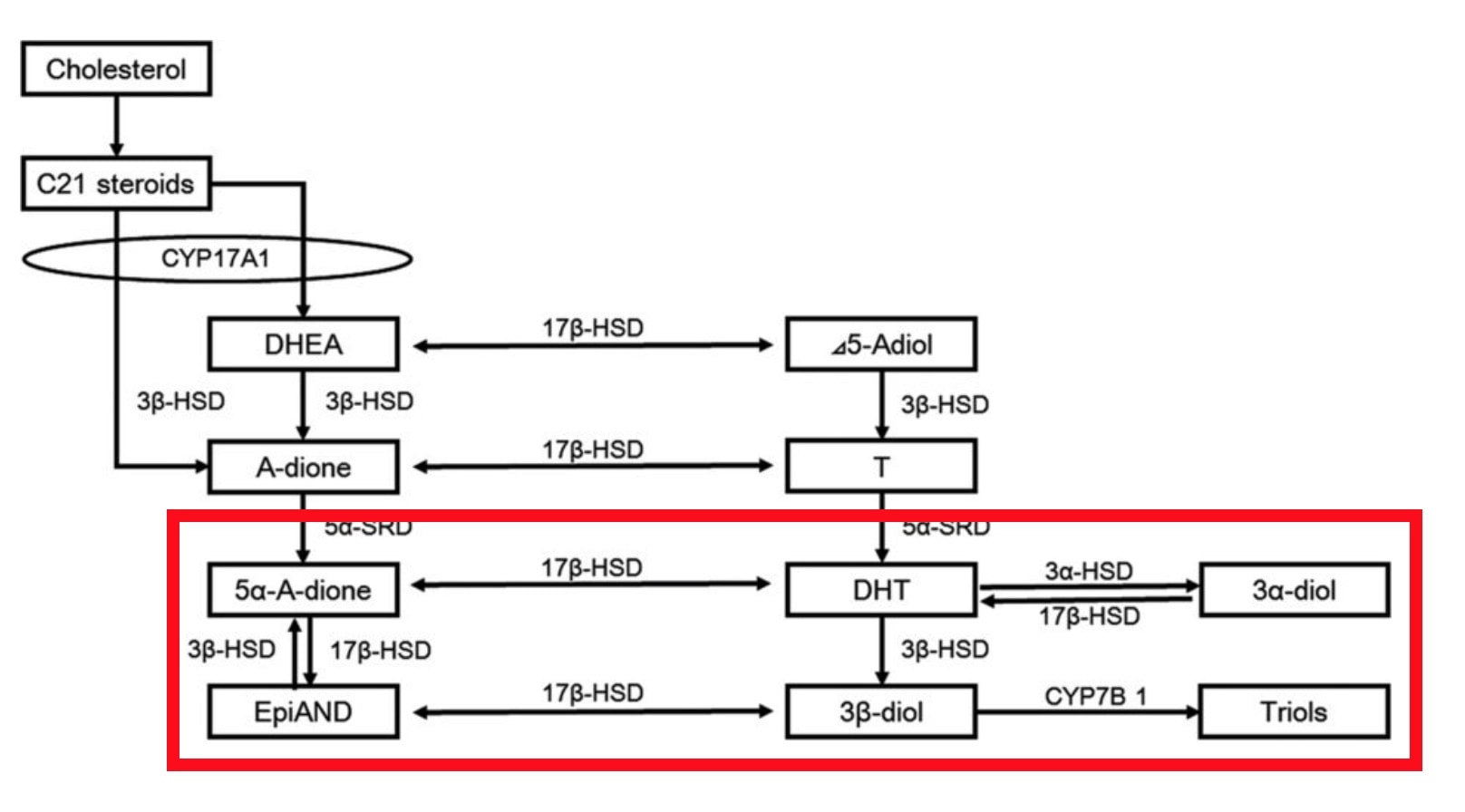 But as we'll soon see, increasing some of these DHT-degrading enzymes might not help our hair. In fact, doing so might even hurt our hair.
So let's dive into it. For simplicity, we'll stick with these enzyme's short names: 3α-HSD and 3β-HSD.
Increasing DHT-Metabolizing Enzymes
3-Alpha-Hydroxysteroid Dehydrogenase (3α-HSD)
3α-HSD is one of the enzymes that metabolizes DHT into different byproducts. And interestingly, there are substances inside foods that can increase the activity of 3α-HSD – and thereby increase the rate of DHT metabolism. One of these substances is called sulforaphane.
Sulforaphane is found in cruciferous vegetables, but its highest concentrations is found inside broccoli sprouts. Sulforaphane increases the expression of DHT-degrading enzymes like 3-alpha hydroxysteroid dehydrogenase – at least in murine (rodent) studies. And in rats, sulforaphane supplementation increases hair growth.
So we should expect the same thing to happen in humans, right? If we supplement with sulforaphane, could we'll see hair regrowth too?
Not necessarily. This whole equation actually gets a lot more complicated.
Problem: If We Increase The Wrong Form Of 3α-HSD, We Might Actually Increase DHT (And Hair Loss)
Remember the enzyme 5-alpha reductase – the one that converts testosterone into DHT? Well, that enzyme comes in many different forms: type I, type II, type III, etc. However, there's only one form of 5-alpha reductase that's associated with pattern baldness: type II 5-alpha reductase.
That same logic can be applied to the 3α-HSD enzyme. Research shows there are many forms of 3α-HSD, and two important isoforms are: AKR1C3 and AKR1C2.
Both AKR1C3 and AKR1C2 metabolize DHT into other androgen byproducts – like the hormone 3α-androstanediol. This is a good thing! We want to increase DHT metabolism so that we can lower the effects of DHT on our scalp skin – and reduce hair loss.
But there's a problem.
One of these isoforms – AKR1C2 – can also convert 3α-androstanediol back into DHT. When it comes to hair loss, that's not a good thing. The more AKR1C2, the higher the chances that 3α-androstanediol will convert back into DHT (which is exactly what we're trying to avoid).
Summary So Far
Tissue DHT is higher in balding versus non-balding scalps
If we increase DHT metabolism, we may decrease the effect of DHT in our tissues
We can increase DHT metabolism by increasing the expression or activity of the enzymes which convert DHT into other byproducts.
One enzyme that converts DHT into other byproducts is called 3α-HSD. But this enzyme comes in many forms: AKR1C3 and AKR1C2 (among others). And depending on the form, this enzyme will behave differently.
When it comes to decreasing DHT levels, we only want to increase AKR1C3 – not AKR1C2. Why? Because both AKR1C3 and AKR1C2 can convert DHT into other hormonal byproducts… but only AKR1C2 can convert those byproducts back into DHT.
For us humans, we have to be selective about which enzyme isoform of 3α-HSD to increase.
If we increase AKR1C3, we might increase DHT metabolism and help our hair. If we increase AKR1C2, we might increase the conversion of 3α-androstanediol into DHT, and actually hurt our hair.
So… Does Sulforaphane Increase AKR1C3 Or AKR1C2?
We don't know! While the sulforaphane-hair regrowth study on rats saw a dose-depending increase in two 3α-HSD isoforms (AKR1C21 and DHRS9), that study didn't measure AKR1C2 or AKR1C3.
And until we know more about sulforaphane's effects on AKR1C3, AKR1C2, and other 3a-HSD isoforms, we can't say for sure that it's a hair loss intervention worth exploring for humans.
Personally, I think sulforaphane might help – and that in the future, studies could demonstrate its hair growth promoting effects on humans too. But until there's stronger evidence, we have to exercise caution.
With that said, some research teams are putting big bets on the idea that if we increase 3a-HSD, we'll decrease DHT and help slow, stop, or reverse hair loss.
In fact, one research team is taking this concept and developing a hair loss product. The most interesting part? It's made entirely out of bacteria.
Increasing DHT Metabolism With Bacteria
One breakthrough in the biomedical field is that by using genetic engineering, we can now manipulate bacterial strains to begin overproducing certain enzymes… enzymes like the DHT-metabolizing enzyme 3α-HSD.
This is exactly what a group of Israeli researchers are doing. They're manipulating the bacteria Bacillus subtilis (B. subtilis) to overproduce 3α-HSD in hopes of 1) decreasing tissue DHT, and 2) promoting hair growth.
The concept is as follows:
B. subtilis is a bacteria that already lives naturally on our scalps
If we introduce the gene for 3α-HSD into B. subtilis, then colonize the manipulated bacteria on our scalp skin, then that bacteria will overproduce the 3α-HSD enzyme in our scalp tissues…
…and increase the metabolism of DHT – hopefully promoting hair regrowth
I'm interested to see how the trial turns out. If this treatment works, it would be as simple as a bacterial spray. Let's just hope they're increasing the 3α-HSD enzyme isoform AKR1C3, and not AKR1C2.
Now let's add the 3α-HSD enzyme into our flowchart.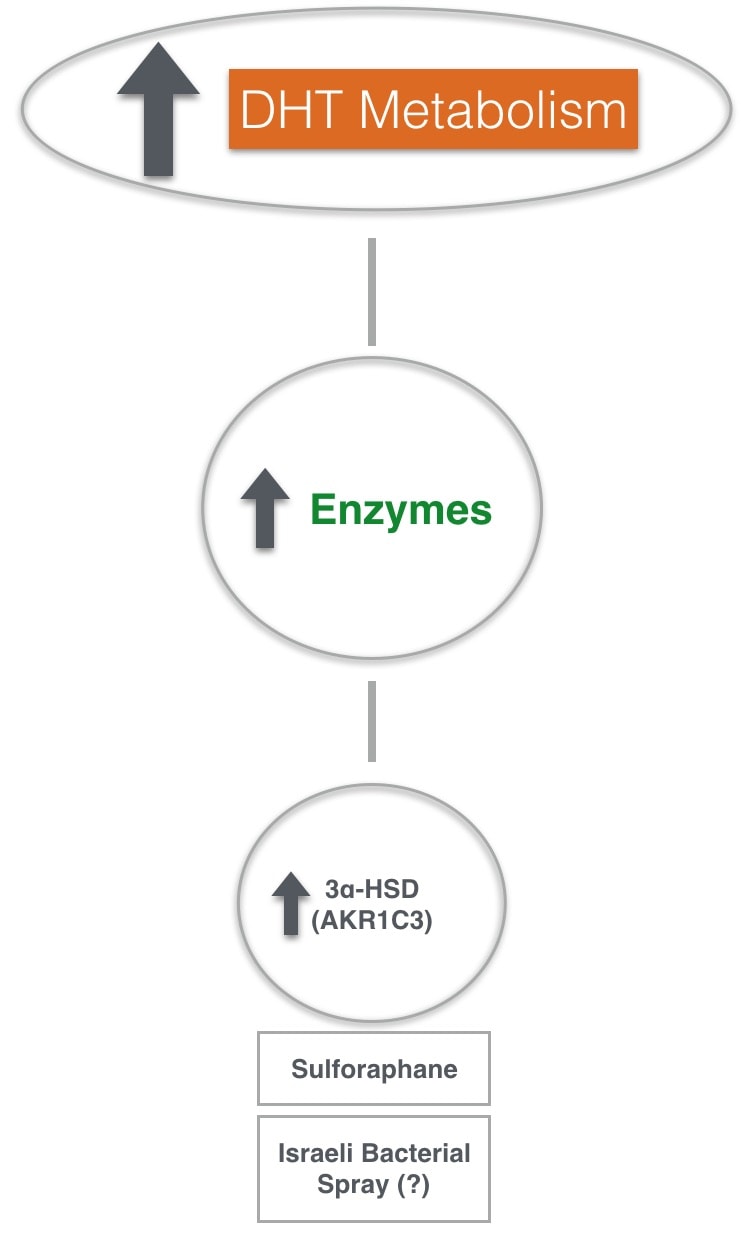 What About That Other Enzyme… 3β-HSD?
This is where things get even more complicated.
Let's refer back to that DHT metabolism chart. We've already covered one DHT metabolizing enzyme: 3α-HSD. So this time, let's focus on 3β-HSD.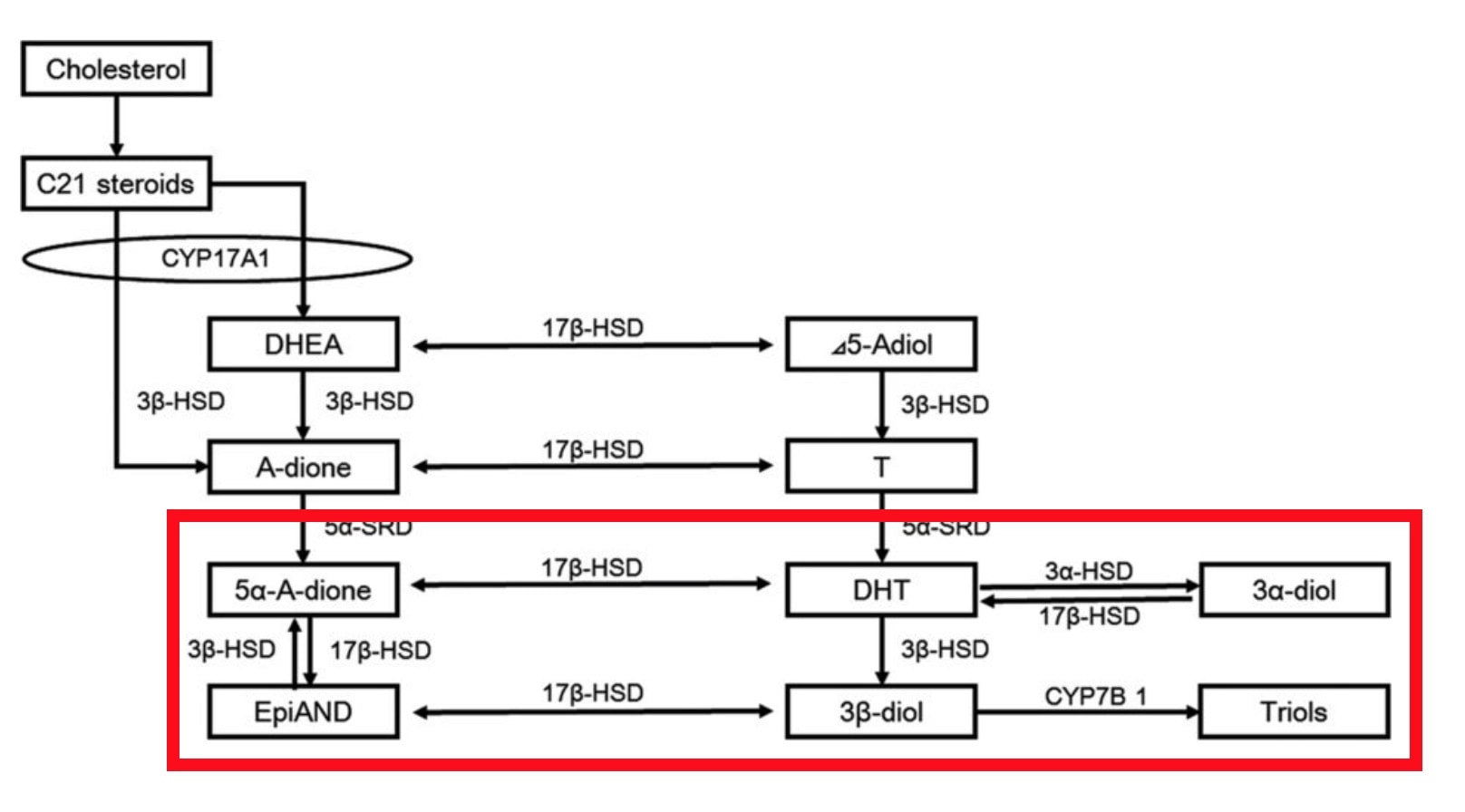 Theoretically, if we increase 3β-HSD, then we should increase DHT metabolism, and in doing so, maybe help fight hair loss… Right?
Unfortunately, evidence is mixed on whether increasing 3β-HSD will actually decrease DHT levels or have any impact on our hair.
In fact, other researchers have even stated that abnormal expression of any of these DHT metabolizing enzymes (3α-HSD, 3β-HSD, or even 17β-HSD) might increase scalp DHT… and possibly even accelerate the balding process.
Why is this the case? How is it that increasing enzymes that metabolize DHT can also inadvertently increase DHT levels? That seems paradoxical.
It is. Until we refer back to our chart and realize that even if we increase DHT metabolism, we might not decrease DHT levels. Why? Because DHT can recycle back into itself.
Problem: DHT Can Recycle Back Into Itself
After DHT is metabolized by the enzyme 3α-HSD, that metabolite only requires a single enzyme to then convert back into DHT. That enzyme: 17β-HSD. That's a one-step recycling process back to DHT.
But what about 3β-HSD?
Well, if DHT is metabolized by the enzyme 3β-HSD, this whole step-process is much longer and requires multiple enzymes. But… the DHT recycling can still happen.
Unfortunately I haven't found evidence that, all else equal…
Increasing 3β-HSD will decrease DHT (in otherwise healthy people), or…
Increasing 3β-HSD will help fight hair thinning.
So I've excluded this enzyme (and a couple others related to DHT metabolism) from the flowchart.
Should We Increase DHT Metabolism To Lower DHT (And Keep Our Hair)?
I don't think anyone knows.
The truth is that we barely understand these enzymes, and even less so their relationships to pattern hair loss. And while there's evidence that increasing DHT metabolism via 3a-HSD can promote hair growth in rats – we're not sure yet if this will carry over to humans.
The good news? Within expected doses, sulforaphane appears to be safe. If you want to include a sulforaphane supplement or sulforaphane-containing foods in your diet, go for it! It's not hard to find broccoli sprouts at the grocery store. And it's pretty easy to grow those sprouts yourself.
And the better news? We've just completed our final lever of our DHT Reduction Master Flowchart.
The Final Flowchart: A Master Guide To DHT Reduction For Hair Loss
We can now add DHT metabolism to our flowchart. So without further ado, here is the completed Master Flowchart For DHT Reduction (click to enlarge).
The Master Flowchart For DHT Reduction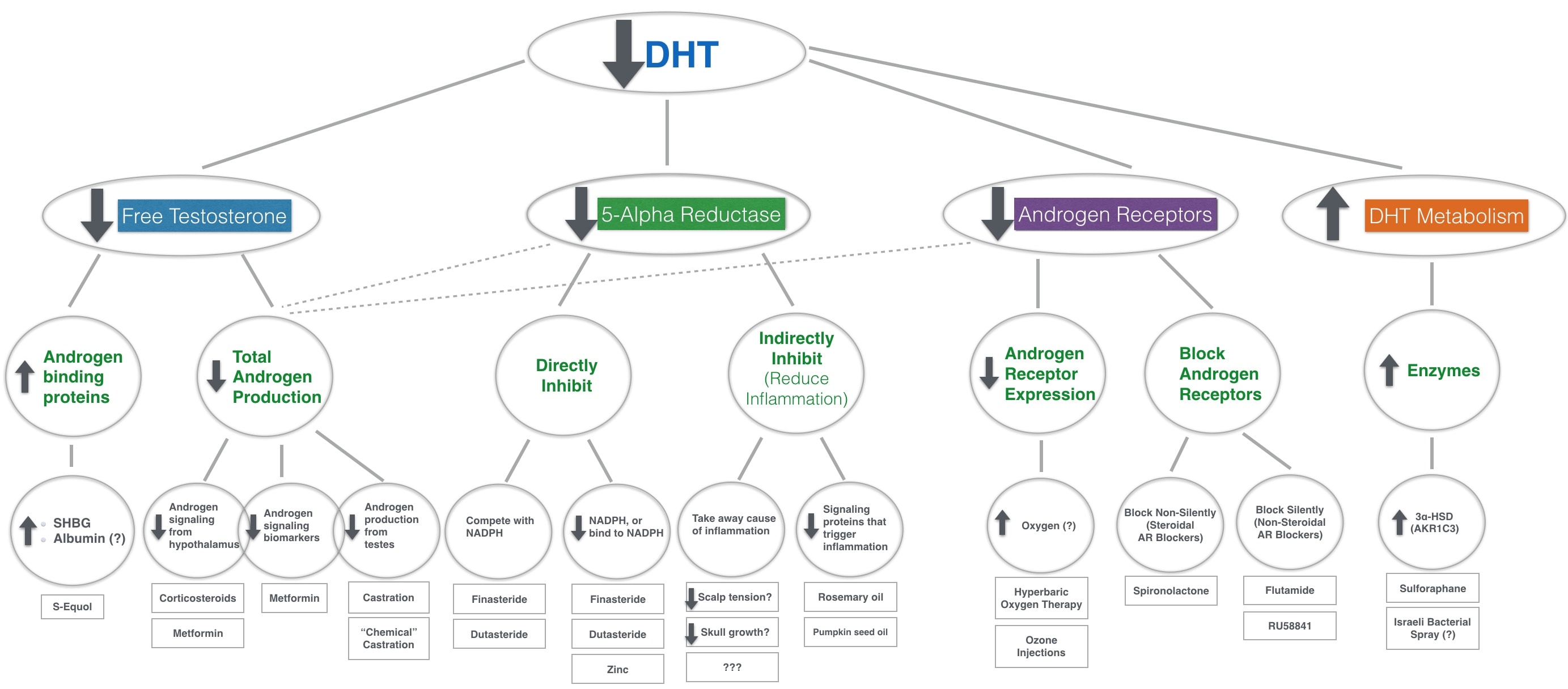 Should We Target DHT To Reverse Pattern Hair Loss?
The short answer: yes. The longer answer: it's probably best to target DHT and other factors involved in the balding process – like inflammation, prostaglandin dysregulation, the scalp environment (i.e., microorganism landscapes and/or skin tension), and fibrosis. In taking a multifactorial approach, we'll likely elevate our outcomes far beyond a monotherapeutic approach.

Rob English is a researcher, medical editor, and the founder of perfecthairhealth.com. He acts as a peer reviewer for scholarly journals and has published five peer-reviewed papers on androgenic alopecia. He writes regularly about the science behind hair loss (and hair growth). Feel free to browse his long-form articles and publications throughout this site.