Read time: 10 minutes
Note: This is a guest post written by Tony Hall – the founder of TopHairLossTreatments.com.
Is DHT To Blame For Hair Loss?
Despite what your doctor might tell you, androgenetic alopecia is far more complicated than the simple formula DHT = hair loss. If the truth really were this simple, why would DHT cause hair growth everywhere else on the body? Why are hair follicles on the top of the head susceptible to this hormone but others aren't? Why doesn't all lost hair regrow with finasteride (Propecia) use?
Evidence shows that pattern hair loss is a multifactorial condition, and so any effective treatment must tackle its myriad causes – scalp fibrosis, calcification, decreased blood flow, and so on – rather than only one.
All that said, DHT does play an important role in pattern hair loss. Evidence shows that elevated DHT may be part of the cascade that triggers calcification and fibrosis – two chronic conditions which restrict nutrient, oxygen, and blood flow – and may even kickstart the hair miniaturization process. So while DHT isn't the sole factor, it's an important factor. Therefore, reducing DHT levels may help slow (or stop) hair loss.
The Challenge: DHT May Cause Hair Loss, But Reducing DHT May Cause Sexual Side Effects
The problem is that DHT isn't just associated with hair loss. It's critical for male sexual development in the womb and during puberty and plays an important role in mood regulation, with one study suggesting it is "the most important androgen in the human brain." DHT also appears to be critical for normal sexual function – at least in animals, anyway.
Perhaps unsurprisingly, then, negative side effects have been observed as a result of certain hair loss drugs that reduce DHT.
I am of course referring to Propecia, the pharmaceutical hair loss treatment with a big reputation. Propecia reduces serum DHT levels by around 70%, making it a very effective way of slowing the progression of pattern hair loss in men. This would be fine if doing so didn't also sometimes cause the following side effects:
Impotence
Lack of interest in sex
Difficulty achieving orgasm
Abnormal ejaculation
Gynecomastia
Depression
Merck – the manufacturer of Propecia – claims that such effects are rare, affecting just 2% of users. But a quick Google search suggests the incidence of these side effects is much higher. Of course, there may be some selection bias here, but it's hard to believe that drastically reducing a hormone that is critical for male sexual development will have no adverse effects whatsoever. That's why it's important that if we're going to reduce DHT, we need to be careful about it.
The Takeaway: If We Want To Reduce DHT, We Need To Do It Safely
Yes, reducing DHT will help our hair – but we don't need to obliterate it from our body. And while reducing DHT should help slow, stop, or partially reverse hair loss, we shouldn't expect complete hair regrowth from reducing DHT alone.
So how do we strike a balance between reducing DHT and halting hair loss? Well, there's good news…
Reducing DHT Doesn't Have To Be A Tradeoff Between Your Sex Life And Your Hair
Moderate reduction of DHT can help in the battle against hair loss – even more so when combined with other angles of attack. And unsurprisingly, "natural" DHT inhibition tends to reap far fewer side effects (even though at a certain point, any DHT reducer can cause side effects).
So with that in mind, let's take a look at the evidence for five of the most popular natural DHT blockers. Which ones actually work?
The research may surprise you…
In fact, some of these alleged DHT blockers aren't even confirmed to reduce DHT. Rather they are only assumed to reduce DHT based on extrapolations from studies unrelated to hair loss.
As such, we've split our natural DHT blockers into two categories.
The Heavy Hitters: DHT blockers that actually work.
The Not-So-Convincing: popular DHT blockers with little scientific backing.
By the end of this article, you'll know which natural DHT blockers you might want to use to fight hair loss. But even more importantly, you'll know which ones to avoid completely.
5 Natural DHT Blockers: Which Ones Actually Work?
DHT Heavy Hitter #1: Saw Palmetto
Saw Palmetto is an extract from the berries of the serenoa repens palm. Native to subtropical regions of the Southeastern United States, extracts from this plant have been used to create herbal medications by various cultures – from the Mayans to the American Indians.
The Evidence: Saw Palmetto Reduces DHT Levels
Saw Palmetto is without doubt the most well-known natural DHT blocker, often being described as nature's Propecia (but don't let that put you off!).
And these effects are proven. For example, this randomized 2001 trial observed that:
"…Tissue DHT levels were reduced by 32% from 6.49 to 4.40 ng/g in the [saw palmetto] group (P <0.005), with no significant change in the placebo group. […] The [saw palmetto]-induced suppression of prostatic DHT levels, modest but significant in a randomized trial, lends an element of support to the hypothesis that inhibition of the enzyme 5-alpha reductase is a mechanism of action of this substance."
These results were not a one-off, either. The effects of saw palmetto on DHT levels have been extensively tested due to the links between DHT levels and benign prostatic hyperplasia (BPH). Most studies of this kind appear to show a reduction in BPH symptoms, even if it is unclear whether this is a result of DHT reduction.
As for pattern hair loss specifically, the results look to be even more positive. This study – conducted over the course of two years – compared 320mg saw palmetto with 1mg finasteride (Propecia).
While the effects weren't as dramatic as the Propecia group, hair growth did improve in the saw palmetto group:
"The results showed that only 38% of patients treated with Serenoa repens had an increase in hair growth, while 68% of those treated with finasteride noted an improvement. […] We can summarize our results by observing that Serenoa repens could lead to an improvement of androgenetic alopecia, while finasteride confirmed its efficacy."
And this randomized, double-blind, placebo-controlled study observed even more impressive results. The investigative staff – who were not told which treatment subjects were treated with – judged 60% of those treated with a saw palmetto and beta sitosterol formula to have improved hair at the end of the treatment course.
However, it should be pointed out that the inclusion of beta sitosterol (more on this later) in this particular study obscures the efficacy of saw palmetto. It raises the possibility that any improvements in hair were a result of beta sitosterol and not saw palmetto.
Even so, there is a large enough body of evidence to suggest that saw palmetto is a (barely) effective natural intervention for the management of hair loss – even if saw palmetto isn't as effective as finasteride. Not only has it been demonstrated to reduce tissue DHT levels, the studies of its impact on androgenetic alopecia suggest this translates to improved hair quality as well.
Dosage: How Much Saw Palmetto Will Reduce DHT?
While there is no 'standard' dose of saw palmetto, 320mg per day appears to be a safe amount. There is no evidence to suggest higher doses are any more effective at preventing hair loss, and this is the amount used in the successful trial described earlier.
DHT Heavy Hitter #2: Pumpkin Seed Oil
Pumpkin seed oil is extracted by roasting and pressing the seeds from two kinds of pumpkins: Curcubita pepo and Curcubita maxima.
The Evidence: Pumpkin Seed Oil & DHT Reduction
A 2014 study, Effect of Pumpkin Seed Oil on Hair Growth in Men with Androgenetic Alopecia: A Randomized, Double-Blind, Placebo-Controlled Trial, boasted some impressive hair regrowth results with pumpkin seed oil.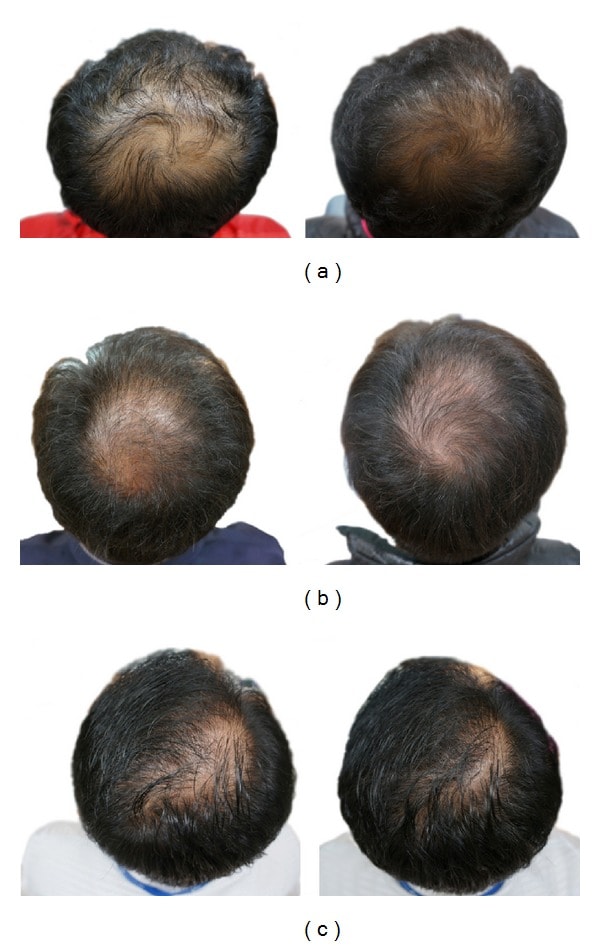 After just 24 weeks, subjects treated with pumpkin seed oil experienced a statistically (and cosmetically) significant increase in hair count. Various methods were used to measure the efficacy of treatment:
"The PSO-treated group had more hair after treatment than at baseline, compared to the placebo group (P < 0.001). Mean hair count increases of 40% were observed in PSO-treated men at 24 weeks, whereas increases of 10% were observed in placebo-treated men (P < 0.001)"
So does this mean pumpkin seed oil is an effective hair loss treatment? Well, not exactly…
If you read carefully, the trial states that subjects were treated with Octa Sabal Plus – a Korean health supplement with many ingredients beside pumpkin seed oil.
So, whilst the results are impressive, this casts doubt on whether it was the pumpkin seed oil that was responsible for these results. Instead, it may be one of the other ingredients – such as evening primrose powder, red clover powder, or corn silk – that caused the increased hair growth.
Fortunately, this isn't the only relevant study of pumpkin seed oil. Here, for example, pumpkin seed oil was found to reduce the effect of testosterone on prostate size in rats. It's suggested that pumpkin seed oil prevents testosterone from converting to DHT, which would explain why rats that received the supplement had smaller increases in prostate size compared to the control group.
As well as these two studies, there are various reports that pumpkin seed oil reduces the symptoms of BPH. Whilst this is by no means conclusive, it lends support to the claim that pumpkin seed oil is a natural DHT blocker.
How Much Pumpkin Seed Oil Is Needed To Reduce DHT?
Like saw palmetto, there is no strictly recommended dosage of pumpkin seed oil for hair loss. It's common to find 1000mg pumpkin seed oil capsules, however the dosage used in the successful hair loss trial was no more than 400mg per day. As side effects are practically non-existent, though, a dosage between these two values (400mg-1000mg per day) is likely to be both safe and effective.
Aside from saw palmetto and pumpkin seed oil, the evidence for "natural" DHT reducers gets a little bit skewed. Having said that, here are three natural DHT blockers that might not be as helpful as their manufacturers would lead you to believe.
Natural DHT Blockers: The Not-So-Convincing
These next supplements are popularly touted as effective DHT inhibitors – usually for the treatment of BPH. Often, this is taken to mean that they also make effective hair loss treatments.
While this may indeed be true, evidence is scarce. As such, the jury is still out as to whether they really do reduce DHT levels.
Not-So-Convincing DHT Blocker #1: Beta Sitosterol
Beta sitosterol is a plant sterol common to many fruits, vegetables, nuts, and seeds throughout the world. There is some evidence to suggest it may be an effective DHT inhibitor.
The Evidence: Can Beta Sitosterol Decrease DHT?
Various studies have found beta sitosterol to improve the symptoms of BPH. Since BPH symptoms are strongly linked to DHT, this lends support to the idea that beta sitosterol is a natural DHT blocker.
But it's a bit of a jump from the claim that beta sitosterol reduces the symptoms of BPH to the claim that it actually reduces DHT levels. In fact, this study found that beta sitosterol supplementation had no effect on prostate volume – something that would be expected to accompany a reduction in DHT levels.
The previously mentioned trial of beta sitosterol and saw palmetto lends some support to its efficacy as a hair loss treatment. However, the improved hair growth seen during this trial seems more likely to be a consequence of saw palmetto rather than beta sitosterol.
The limited research conducted on beta sitosterol makes it difficult to draw firm conclusions as to its efficacy. So far, though, it seems that if beta sitosterol is a natural DHT blocker, it's a fairly weak one.
Where To Get Beta Sitosterol
While you can purchase beta sitosterol supplements, it is also present in many foods such as:
Plant oils – especially canola and corn oils
Nuts – particularly pistachios, peanuts, macadamias, almonds, and walnuts
Vegetables – such as Brussels sprouts, cauliflower, cabbage, and carrots
Fruits – bananas, pears, peaches, and oranges have particularly high amounts of beta sitosterol
Not-So-Convincing DHT Blocker #2: Nettle Root
Like many of the other natural DHT blockers described here, extracts from the root of the common stinging nettle (urtica dioica) are popularly used to treat BPH.
In fact, one randomized, double-blind, placebo-controlled trial of nettle root extract demonstrated that nettle root really can alleviate the symptoms of BPH. One possible explanation for this is that nettle root reduces DHT and is therefore beneficial for hair as well.
However, some studies cast doubt on the link between nettle root and DHT levels.
Not only that, there is evidence to suggest that lignans – found in nettle root extracts – bind to sex hormone binding globulin (SHBG). As the name implies, SHBG binds to sex hormones such as testosterone and DHT, preventing them from binding to androgen receptors.
This effectively means more (available) testosterone and DHT – so nettle roots may actually make hair loss worse!
Should We Use Nettle Root To Fight Hair Loss?
Due to its positive impact on BPH, nettle root extracts are often said to be natural DHT blockers. Do a quick Google search and you're likely to find people advocating it as a hair loss treatment for this very reason.
But without a trial to specifically test for its impact on hair loss, it's hard to say whether or not nettle root extract really is effective. And given its impact on SHBG, it's probably safer to stay away from nettle root supplements altogether.
Not-So-Convincing DHT Blocker #3: Pygeum Africanum
Extracted from the bark of the African cherry tree, pygeum africanum is often touted as a natural DHT blocker.
And like many of the supplements mentioned here, this reputation comes from its alleged ability to alleviate BPH symptoms and prostate cancer.
But like nettle root extract and beta sitosterol, there are no studies which have looked at its impact on pattern hair loss specifically.
Furthermore, the studies linking pygeum africanum with alleviated BPH symptoms have been criticized, with its actual efficacy arguably a result of the placebo effect rather than any meaningful reduction in DHT levels.
So, while pygeum africanum probably won't be bad for hair loss, it's unlikely to do much good either! At best, the jury is still out as to whether it's an effective natural DHT blocker.
Natural DHT Blockers: Should You Use Them?
There are many alleged natural DHT blockers out there, but many have limited evidence supporting their efficacy with regards to hair loss. Some, such as nettle root extract, may actually have the opposite effect.
But there is strong evidence that saw palmetto and pumpkin seed oil really are effective for the reduction of DHT levels, and possibly even hair loss. From blood samples to before and after photos, the evidence supporting them is hard to deny. At the very least, the findings of these studies justify expansion to larger trials.
However, it's important to put these findings in perspective… Natural DHT blockers will not give you a full head of hair overnight – but then neither will Propecia. This is because hair loss is a multifactorial, chronic, condition. Reducing DHT might have little to no impact on reversing scalp fibrosis or calcification, for example.
What reducing DHT will do, however, is help prevent these processes from happening in the first place. Saw palmetto and pumpkin seed oil – if they do reduce DHT levels – should help with the maintenance of hair without the nasty side effects of prescription drugs.
—
Note: this is a guest post written by Tony Hall – the founder of TopHairLossTreatments.com.

Rob English is a researcher, medical editor, and the founder of perfecthairhealth.com. He acts as a peer reviewer for scholarly journals and has published five peer-reviewed papers on androgenic alopecia. He writes regularly about the science behind hair loss (and hair growth). Feel free to browse his long-form articles and publications throughout this site.