Subscription services have gained popularity in recent years for all types of products, from home cleaning supplies to underwear, razors, and even toothpaste. These services make the most sense for products used consistently, saving the consumer time and money. Hair regrowth treatments certainly meet the criteria. For the most part, they only work as long as you keep using them. So, it was only a matter of time before startups put men's hair care on autopay.
Of the telemedicine providers focusing on men's health, Hims, Keeps and Roman have risen to the top of this competitive market. But which one is best? We offer an objective side-by-side comparison of these 3 hair loss subscription companies. In the process, you'll learn about the following:
About the Products Sold

What Differentiates the Providers

Why Choose One Over The Other
About the Products
Hims, Keeps, and Roman all offer the same hair regrowth products, namely Finasteride and Minoxidil. These are the only two medications approved by the FDA to treat androgenic alopecia (AGA), or male pattern baldness.
Finasteride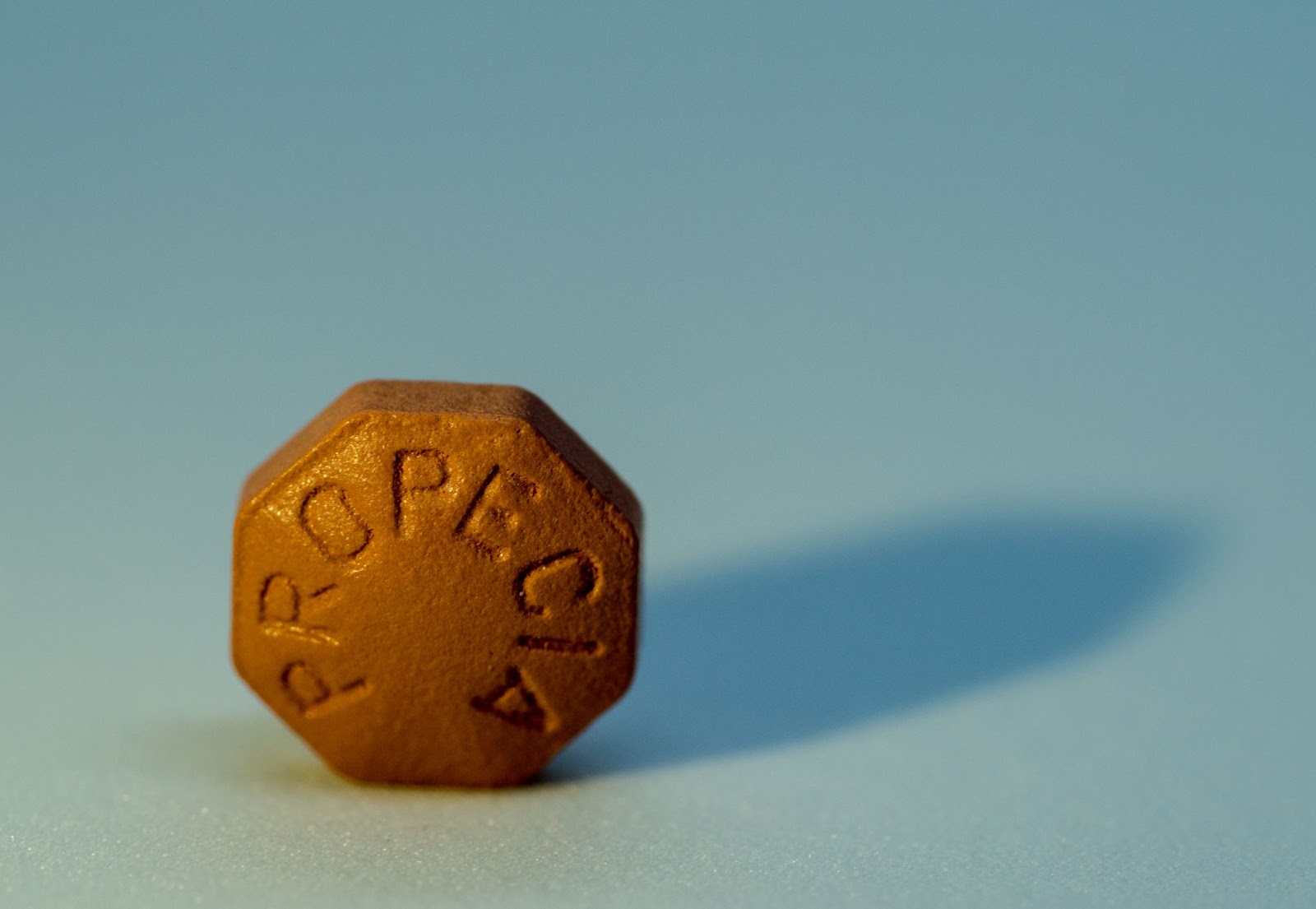 Finasteride, also known by the brand name Propecia, is one of the most well studied, and most powerful, drug for AGA. The daily pill stops the progression of hair loss in 80-90% of men and, on average, leads to a 10% increase in hair count over two years.[1]https://www.sciencedirect.com/science/article/pii/S0022202X15529357​​
Oral finasteride is an FDA-approved treatment for AGA that inhibits the enzyme type II 5-alpha reductase, and thereby reduces dihydrotestosterone (DHT) levels in the body. While it's effective in slowing, stopping, and partially reversing AGA's progression, some men can experience side effects associated with the systemic reduction in DHT levels.
Topical Finasteride aims to avoid such side effects by localizing the drug's effects to the scalp. Research on topical finasteride is still in its infancy, but the drug does appear to be effective for lowering DHT in the scalp. Real world results vary widely in part because method of delivery, dilution ratios and carrier agents (non-active ingredients) used to deliver the drug, also vary widely.
Minoxidil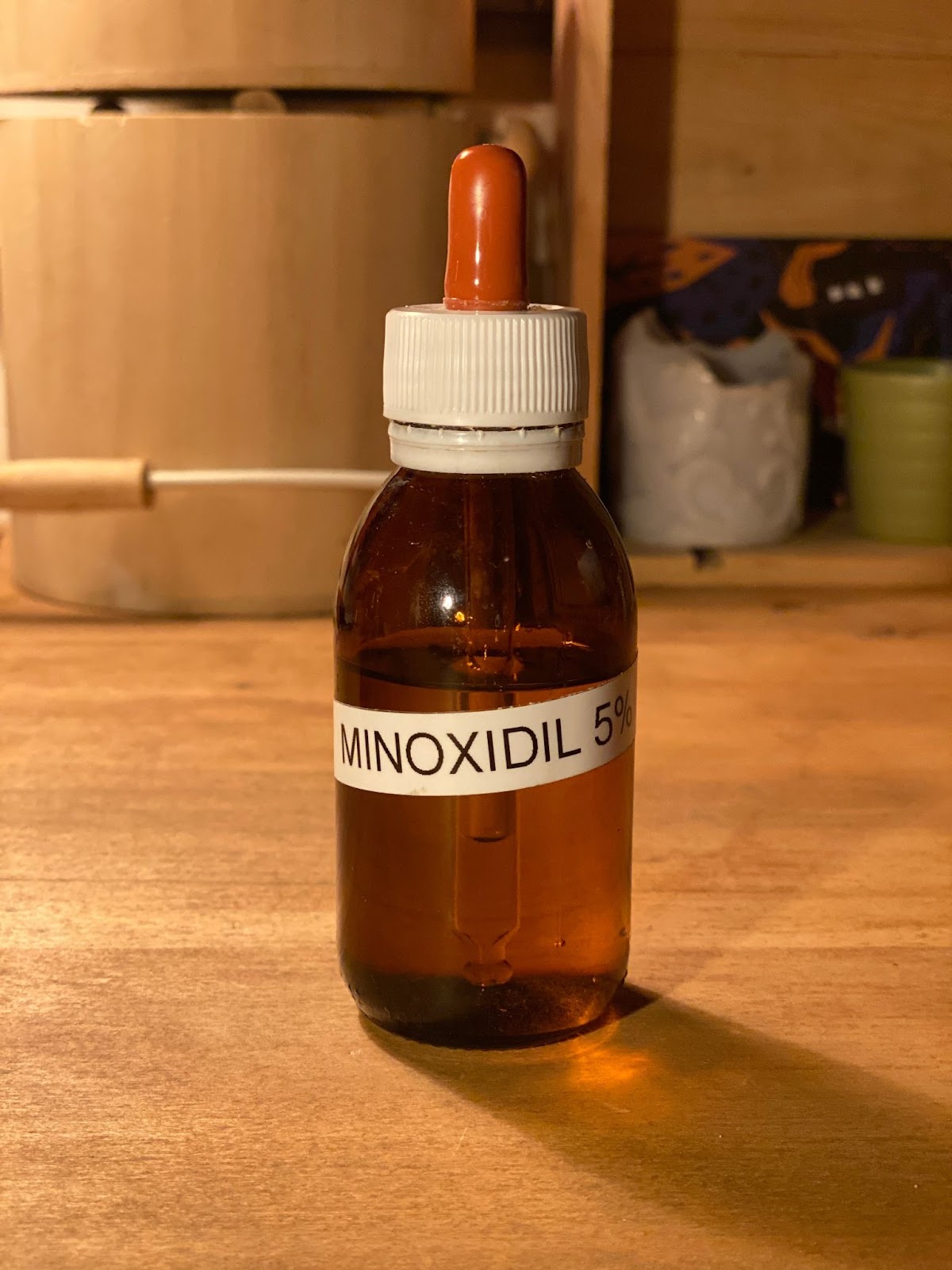 Minoxidil, also known by the brand name Rogain, is the other FDA-approved drug for the treatment of AGA. Although available orally, it's most popular as a topical. Over half of those who try topical minoxidil respond to the drug within 3-6 months. Of those, research reports hair count increases of up to 12% over 48 weeks.[2]https://www.ncbi.nlm.nih.gov/pmc/articles/PMC6691938/
Among the downsides of Minoxidil is that the treatment's effectiveness does wane over time. When that happens, those who quit tend to lose any and all gains they had from the drug, ending up back where they started before ever having used it.
Having Trouble Separating Follicle Facts from Fiction?
One reason why Minoxidil's effectiveness might taper is that it doesn't address hair follicle miniaturization. So, while it does increase hair counts by kicking hair back into the growth cycle, hair continues to thin over time.
When combined with additional therapies, however, most if not all of these downsides can be mitigated. Minoxidil may work better when combined with scalp exfoliators such as retinol or retinoic acid. Research also finds minoxidil is up to four times more effective when combined with microneedling.[3]http://www.ijtrichology.com/article.asp?issn=0974-7753;year=2013;volume=5;issue=1;spage=6;epage=11;aulast=Dhurat
The effectiveness of Minoxidil may be best when used with Finasteride. These two treatment options can be combined.
Minoxidil Response rate: 30-40% alone; 70+% if combined with microneedling and/or finasteride

Minoxidil Regrowth rate: ~10% alone; 25-40% if combined with microneedling and/or finasteride
Both Finasteride and Minoxidil require ongoing, daily application for results maintenance. Hence, the appeal of subscription services. So let's take a closer look at the three biggest players offering Finasteride and Minoxidil online.
Hims vs Keeps vs Roman
Hims, Keeps and Roman are telemedicine providers who, after a phone or video consultation, provide prescriptions for hair loss treatments. Products are shipped discreetly to the buyer's home, with savings available for ongoing, subscription-based delivery.
Hims
Hims brands themselves as 'all about personal wellness.' The company offers products not only for hair loss, but also for men's sexual health. They sell both prescription-based and over-the-counter solutions.
Roman
Roman is the men's health wing of Ro.co, a consumer healthcare company with a mission to make healthcare accessible and convenient. The digital healthcare provider wants to make it easier for more men to seek preventative care. Of these 3 companies, they treat the widest range of men's health conditions.
Keeps
Keeps focuses only on treating hair loss, versus general men's health. Founded in 2018, the company aims to 'help more men keep more hair.' In addition to selling prescription treatments and hair care products, Keeps will link clients to hair restoration surgeons.
Each of the above companies sells generic Finasteride and Minoxidil, but the products differ slightly between sites. Below is a closer look at what's on offer.
Subscription-Based Hair Loss Products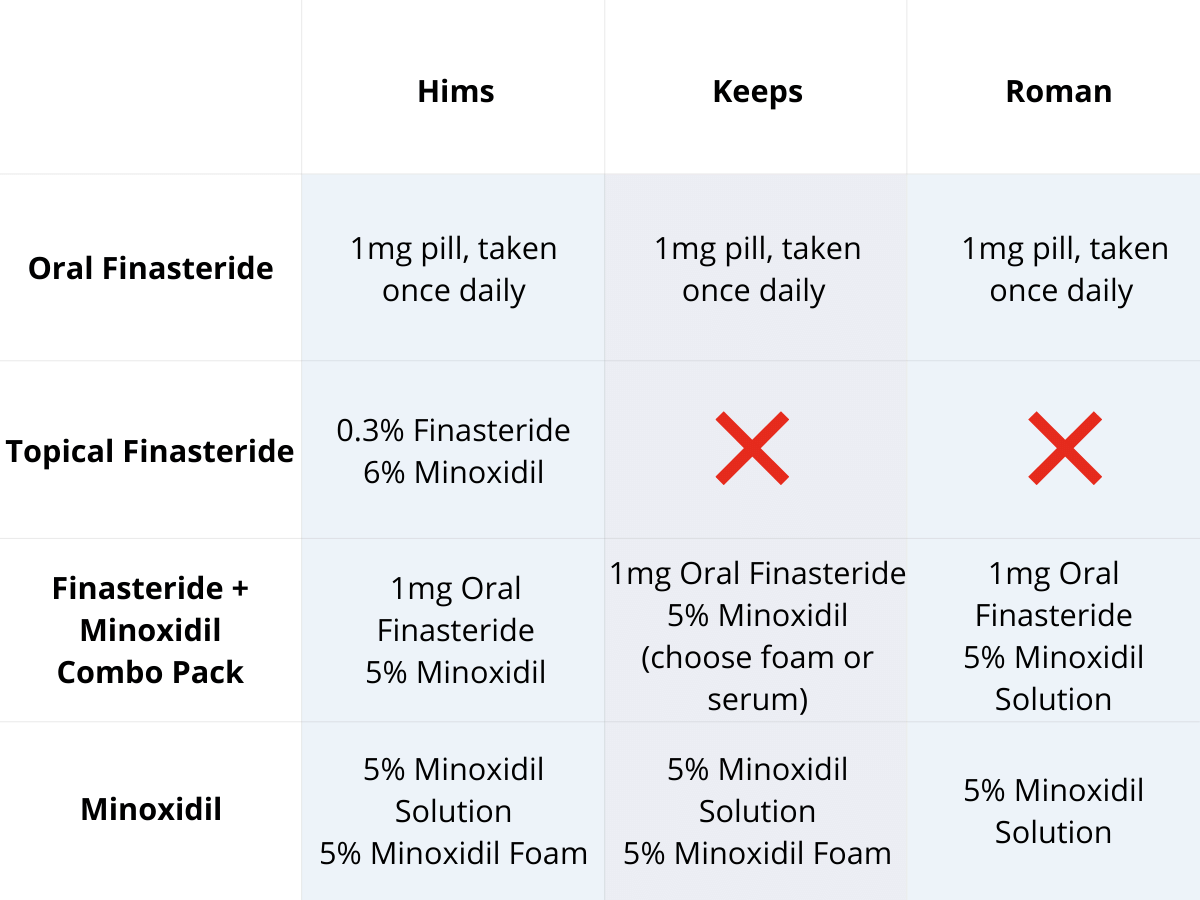 Hims Products
Of the 3 providers, Hims sells the greatest variety of products and hair treatment packages. The Hair Power Pack includes a combination of oral finasteride and 5% Minoxidil, plus Biotin gummies and a thickening shampoo.
Hims is also the only of the three companies to offer a topical Finasteride. The topical combines 0.3% finasteride with 6% Minoxidil. Active ingredients are diluted in alcohol (ethanol), propylene glycol and citric acid and delivered via spray bottle.
Propylene glycol as a carrier does lead to skin irritation in up to 6% of users, although this is considered a very mild side effect.[4]https://pubchem.ncbi.nlm.nih.gov/compound/Propylene-glycol
Keeps Products
Keeps does not offer a topical finasteride, but does include options for either foam or serum-based Minoxidil just as Hims does. They are also the only provider to sell a 2% ketoconazole shampoo. Alongside finasteride and minoxidil, ketoconazole is considered one of the "big three" treatment options for pattern hair loss.
Despite its popularity, however, ketoconazole is not actually FDA-approved for pattern hair loss, nor is it as well-researched as minoxidil or finasteride. However, the low-cost, low-effort treatment (used 2-3 times per week) seems to carry little (if any) risk of side effects.
Roman Products
Roman is the biggest generalist of the companies we're comparing here. Hair loss is not necessarily their primary focus and they have the least number of hair-related products on offer. Roman offers oral finasteride, a Propecia generic made by Ascend in India, as well as a solution-based Minoxidil made by Pure Source, LLC. They do not offer a foam-based Minoxidil as Hims and Keeps do.
The Subscription & Cost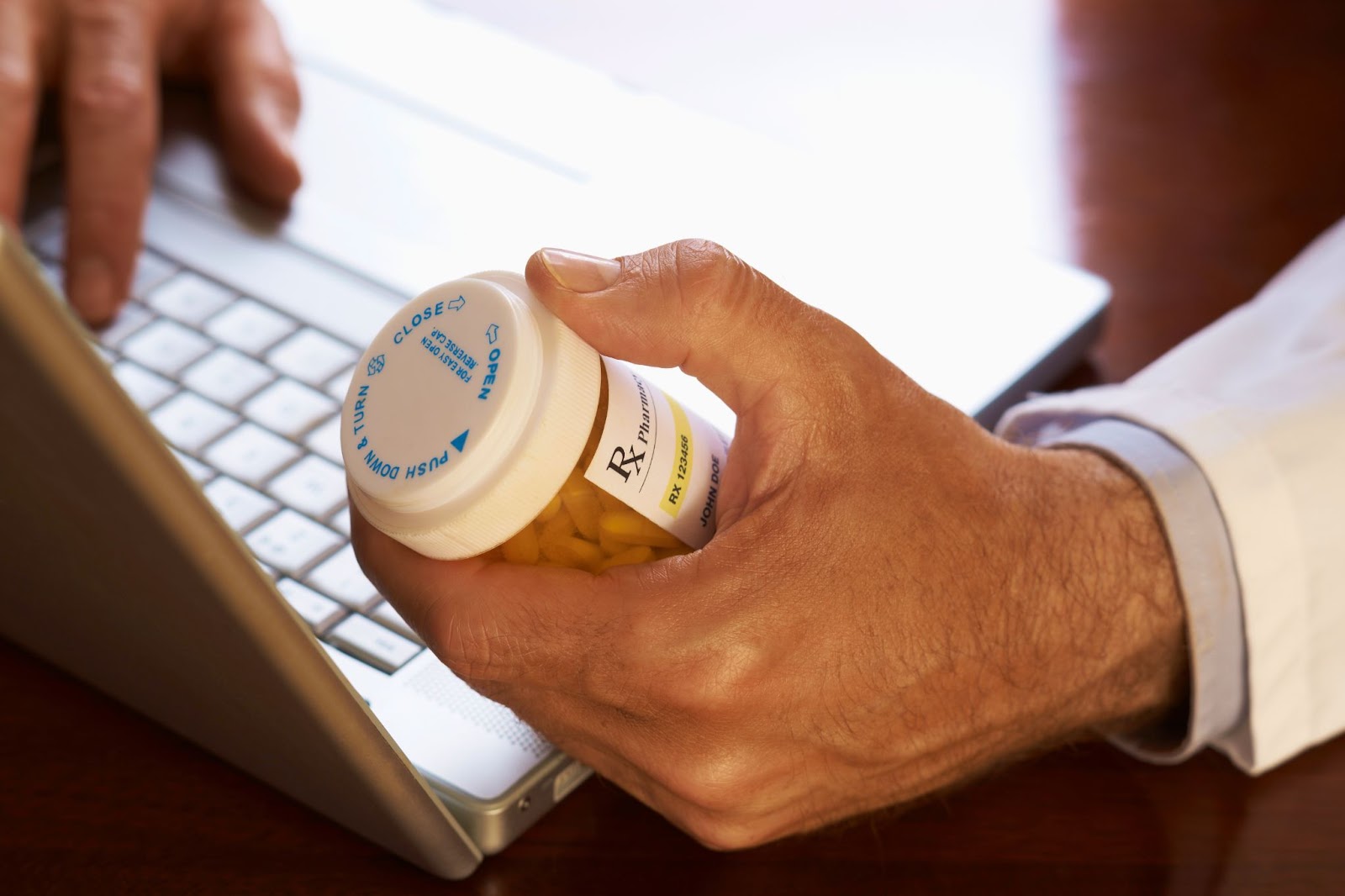 Topical minoxidil is an over-the-counter product and can be purchased directly without a telemedicine consult. Finasteride, whether oral or topical, and 2% ketoconazole do, however, require a prescription. How this process works differs slightly between Roman, Hims and Keeps.
The Hims Consultation Process
Hims begins with a free online consultation that includes a few personal questions, and offers quick access to a licensed medical provider, in all 50 states. Subscribed medications are then filled at a licensed pharmacy, and shipped to you directly.
Shipping info and billing frequency??
The Keeps Process
Keeps also begins with a free online consultation. After answering a few questions online, Keeps requires an upload of photos, which are then reviewed by a licensed provider. Treatments are shipped every 3, 6 or 12 months. Continued on-demand access to a live medical professional is available via their app for $10/month.
The Roman Process
Like the rest, Roman's process begins with a free online visit. Depending on the state, a phone or video chat with a doctor or nurse practitioner may be required. Prescriptions are filled via the Ro Pharmacy Network, and shipped directly in discreet packaging. Roman offers free, unlimited follow-ups if needed. Prescriptions are available in monthly or quarterly auto-shipments.
Cost Comparison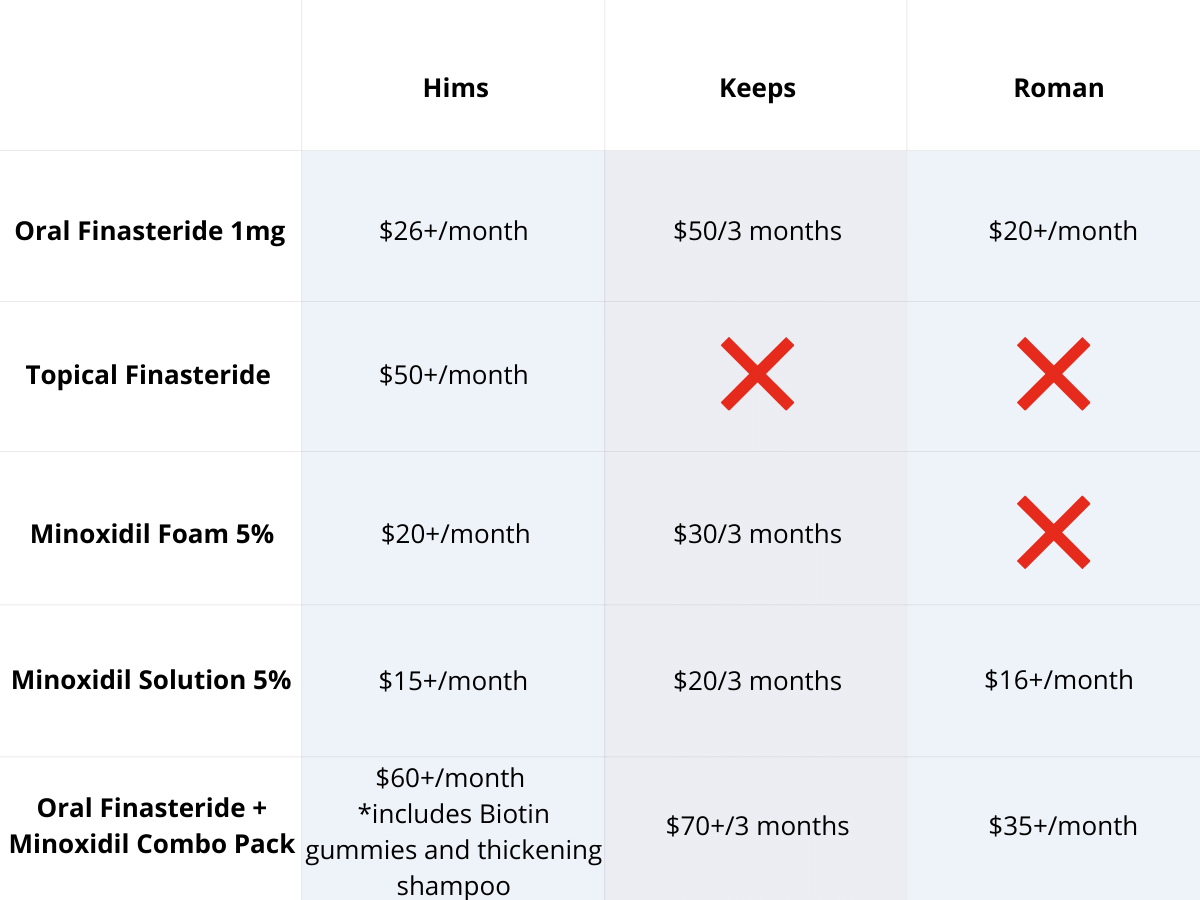 Pros and Cons
Whether Roman, Hims, or Keeps is best is a personal decision that depends on the treatment sought, any extra over-the-counter shampoos, vitamins or other add-ons desired, and what state the patient lives in.
Hims Pros & Cons
Of the three companies in our comparison, Hims offers the most treatment options and is the only one to offer topical finasteride. Topical finasteride is also available from the following, lesser known companies:
Happy Head

: 0.25% Finasteride + 8% Minoxidil 8% + 0.01% Retinoic Acid + 1% Hydrocortisone. The formula is customizable and available for $79+/month

Strut

: Strut offers a customizable gel or solution-based topical with the following options, Finasteride 0.1-0.25%, Minoxidil 0.0%-7.5%, Tretinoin 0.0%-0.0125%, available starting at $59/month
On the other hand, Hims also ranks as the most expensive for either Finasteride or Minoxidil.
Keeps Pros & Cons
Keeps is the only provider on our list to offer Ketoconazole shampoo. So for those interested in trying the 'Big 3' protocol for hair loss, Keeps is a good bet. It's also the least expensive provider of Finasteride and Minoxidil.
The main drawback of Keeps is that it's not yet available in every state. They can, however, fill prescriptions in every state. So if you have a prescription from another doctor, Keeps may be able to fill it for a lower price.
Roman Pros & Cons
Of these 3 digital medicine providers, Roman is doing its best to position itself as a one-stop-shop for all things health-related. Contact with a licensed healthcare professional is available in every state, and you can go to Roman for nearly all things health-related.
The downside is that Roman is not focused on hair loss prevention nor hair regrowth alone, and they offer the most limited treatments options out of the 3 on our list.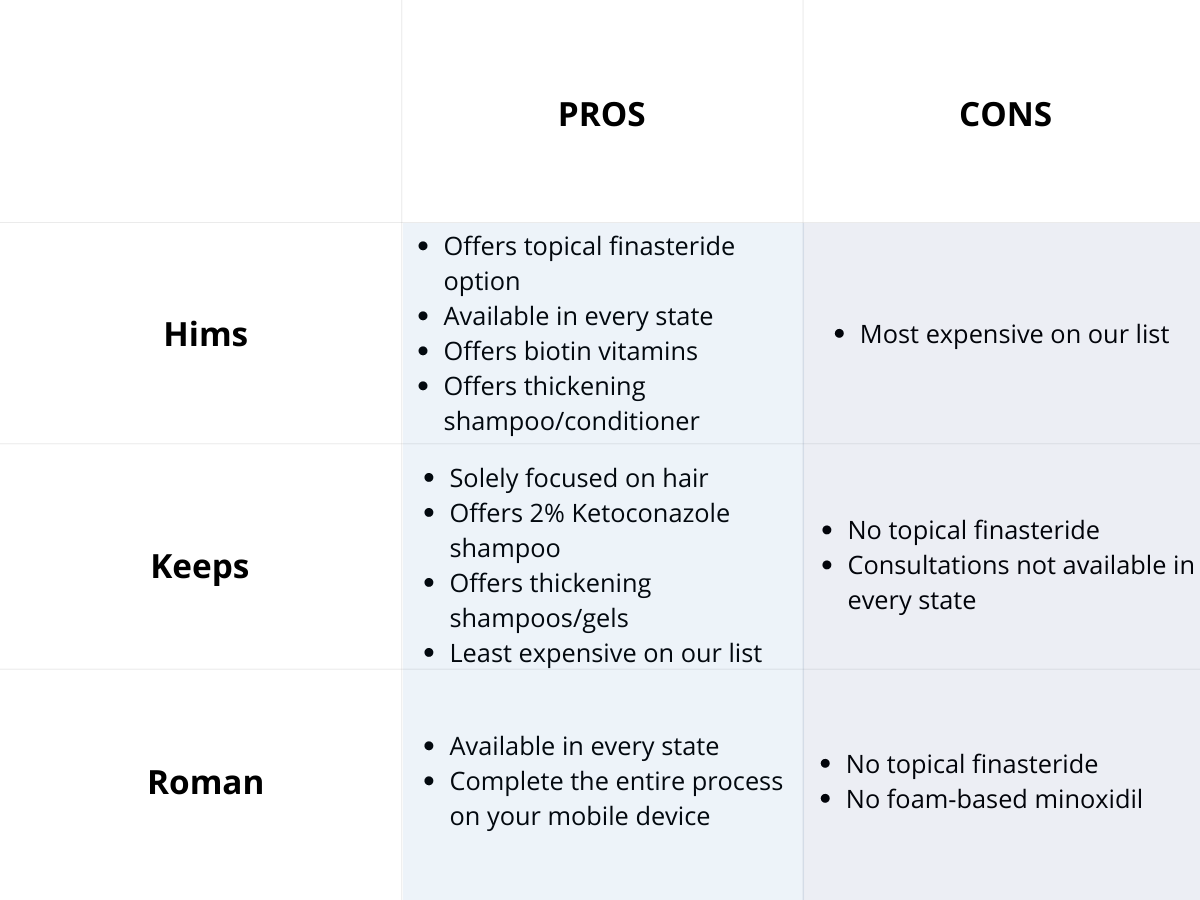 Summary
Roman, Hims, and Keeps are all telemedicine providers who have risen to the top of the competitive men's wellness market in part due to their focus on hair loss prevention and treatment.
Each company focuses primarily on oral finasteride and topical (OTC) minoxidil and will prescribe the former after a brief online consultation.
Subscription services and products vary. Which is best may depend on the state the patient lives in, and exactly which treatments are being sought.

Rob English is a researcher, medical editor, and the founder of perfecthairhealth.com. He acts as a peer reviewer for scholarly journals and has published five peer-reviewed papers on androgenic alopecia. He writes regularly about the science behind hair loss (and hair growth). Feel free to browse his long-form articles and publications throughout this site.
References

↑

1

https://www.sciencedirect.com/science/article/pii/S0022202X15529357​​

↑

2

https://www.ncbi.nlm.nih.gov/pmc/articles/PMC6691938/

↑

3

http://www.ijtrichology.com/article.asp?issn=0974-7753;year=2013;volume=5;issue=1;spage=6;epage=11;aulast=Dhurat

↑

4

https://pubchem.ncbi.nlm.nih.gov/compound/Propylene-glycol